Rockin Route 66 is a festival celebrating the history and nostalgic persona of America's "Mother Road", Route 66 in Tucumcari, New Mexico. Rockin Route 66 will take place annually during the last weekend of June each year. The festival will be celebrating throughout the City of Tucumcari. Smaller portions of the festival will be showcased at local establishments up and down historic Route 66. The featured concerts, car show, bike show, vendors markette, and other scheduled events will take place at the Route 66 Museum at the City of Tucumcari Convention Center on both Friday and Saturday.
Rockin Route 66 was inspired by the rich history while traveling on Route 66. The highlights of the festival will be creating a family environment showcasing hot rods, traditional rods, classics, rat rods, vintage motorcycles, hand built bikes, and special appearances by many several celebrity builders. We will model fashions of the past with current spins on style at Rockin Route 66's Pin Up contest, and Fashion Show. Throughout the day at local venues, and then featured national acts in the evening at the Museum of Route 66, we will feature music acts including Rockabilly, Ska, Swing, Blues, and Americana; all of which were genres giving Route 66 a very distinct vibe in the 50's. From Chicago Blues to the Big Bands of the West Coast, Rockin Route 66 will be creating a very diverse blend of music and musicians from local to our national favorites. We will include a markette of vintage collectables, fashion, artists, and unique gifts. We will be featuring a Taste of New Mexico sourcing local and regional restaurants in the New Mexico area to highlight specific flavors of the region. We will include our side show carnie twist and theme to our event while over time add on to the festival with stunt shows, visiting guest artists, celebrities, and more!
Rockin Route 66 is about the local community of Tucumcari, New Mexico. Rockin Route 66 is a City of Tucumcari endorsed festival. We have worked hard to provide the city with a long term plan while celebrating their rich lifestyle of Route 66. The City of Tucumcari was recently name in the top 50 destinations nationwide for anyone to visit in USA Today. "It's easy to miss the small city of Tucumcari when you're speeding down Interstate 40 through the New Mexico desert. But put on your blinker, get off the highway and discover why it deserves a reputation as a bucket list destination. Tucumcari's downtown, along Old Route 66, boasts building-sized murals that depict the city's history as a ranching town and Route 66 destination. At night, neon lights blaze to life along the famous highway. Stop by Watson's BBQ ($6 and up) at Tucumcari Ranch Supply to taste local delights from baked goods to beef. Get a selfie with a skeletal Torvosaurus, T-Rex's cousin, at Mesalands Community College's Dinosaur Museum ($6.50), or explore oddities and antiques at Tucumcari Historical Museum for free."
We have created life long friendships in the City of Tucumcari, as well as many other Route 66 locations, including: Amarillo, Texas; Oklahoma City, Oklahoma; Albuquerque, New Mexico; Shamrock, Texas, and so many more off the beaten path. We have named this festival the Great American Road Trip, hoping that everyone who travels here shares their stories about the road trip along the way. We have spent hours at abandoned gas stations talking, taking pictures, and walking the fields. We have met countless of true Americans in local restaurants and bars across the highway. We have crashed in motels to hotels, from roach to coach, and have had a blast each and every time. Rockin Route 66 is about celebrating. It's a celebration of history. It's a celebration of kulture. It's a celebration of tradition. It's a celebration of life on the road, where one may believe is the "capital" of Route 66.
Come and celebrate with us the last weekend of June every year. Come ride the foothills of Mount Tucumcari. Come and get your "Kix on Route 66" every morning, America's Main Street Eatery, tune in to KQAY-FM 92.7 as you cruise down Route 66 while soaking in the most amazing sunsets. Rockin Route 66 is about the destination, just as much as the road trip. Roll into town where you will see iconic neon light the night sky. Stop by infamous stops like the Tee-Pee and stay at one of many nostalgic motels like the Road Runner Lodge, originally built in the 60's. You can see why so many people have come to fall in love with this great city…
For more information go to: http://rockinroute66.com/
"The Great American Road Trip" Challenge open to anyone:
The Great American Road Trip was created from a 50's phrase when it came to traveling Route 66 in years past. Whether creating a caravan of Air Streams or venturing off on your own, Route 66 was the Mother Road that took you cross country and through the heartbeat of America.
Today, we want to bring that back to the lifestyle of Kustom Kulture. For years, we have seen folks attend local car and bike shows nationwide. Well, that's all good for most of the year, but come on, is that what your ride is all about? Let's cruise round trip less than 25 miles to a local parking lot. Then when we get there, most places have nothing to offer; maybe if you are lucky the show is located at a bar or restaurant. There is no entertainment. There is nothing exciting. Then, you wait, getting frustrated for the loss of a trophy that cost less than $5, and you paid $20 to get into the "show". Not to mention that you do absolutely nothing with those trophies at all. Then, you cruise back to the house, only to hide your ride until the next disgruntled weekend show. Why?
Well, the crew who has created Rockin Route 66 has taken a road trip for the last 5 years through Route 66, enjoying more and more every year. We refuse to stop at the quick convenience roadside stop. We venture into town at whatever exit we get off at. We eat only at local eateries. We do our very best to stay at local motels. We do not rush the trip or the experience. We have found ourselves wandering town and city streets for hours. We have made friends everywhere we go. We have driven off-road with the cows, watching only to find ourselves having to turn around when the roads were washed out and laughing about it the whole time.
Our point is Route 66 is full of life. The heartbeat of America is alive when you travel down the roads less traveled. They are rich with history. There has not been one town where we felt uninvited. Now, we completely understand not everyone has the same schedules, so we have created a fun challenge for those who are able and encourage all to at least take time to see as much as you can of Route 66 when visiting Tucumcari, New Mexico.
So, here's the challenge. We have created an East and West challenge, as well as an entire Route 66 challenge. Now, during your road trip, there are some minor expectations in order for you to receive points and receive some great prizes when you land at Rockin' Route 66 in Tucumcari, New Mexico the last weekend in June annually.
To begin your trip, we have created a list of iconic Route 66 stops for both East and West. You will need to complete the entry form on the Great American Road Trip so we can keep track of all who plan to take a fun road trip. On your own schedule, you are to travel and document your trip in order for us to log and track your stops. Now, we require you to log into instagram app. and begin to follow Rockin Route 66. At every designated stop, you need to go to your instagram and post your picture of your stop and visit at those locations. We need you to tag every picture with: @rockinroute66 #rockinroute66 #greaseinc Go to http://rockinroute66.com/festival-highlights/the-great-american-road-trip/ and register to be a part of making road trip history....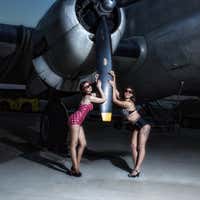 Garage 71 and Grease Inc. magazine is a kulture! The crew here is all about the 'gear head' scene from music, turn wrenches, life style, art, pinups, hot rods/rat rods, motorcycles, bobbers, tattoos and the life style.