They said it couldn't be done....they said it probably shouldn't be done. But, on Tuesday, September 9th, the gals from Roadtrippers attempted the impossible, an epic 16-bar tour of Cincinnati's day drinking scene. The mission: explore the best places in Cincinnati to get a drink before happy hour. And since this is totally unprecedented, we knew it would require first-hand research. So my fearless boss Tatiana Danger and I did a little internet sleuthing, made a few phone calls, and came up with an itinerary of 16 (!!!) bars to visit before 6pm. Then, all we had left to do was drink our way across the city.
Stop 1: Red Roost Tavern
The scene: We joined the businessmen and pilots at this hotel bar for a very early boozy breakfast. Like, 6:30am early. The decor was definitely cooler than your standard hotel restaurant scene.
The drinks: There's no classier way to kick off a day of getting wasted than mimosas-- and these were excellent mimosas, made with fresh OJ and good champagne. They went well with our waffles and French toast.
Reactions: Thank God for hotel bars. It took a minute for the waiter to realize that they do, in fact, serve booze at 6:30am. We'll chalk it up to the fact that what we're doing isn't exactly the norm.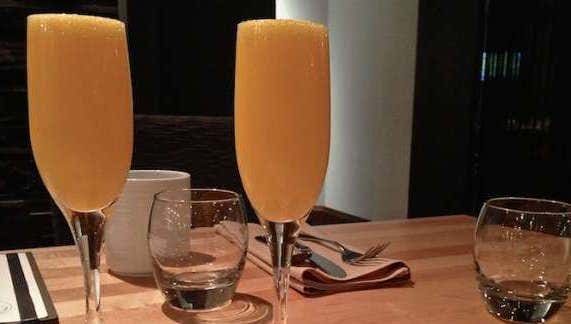 Stop 2: Horseshoe Casino (NOTE: Now called Jack Casino)
The scene: Empty slot machines as far as the eye can see. The place was almost empty-- then again, who in their right mind would go to a casino at 7:45? Oh, wait...
The drinks: We sat down at some penny slots (Van Helsing and Spartacus: Gladiator of Rome) and ordered our drinks, a seabreeze and a screwdriver, which were brought to us by a waitress who nicely explained to us how to use the slot machines. We promptly lost $2 each and then finished our drinks while we walked around and looked at the other themed slot machines.
Reactions: Being at a casino at 8am felt...weird. And maybe kind of sad. However, we really, really enjoyed the fact that they basically serve alcohol 24/7. If you're looking to day drink and need a place to go when nowhere else is open, this is your spot.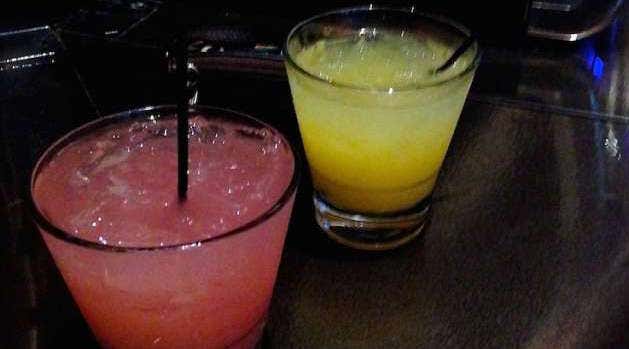 Stop 3: 1215 Wine Bar & Coffee Lab
The scene: Exposed brick walls. A single rose in a vintage glass bottle. A chalkboard with the menu written on it. In short, hipster paradise. The guy and the girl behind the counter were super chill, and seemed very supportive of our quest.
The drinks: An Irish coffee (really high quality coffee with Jameson and fresh whipped cream) and a Pale Horse Bourbon Latte, a white chocolate and bourbon delight. They were both delicious.
Reactions: Our drinks were dangerously tasty. Dangerous because they tasted so good we could have kept drinking them, and because they were $8 a pop. Also, Tatiana decided that her next child will be named "Pale Horse Bourbon". It has a nice ring to it.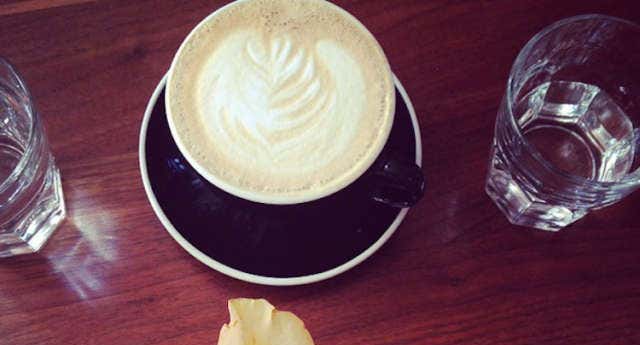 Stop 4: Taste of Belgium
The scene: While everyone else was drinking coffee, we sat down and ordered two beers. Thankfully, the waiter didn't bat an eyelash as to why two single, 20-somethings needed beers at 10am.
The drinks: A large Stella Artois and a Rhinegeist Franz. Drinking beer before noon is totally easy when you get the good stuff.
Reactions: The huge selection of pastries looked tempting, but we decided to save our appetites and stick to one of their many beers. Also, their happy hour looks really awesome.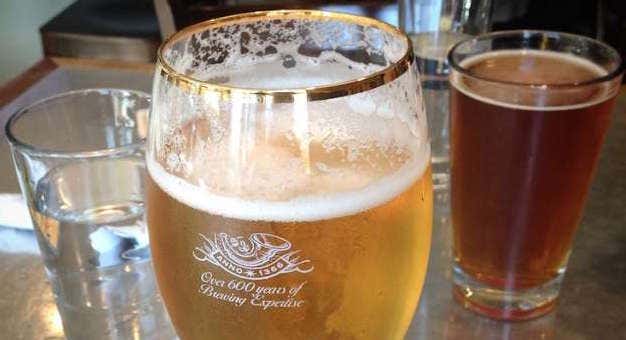 Stop 5: The Metropole in the 21c Museum Hotel
The scene: Part art museum, part restaurant, part hotel, all awesome. We chatted with the bartender for a bit, then took our drinks down the hall to check out some of their crazy art exhibits and installations. The Frankenstein taxidermy was a favorite.
The drinks: A gin and tonic made with their house-made tonic and something called the Midnight Garden-- it was sweet and peachy and just the right thing to have after the beers.
Reactions: Yet another hotel bar-- if you're really serious about day drinking, then definitely look for places in hotels. Also it was really nice to be able to walk around and explore instead of just sitting down.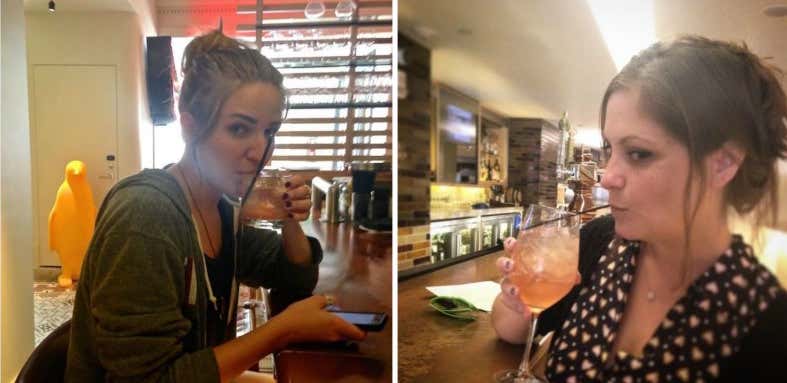 Stop 6: Nada
The scene: It now being lunchtime, the place was packed for lunch. We sat at the bar and ordered some chips and salsa to go with our drinks-- more beer.
The drinks: A Pacifico and a Rhinegeist Cougar-- nice, light beers that won't weigh us down as we attempt to visit 10 more bars.
Reactions: Amazing chips and salsa. There's something about chips and salsa that go so well with beer. Plus the lively atmosphere kept us from getting too tired-- we were literally the only people at the last bar.
Stop 7: Nicholson's Tavern and Pub
The scene: Outside on the shaded patio at a tall wooden table. The waitresses were all dressed in plaid skirts because, pub.
The drinks: Two white wine spritzers (made with Francis Ford Coppola wine) which seemed like an appropriate drink for sitting on a patio, I guess.
Reactions: The thought process behind getting white wine spritzers was to have something light and easy to drink, and sitting on the patio was definitely the right choice here.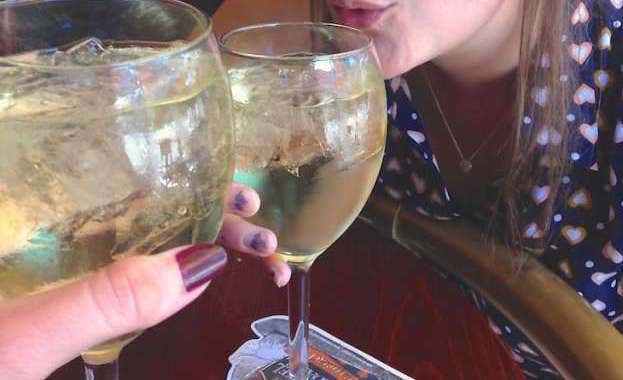 Stop 8: The Eagle
The scene: We didn't just come here for the drinks...we needed something to soak up the alcohol, and since all of the food at The Eagle is amazing, it made perfect sense. Our French dip sandwiches and mac and cheese were just what we needed.
The drinks: A pitcher of their infamous OTR iced tea to share with our co-workers who met us for lunch-- the stuff tastes amazing, and it's wicked strong. Our friends drank most of it.
Reactions: Getting a pitcher allowed us (or me at least) to pour myself a smaller glass...but if I hadn't been 8 drinks in, I would have had way more. Plus, just about everything on the menu here is prime drunk food. My mouth is watering just thinking about it...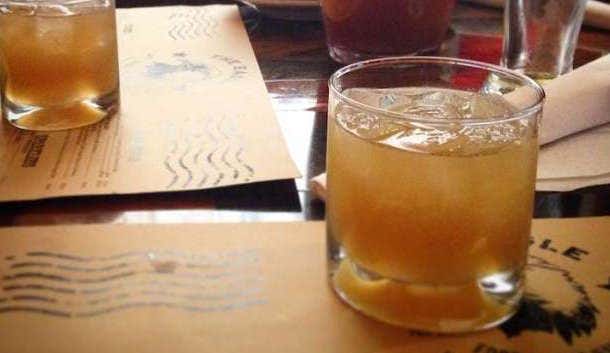 Stop 9: Bakersfield OTR
The scene: We walked across the street and sat down at a long picnic table at this taco joint for some chips, guac and (duh) more drinks.
The drinks: One of their infamous margaritas and one Corona (which weirdly came in a can). I took my time working through the margarita. It's v strong.
Reactions: Maybe getting such a strong drink wasn't the best idea, but since we weren't repeating drinks, it was a good choice. Their chips and guacamole are delicious, and even though we had just come from a big lunch, they helped soak up the margarita.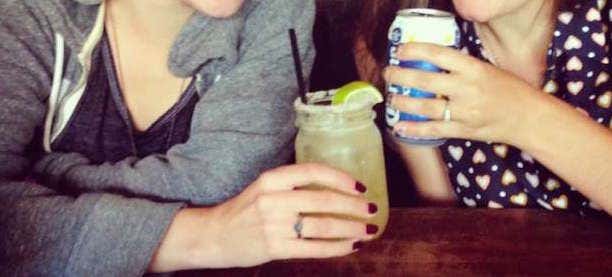 Stop 10: Kaze OTR
The scene: It was that awkward time between lunch and happy hour, so the place was dead. The waitress was nice enough to bring us some edamame to go with our drinks.
The drinks: We split a carafe of the house sake. The sake was a good way to mix things up-- definitely not something you want to drink all day but when you're 10 bars in and not in the mood for another beer (each kind of beer counts as a different drink for those keeping score) it's weirdly perfect.
Reactions: Taking time to sip on the sake was a good chance to relax, especially before the home stretch...there were still 6 more bars to hit.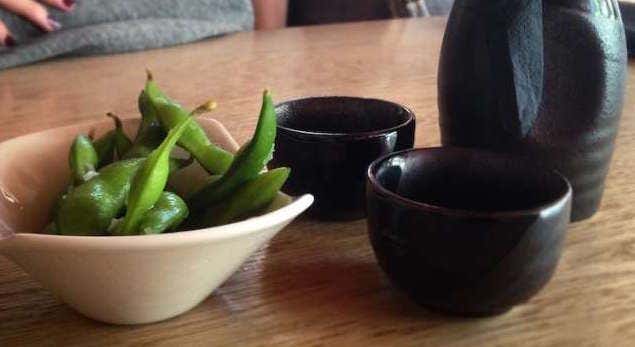 Conclusion: This is a great way to have a really fun day, try a lot of bars and delicious drinks, and also get sick. I highly recommend the experience to anyone and everyone.

Just a Civil War beard enthusiast, writer at Roadtrippers, and aspiring astronaut reaching for the stars.