The Pacific Northwest is known for being quirky. With cities like Seattle and Portland, you can pretty much guarantee you'll find something interesting to do. But even venturing out of the city limits provides opportunities to discover some cool hidden gems as well. As you explore this gorgeous part of the country, here are some rad attractions to stop and see!
Don't worry, flies don't grow extra-massive here in Oregon... it's just a classic roadside oddity. The massive fly is perched above this gas station's bathrooms, so it might have you thinking twice about stopping for a restroom break here!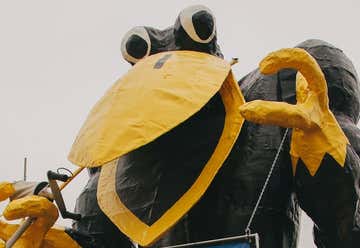 1810 W. Main St, Medford, OR, US
If you want something equally creepy but in a totally different way, check out Medford's hardware store's mascot. It's a massive state of a black bird that's affectionately described as "goofy-looking". Sometimes, he'll even have an outfit on to match the season.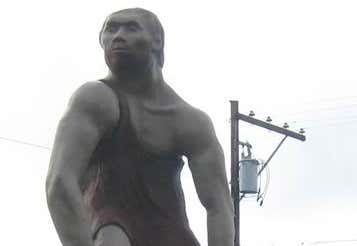 NW Sixth Street and Morgan Street, Grants Pass, OR, US
Grants Pass is a small town located near the Oregon Caves National Monument. They've embraced the nearby attraction and kind of made cavemen their local "thing". It's event the high school's mascot. Stop by their giant caveman statue and get into the quirky, small-town fun!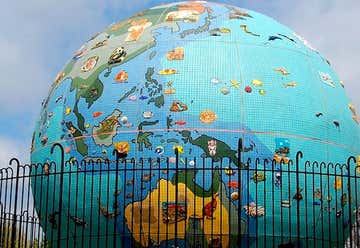 284 Trade St SE, Salem, OR, US
Salem is home to a massive globe with ceramic tiles that were decorated by local artists... but the coolest thing (other than the incredible detail and massive size of the globe) is that it's made out of an old acid storage ball from a nearby pulp and paper company, which is apparently a thing.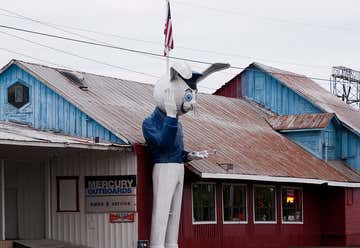 21250 SW Tualatin Valley Hwy, Beaverton, OR, US
You don't need to watch "Donnie Darko" to know that humanoid rabbits are always a bad sign... just stop by Beaverton's giant rabbit statue, named Harvey. Hopefully it doesn't give you nightmares, or anything.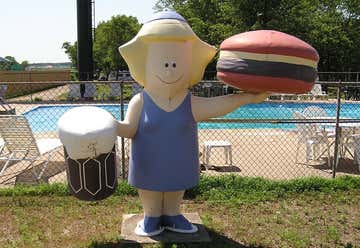 953 SE Maple, Hillsboro, OR, US
For something a little less terrifying, stop by this set of statues that once promoted a local A&W. It'll likely get you craving burgers and floats!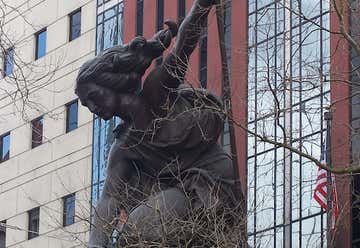 410 Sw Main St, Portland, OR, US
One of the most iconic attractions in Portland is (naturally) Portlandia. No, not the TV show... the statue! It's a depiction inspired by the city's seal, and features a lady in classical garb reaching her hand down to welcome visitors. It's a primo example of the city's forward-thinking public arts program!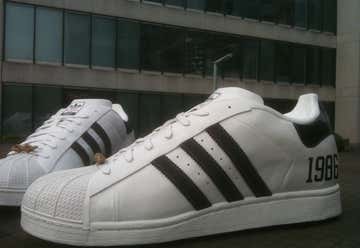 N Greeley Ave, Portland, OR, US
Adidas has its North American headquarters in Portland, and outside the building, you can find a massive pair of sneakers... ones that are big enough that they'd probably fit ol' Portlandia's feet!
2102 S Tacoma Way, Tacoma, WA, US
As you drive north from Portland to Seattle, the quirkiness doesn't stop. One of the must-see attractions along the way? Bob's Java Jive in Tacoma. Buildings created in clever shapes are mostly a thing of the past (most were built in the 1930's and 1940's), but Bob's, shaped like a retro coffee pot, has managed to survive. Just don't expect to find any java in here... it's a bar now, so you can order a cold beer after you snap your photos.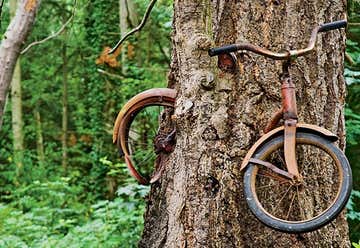 20312 Vashon Hwy SW, Vashon, WA, US
Some of the coolest attractions were created totally on accident, like this bicycle that's been eaten by a tree. The generally accepted story is that 8-year-old Don Putz received the bike as a gift in the 1950s. It was perfect... except for the fact that it was a girl's bike. Don was not too happy about the idea of riding around on something made for a girl, so he leaned it against a tree in the woods, and told his mother that he had lost it. Over time, the tree grew around the bike.
There's not too much of the bike left, but the island is simply gorgeous, and there's a little cafe next door where you can take a break.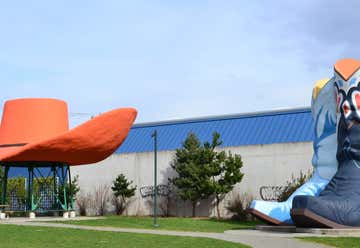 6427 Carleton Ave. S., Seattle, WA, US
Seattle isn't exactly known for its cowboy culture, but definitely stop by the giant hat and boots on Carleton Ave. Remnants of a Western-themed gas station, the roadside icons were preserved and placed in a park. It's an especially great stop if you're traveling with kids.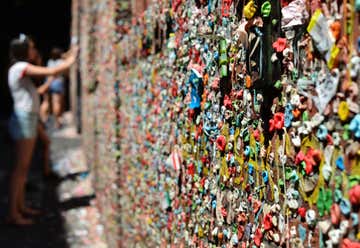 94 Pike St, Ste 32, Seattle, WA, US
And now for something completely disgusting. Pike Place is a must-stop in Seattle (it's got the views, the food, the guys throwing the fish, the Starbucks, etc.) so take at least a minute to stop by the Market Theater Gum Wall. It's been a long-standing tradition to place your used wad of gum here, and even though it gets cleaned off every few years, it doesn't take long for people to start sticking gum back on it. Bring some double bubble and make your own contribution! Just be mentally prepared for the odor.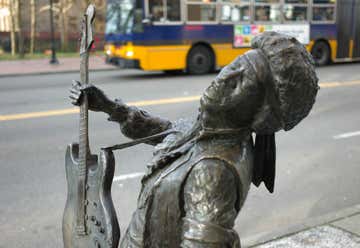 1604 Broadway, Seattle, WA, US
Jimi was born in Seattle, so it's fitting that a statue commemorates the guitar-playing rock icon in his hometown. Pose for a picture with him, and bring along a guitar pick, flowers, or a bottle of booze to leave behind in tribute.
Underneath a bridge, you'll find one of the best offbeat attractions in Seattle: the Fremont Troll. He was built in the 90s to help clean up the sketchy area, and is dedicated to the local legend that trolls frequent Fremont. Climb on the locally-beloved statue for a crazy photo op!
From giant trolls to bikes in trees, there are loads of strange attractions that are sure to make your adventure through the Pacific Northwest extra-interesting!