Getting from Taranaki to R&V in Gizzy is a hike, for sure, so we've thrown down some options to see and eat and drink and jump in and slide down, along the way. And if it's a scorcher then make sure you have easy access to your togs 'cause you're going to want them, especially on the way back at this natural water slide at Rere.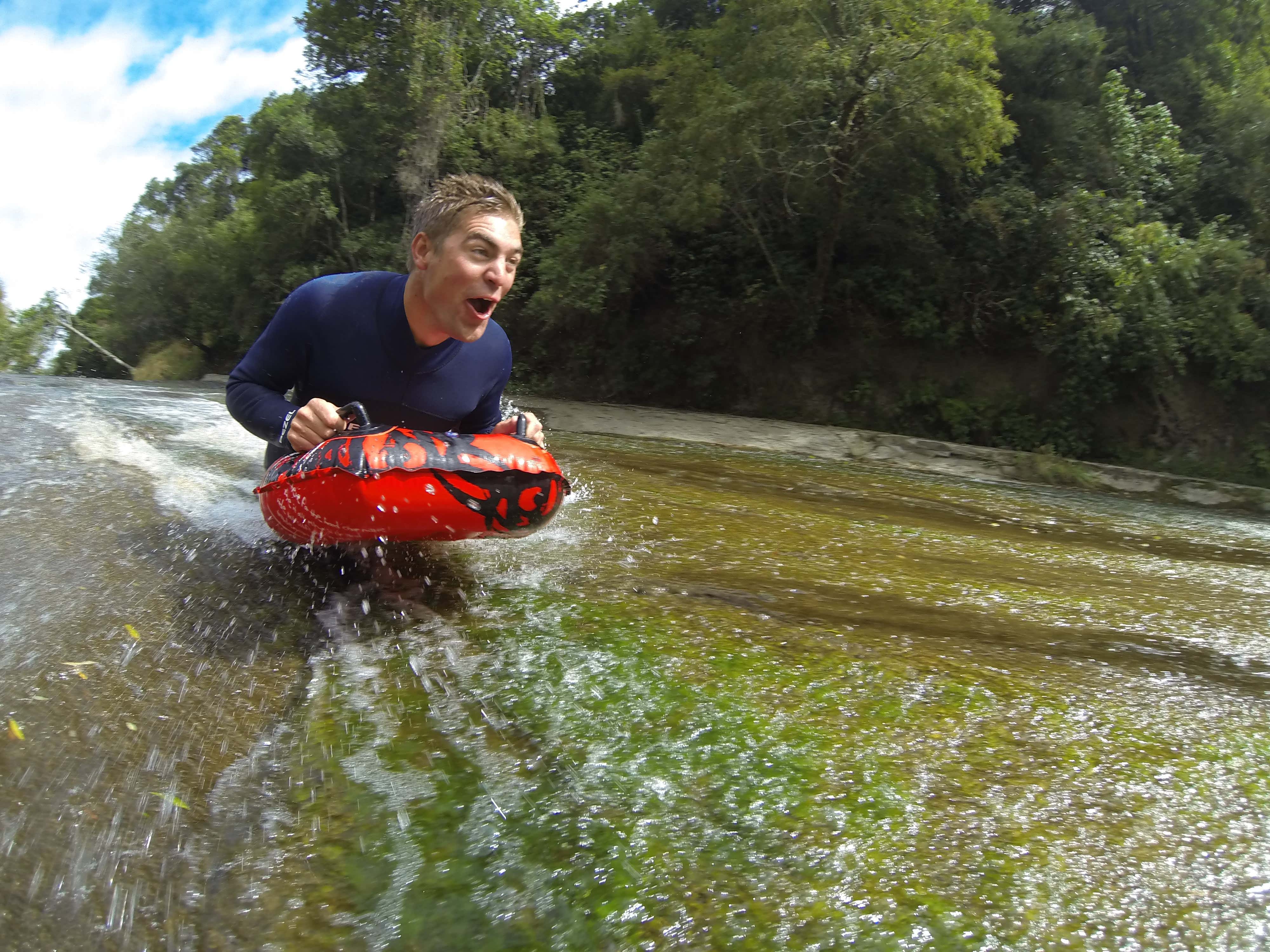 No roadie can get underway unless your crew have the ingested the necessary coffee hit. And whilst NZ is home to the finest of baristas and cafes, there are some long stretches on these roads across the country to Gizzy where coffee is rare and you can succumb to caffeine withdrawal easily. So first things first and if your road trip starts in New Plymouth get yourselves to the Public Catering Company. Situated in the White Hart - across the road from The Gallery - Public Catering Company is about as good as it gets. Stop yourself drooling and stock up on some mouth watering sarnies, a heart racing coffee (or two) and you'll struggle to walk past their pastries and donuts.
Once you've managed to decide on what to devour it's time to hit the road. Head north on SH3, past Piopio and then turn right onto SH4 - (signposted Taumarunui) - until you get to the Pukerimu turn off where you'll hit SH30 which will lead you to Whakamaru - your turning point to SH 32 and roads that will take you to Wairakei where Rapid Jets are waiting for you.
No trip to R&V is a proper roadie without a good old Kiwi adrenalin hit and the team at Rapid Jets will guarantee to pick up where the coffee left off and get your hearts sprinting. Set in the idyllic Aratiatia Scenic Reserve, Rapids shoot through narrow canyons, spin on their tails in the super clear waters and then surf the mighty Nga Awa Purua Rapids. Their grunty Chevy V8 jet boats roar up and down the fast flowing white water of the Waikato River, which is framed by NZ's beautiful native bush and dotted with steamy hot springs. The trip takes about 35 minutes, but it's 35 minutes well spent to get you in the buzz for the festivities.
Fully amped from ripping around the rapids, take a moment - or two - and grab a bite to eat and a great coffee from Spoon and Paddle. Launch yourself on their eggs bene, grab the lamb salad, or get something quick from their counter food. The coffee is strong and rich, the service is smiley and friendly.
And now all you really need before R&V kicks off is a swim. And what better place is there for a swim then Shine Falls? Shine Falls are completely wow inducing and you'll have a blast bombing into the crystal clear waters and splashing about under the spectacular 58 metre waterfalls. However, like all good things, this doesn't come without a bit of sweat. Head down SH5 and then turn left into SH2. Continue along SH2 until you get to Matahorua Road. Drive up (slowly as the road gets super skinny in places) 11k's of gnarly gravel road until you get to Heays Access Road. Follow this for about 6.5 kms and you'll come to a DOC carpark where there are picnic tables and a toilet. From here the track gently rises up across farmland and then through the trees to the waterfall. The signs warn of a 2 hour return trip, but reasonably fit people will nail the walk in about 30 minutes each way.
After your brisk walk and possibly quite brisk swim, it's time to skip back to the car and whisk yourselves off to Waiohika Estate and the joys and pumping beats of R&V.
After your R&V extravaganza, it's time to head back to the 'Naki. First off make sure your designated driver is sober (remember there are police checks on pretty much every road out of Gizzy) and then let's blast off the hangover by visiting the Rere Rockfalls, Wharekopae Rd, Rere, 50km northwest of Gisborne, for a bit of an adrenalin hit, whilst cooling the tired old body down in the Rere Stream. Make sure you bring a boogie board for maximum speed, or reuse your tired old R&V blow up mattress. Leap onto your makeshift surfboard to cruise the 60m Rere slide. It's a complete hoot and you'll want to slide time and time again. Remember to pack your sunscreen and mossie repellant on the top of your pack because the midges can be a tad niggly some days and you just might find you spend a decent chunk of time shooting the rockslide before running up for more. And best of all - it's free!
Next off, if that taste of cool water has you yearning for more, head off to Mahia for a swim. There's nothing like running down a white sand beach and leaping into glorious clear salty water to make you feel human again. Mahia is a long stretch of sand, framed by grassy dunes and a fabulous knob of a headland. If you have the time it's a great place to hang before setting off on the long drive home again.
However, if you're keen to get on the way and into your next thrill, after your swim load the crew back into the car and head off along SH2 until you get to the Napier - Taupo Road (SH5). Head northwards to Taupo until you hit the SH1 intersection. Follow SH1 and then turn into Tauhara Road, and at the end of Tauhara Road, on Spa Road, you'll discover Taupo Cliffhanger and your next buzz for this particular roadie.
Taupo Cliffhanger is an extreme cliff-face swing, based at the Taupo Bungy site, and precariously balanced over the Waikato River. The good team at the Cliffhanger will throw you feet first off the 44 metre cliff. And after you've finally come back to ground your New Year's hangover will almost certainly be a distant memory. Your freefall will hurtle you towards the river at speeds of up to 70 lip wobbling km's an hour and then suddenly there will be sweet breath catching nirvana as you arc up to 180 degrees.
Remember you can fly solo, but if you do decide to tandem with one of your festival crew, you'll find you plummet faster and rebound higher!
After all of the blood is amping through your veins you probably need a coldie and something to eat. At times like this nothing is better than pizza, so head along to the Lakehouse, and grab a seat looking out across the Lake towards the mighty peaks of Mt Tongariro. Order a brew from Taupo-based Lakeman Brewing. Their Hairy Hop IPA has won several awards, deservedly so. Then depending on how you're feeling, grab one of their margarita pizzas - for the still slightly sensitive stomachs - or for those of you who have got their mojo back - there's an array of tasty flavours that are certain to tempt.
Once you've got a beer and a carbo load under your belt, it's time for home. Put the sounds on, wind the windows down and head back towards the Naki, bearing in mind it's now less than a year away till your next road trip to R&V 2018.