I've managed to travel so much of the East Coast, Midwest, and Southwest, but I've yet to explore the Pacific Northwest - a part of this beautiful country I know I'd love. This could be the perfect opportunity, and this is only a small snapshot of what I'd love to do in the area!
As a huge fan of The X-Files, I have always wanted to visit Vancouver, and the episode on the Grouse Mountain Skyride is one of my absolute favorites because of the scenery. I can't even imagine getting to visit this spot and see these views.
Again, this is a must for any X-Files fan wanting to pay homage to the show, and I really love old school cafes - my husband and I make a point to visit as many as possible while we travel - and this is one of the oldest in Vancouver, so this seems right up my alley. Just looking at the outside of this cafe, I know I want a cup of coffee and hash browns for breakfast and to come back for a burger and a beer for dinner.
1208 Bay St, Bellingham, WA, US
As a lifetime fan of improv, all thanks to watching Whose Line is it Anyway with my parents as a kid and admiring Ryan Stiles, I would need to pay my respects to him by visiting his comedy theatre for a night of laughs in between all of the beautiful scenery along the drive.
A friend in Seattle has told me how much she loves this park and it seems to be a favorite among locals, and since I am a big fan of Lake Michigan, said friend thinks I'd feel right at home on this Pacific Northwest coastline. The pictures look stunning and I'd love to relax by the water.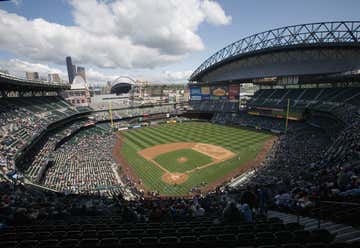 First Ave. S. & S. Atlantic St. Seattle Mariners Safeco Field, Seattle, WA, US
My husband and I met on Opening Day in our hometown, had our first date at the ballpark, and continue to visit at many MLB stadiums as we possibly can. We've yet to make it to Safeco, so this is a must for a road trip! And I know the waffles are a supposed to be aaaaamazing!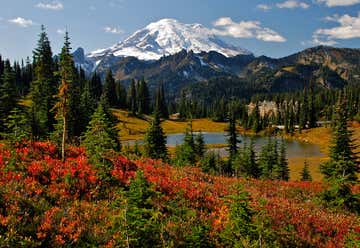 39000 E State Route 706, Ashford, WA, US
I feel like this is self-explanatory to anyone who loves nature... I love and feel at home in the mountains and I know this would be simply breathtaking. Even the photos are humbling, and I would love to stand within Mount Rainier National Park.
1005 W Burnside St, Portland, OR, US
I'm a regular at both of the big independent bookstores in LA - Skylight Books (where I am also a member of their club) and the Last Bookstore - and anyone who loves books knows Powell's is the mecca of independent bookstores. I've purchased from Powell's online, but I'd love to get lost in this store for hours and hours.
22 SW 3rd Ave, Portland, OR, US
Much like Powell's, this is supposed to be a must for donut lovers. While we're getting one here in LA in a few months, I'm hoping to someday visit the Portland spot that everyone raves about. I'll take a Portland Creme and a Blueberry Cake, please!
As an animal lover and general fan of conservation, I've heard great things about this place from friends that have visited the Portland area. I'd love to hike (and do some bird watching) in a climate and landscape that I'm not used, and this seems like a great way to wrap up our time in the city.
Growing up on Lake Michigan, some of my favorite memories are walking up and down the beach with my dad and grandpa looking for sea glass. This beach is high on my bucket list to visit before all the sea glass is taken by greedy tourists. It looks so stunning but I know it won't be around forever, so I'm anxious to spend an afternoon here.
I feel like this is only a snippit of what I'd like to do in the Pacific Northwest. My husband and I absolutely love to travel, so we have perfected the art of fitting as much as we can into an afternoon, and we love everything from a day in nature spent hiking or lounging by the water, to an afternoon of local shopping, to trying the must-have burger in the city, to bar-hopping at the favorite local dives or catching a great comedy/music show. We've been planning a trip from Vancouver down to San Francisco for a few years, but we just haven't had the means to make it happen. This would be a dream come true!