Despite what the internet might say, print isn't dead! Spend a whole day getting lost in one of America's coziest, quaintest bookstores-- nothing beats the experience of leisurely browsing through shelves of paperbacks as you sip a coffee and soak in all the literary potential. Take that, e-readers!
If you're looking for a copy of The Great Gatsby, you probably won't find it at Quimby's. If, however, you happen to be looking for Star Trek trading cards, a graffiti art coloring book, or a zine dedicated to scabs, this hardcore indie bookstore has got you covered.
This Asheville bookseller has a cozy cafe, but it's really all about the books here. If you're feeling bold, grab something from the banned books section; if you're feeling lost in a sea of stories, check out their extensive staff picks shelves; or, if you're feeling adventurous, grab one of their mysterious grab bag books-- each is wrapped in brown paper that's covered with adjectives describing the book inside.
This place is simply massive! It's truly one of the country's largest bookstores and has plenty of accolades to match: books out of print, first editions, oh and an amazing market place to grab lunch next door. Plus, Midtown puts Harrisburg on the map.
Once you pick out a book from the store, located inside an old 1800's grist mill, grab a treat at the cafe and head to the outdoor seating area, where the magic really happens. There's nothing better than getting lost in a new book while listening to a babbling brook. You can even have dinner at the restaurant and literally make it an all-day affair.
The Brattle is also one of America's oldest and largest used book stores. They keep the tradition of buying used books alive and have a wealth of rare books. But hands down the coolest part of this multi-level gem is the ground floor. They open up "the lot" outside when the weather permits. It's a sale lot jam packed with $3 and $5 books.
Reading is awesome, but reading for a cause is even better! All the employees are volunteers, and all proceeds from the store go to help prevent HIV/AIDS. They have happy hours at their cafe and lots of author events, trivia nights and more. Plus, it's a great place to meet other charitable literature lovers!
You could stop by The Strand, but you might find yourself overwhelmed. Instead, virtually travel the world without leaving this Manhattan bookstore-- they organize their selections by country. Grab one of the billions of magazines they sell and take it upstairs to enjoy with a coffee and a scone! They're even open on weekend nights, so if your dream Saturday night involves tea and a new paperback, you're in luck.
You could spend a whole day browsing the posters, comic books, old school zines, knick knacks, and sci-fi/fantasy/monster lit and still not see it all... and that's not even taking into account their indie records and DVDs. If you want a better idea of the kind of place this is, the fact that John Waters is a fan should tell you everything you need to know. They've also opened a bar!
This DC establishment is known for the many speakers they host (usually for free!), for their massive selection of books, and for the awesome cafe in the basement-- but don't even think about ordering your drink to go; you'll be too absorbed in the wares and their atmosphere.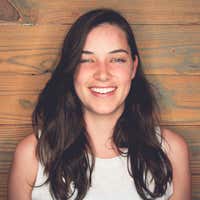 Western Mass transplant. I like small towns with big ideas, preferably under snowfall.