Written by Tracy E. Hopkins
Located just a few hours from New York City and Washington, D.C., Philadelphia has historic landmarks at every turn. But the City of Brotherly Love is also full of art and soul, and steeped in African American culture. Here are our favorite stops on a road trip celebrating the passion and resilience of the city's Black artists and entrepreneurs.
This polished beauty supply store features a mix of independent and mainstream hair care brands, primarily for people of color and textured hair. Owner Jenea Robison also makes and sells the store's quality line of natural hair and body products.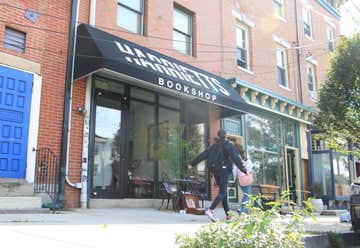 258 E Girard Avenue, Philadelphia, PA, US
Visit Jeanine A. Cook's bookstore for bohemian vibes and a carefully curated selection of books for children of color, Toni Morrison's complete collection, works by Sonia Sanchez and Zora Neale Hurston, and current bestsellers and independently published books by Black authors.
2400 Coral St, Philadelphia, PA, US
Named after civil rights icons Fannie Lou Hamer and Frances E.W. Harper, this cozy Kensington cafe co-owned by Blew Kind is all about love, liberation, and community. Regulars drop by for coffee, tea, smoothies, sweet treats, and sandwiches like the bacon, egg, and cheddar "Anti-Capitalist" served with a smile. Grab a table inside or enjoy the colorful, plant-filled backyard.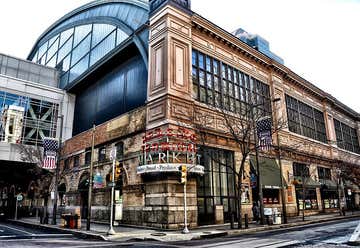 51 N 12th St, Philadelphia, PA, US
Charita Powell's Amazulu Gift Shop is a hidden gem in a sea of food and fresh produce vendors in the bustling Reading Terminal Market, one of the largest and oldest public markets in the U.S. The artist collective features Powell's handmade sterling silver jewelry as well as jewelry from other local designers, Afro-centric t-shirts, African print headwraps, and eye-catching face masks.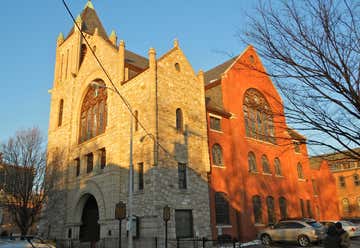 419 S 6th St, Philadelphia, PA, US
The mother church of the nation's first Black denomination stands on the oldest parcel of land in the city continuously owned by African-Americans. A museum dedicated to its founder, Reverend Richard Allen, is housed in the basement of this historic house of worship. It includes Allen's tomb and artifacts, such as his Bible, the church's original pulpit and pews, and old ballot boxes and muskets used by Black troops in the War of 1812. A commanding statue of Allen overlooks the parking lot; in 1974, the church was designated a National Historic Landmark.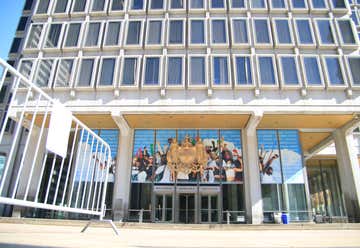 1401 John F Kennedy Blvd, Philadelphia, PA, US
Thanks to Mural Arts Philadelphia, the city is hailed internationally as the "City of Murals." The program transforms public spaces across the city into an expansive and electrifying outdoor art gallery, with many of the vibrant murals commissioned by artists of color. Crown by Russell Craig is located at the Municipal Services Building in Center City. To maximize your experience, park the car and take a Mural Mile walking tour.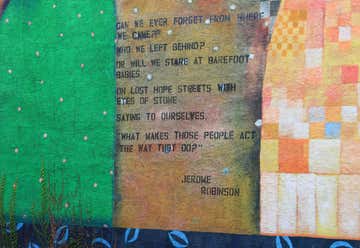 1531 West Girard Avenue, Philadelphia, PA, US
Parris Stancell's mural, A Celebration of Poetry, features words from six different poets. Two women—one with a water jug, the other with a guitar—are depicted alongside a jazz musician, tracing the African American journey from Africa to the present day U.S.
This mural is dedicated to poet and professor Sonia Sanchez. By artist James Dupree, the artwork features images of Sanchez alongside African motifs; it's located near Temple University at the intersection of Diamond and Carlisle Streets in North Philly.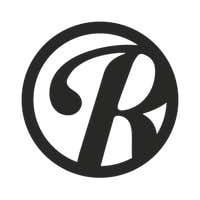 The best of Roadtrippers—hand picked by our team