Road trips are an undeniably American experience. From the pioneers crossing the country in wagons to the invention of the automobile and the rise of car culture, the urge to hit the road has always had a prominent place in our country's history. That's why Nebraska is the perfect state for a road trip. Its many roadside stops all seem to pay homage to road travel—from its Oregon Trail icons to the countless drive-in burger joints. And, of course, we can't forget Carhenge—the mysterious motorhead monument in the middle of the plains.
There's a unique beauty in Nebraska's grassy prairies and rugged badlands, and nowhere is this more evident than at Scotts Bluff National Monument. The crown jewel of the monument, though, is the northern bluff, named for Rocky Mountain Fur Company clerk Hiram Scott. It was a crucial landmark for pioneers traveling on the Oregon Trail (in fact, it's the second-most mentioned landmark in pioneer journals and diaries) and also helped guide Pony Express riders. The park features an Oregon Trail Museum and Visitor Center, which interprets the geological and natural history of the area and houses a ton of art and artifacts relating to westward expansion. There's also a scenic road to the top of the bluff, which makes for a fun drive (or shuttle bus ride). Additionally, there are places where you can literally walk in the footsteps of pioneers by following actual sections of Oregon Trail.
1446 10th St, Gering, NE, US
Grab some treats and drinks to enjoy on the road at Gering Bakery. This iconic spot is well-known for its adorably decorated cakes, but the storefront sells donuts, cookies, cinnamon rolls, bread, and more. The must-order Nebraskan specialty is the "cabbage burger," or sometimes known as runzas. But whatever you choose to call it, it's actually just a bun filled with a delicious, savory cabbage-and-beef filling. All of their treats are made from scratch using local ingredients, and you can definitely taste the difference.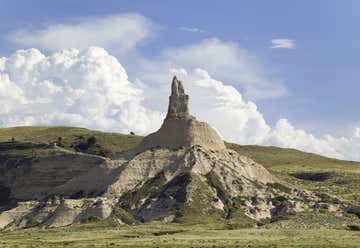 9822 County Rd 75, Bayard, NE, US
Another Oregon Trail landmark in the area is Chimney Rock National Historic Site. It stands approximately 286 feet above the surroundings, so it's very prominent. The rock structure was even taller back when the westward pioneers were passing by, but natural erosion has shortened it a few feet. It's also the site of a long-gone ghost town called Chimney Rock, which had a post office between 1913 and 1922. You won't need to exit the highway to see it, but there is a visitor center located at the site. The center contains more museum exhibits on pioneers, as well as a short film and a gift shop.
409 N Main St, Bridgeport, NE, US
Something about an old-fashioned burger is extra satisfying after tackling a long stretch of open road. Karette Drive In is as classic a drive in as they come—serving burgers, fries, hot dogs, a variety of deep fried sides (think onion rings and green beans), and all of your favorite ice cream treats. The milkshakes are always popular, but the sundaes—which come in flavors like caramel apple pie and cheesecake—are out of this world. The prices are super reasonable and the portion sizes are always generous.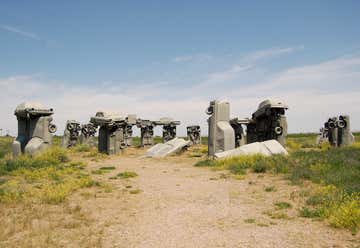 2141 County Road 59, Alliance, NE, US
Paying homage to Stonehenge, Carhenge has been fascinating people since its installation in the 1980s. Dreamed up by Jim Reinders as a memorial to his father, Carhenge consists of a circle of cars with a heel stone, slaughter stone, and two station stones within the circle. In fact, it's a near perfect match to its counterpart across a pond thanks to Reinders' extensive studies of Stonehenge while living in England. Except, you know, made with American cars instead of giant stones. The monument was dedicated by Reinders and his family during the 1987 summer solstice.
While it's certainly the centerpiece, the druidic tribute isn't the only strange sight on the property. There's also a "Car Art Reserve" populated with plenty of art projects created with vehicle bits and pieces, including the famed "Ford Seasons" installation. Another cheeky feature is the little graveyard dedicated to three foreign cars buried on the grounds. A full vehicle serves as their makeshift gravestone, reading: "Here lie three bones of foreign cars. They served our purpose while Detroit slept. Now Detroit is awake and America's great!" Carhenge is free of admission and open every day, just waiting for you to experience the mystery for yourself.
15951 Hwy 385, Chadron, NE, US
Established in 1921, Chadron State Park is Nebraska's first state park. It protects the unique landscape of the state's Pine Ridge escarpment, which features rocky buttes, canyons, pine forests, the lush Chadron Creek, and grassy hills. It butts up against the Nebraska National Forest, and between the two preserves, there are more than 100 miles of hiking and biking trails to explore. Additionally, the park has a regulation sized pool, equestrian trails, archery, sand volleyball, paddleboards for rent, and fishing. As for hiking, the 4-mile Black Hills Overlook Trail and the 1.4-mile Steamboat Loop Trail are scenic favorites.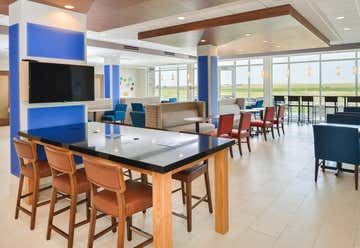 247 Ash Street, Chadron, NE, US
Whether you use Chadron as a home base for exploring northeast Nebraska or as a stop along the way, the town's Holiday Inn Express & Suites makes for perfect accommodations. With amenities like free high-speed internet in every room, a heated indoor pool, onsite self-laundry facilities, and spacious rooms, you won't have a single thing to worry about as you unwind from a long day of exploring. Even better, IHG® Rewards Club Premier Credit Card members earn additional points when they use their card here. It's the ideal place to kick off a full day on the road.
Chadron has some great museums, but head to Crawford for the Trailside Museum of Natural History at Fort Robinson State Park. It's run by the University of Nebraska Lincoln, and its most unique feature is known as the Clash of the Mammals—a set of two bull mammoth fossils who locked tusks during a fight and, unable to separate and free themselves, died in the act of fighting. In addition to the impressive fossil collection, there's also an art gallery and a really stellar rock shop, which is great for picking up a few memorable souvenirs.
Nebraska is a state best seen on a road trip, which is why it makes for the perfect 'statecation' destination. There's no better way to fully appreciate the surprisingly varied landscape, old-school grub, and prolific history than by truly immersing in it (never mind all of the bonus points you'll rack up if you use an IHG® Rewards Club Premier Credit Card). I mean, where else can you walk in the footsteps of Oregon Trail pioneers, Native Americans, and ancient mammoths?
Click here to check out more trips in the Midwest.