Look, we all know that the Grand Canyon National Park is impressive... and while we respect it, we also have a soft spot for the offbeat and lesser-known. That's why we love Georgia's "Little Grand Canyon." Not only does it look jaw-droppingly wild, the story behind it is even crazier. It's the perfect start to a road trip exploring some of Georgia's quirkier gems. From the mystery house that has a very good reason for having more than 50 exits, to the Native American burial mound that was once ravaged by grave robbers, there's lots of weird history and unique beauty to be found here.
Located in Lumpkin, the "Little Grand Canyon" in Providence Canyon State Park features over 1,000 acres of canyons, plateaus, gullies, and more. Rainwater runoff caused the soil to erode after years of poor farming practices in the 19th century, forming these strange, yet beautiful gorges. So throw on some old (preferably waterproof!) shoes and get ready to trek through mud and colorful canyon soil. During July and August, you'll even discover the rare Plumleaf Azalea shrub growing around the grounds; its bright red and orange flowers create an incredible landscape portrait. This hike will be full of interesting discoveries.
If rare flowers aren't your thing, perhaps a hike around the rim of the canyon, where you'll find old rusted cars scattered about, will suit your fancy-- or maybe you want to do some armadillo spotting! You will have to do some hiking to reach those killer views, but it's definitely worth the effort. If you don't have time to hike them all, canyons four and five are must-sees, being that in between the two there are full views of the entirety of the canyons. You'll definitely want to pack a picnic and spend a full day basking in the unusual beauty!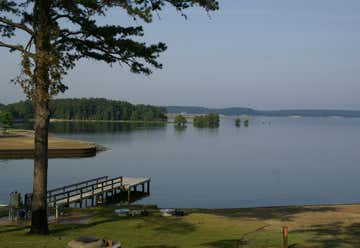 330 Bagby Pkwy, Fort Gaines, GA, US
Head south to the gorgeous 48,000-acre Lake Walter F. George (also known as Lake Eufaula), where you'll find George T. Bagby State Park and Lodge. This is a great, secluded getaway that provides the perfect opportunity to kick back and relax while enjoying all of Georgia's breathtaking scenery. Explore the park on its trails, or take advantage of the golf course, canoe rentals, and other fun activities the lodge has to offer. Cabins are available for the entire family, or enjoy some peace and quiet in a room right in the lodge - George T. Bagby offers accommodation and entertainment for any kind of traveler! Keep in mind, there are few food choices around the area, but your stay includes a kitchen full of pots and pans, so a stop at a grocery somewhere on the way may not be a bad idea. This state park makes exploring the great outdoors easy and convenient for anyone and everyone, even the least-experienced outdoorsman.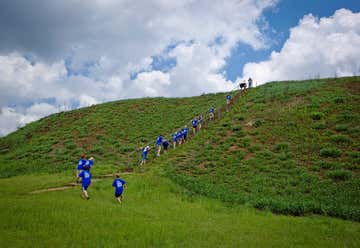 205 Indian Mounds Road, Blakely, GA, US
Kolomoki Mounds State Park is a great historical addition to your trip through the Peach State. Native Americans occupied this space from 350 to 750 A.D., making it one of the oldest mound sites in the area. Unfortunately, in 1974, a robbery of the museum resulted in the loss of over 100 artifacts. Some, but not all were later found in Florida. Despite this, history is still alive within the property, and the protection of the land and artifacts is highly emphasized. Walk the grounds, visit the lake that features a great swimming area, and be sure to check out the informational film about the history of the land. A few of the trails even wander into the forest for some additional hiking opportunities. Kolomoki Mounds State Park is a great afternoon stop, or you can relax and stay awhile at the many campsites offered here. However long you choose to stay, you'll find plenty to do, whether it be mini golf, canoeing, fishing, or simply taking in the centuries worth of historical significance the land has to offer.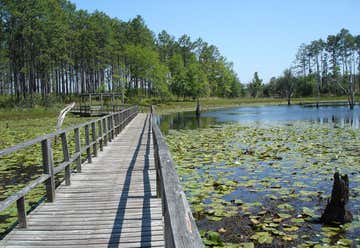 7870 State Park Dr., Donalsonville, GA, US
Almost right up against the Georgia-Florida state line, Seminole State Park rests on a 37,500-acre reservoir. This state park is perfect for just about any kind of outdoor activity you might find yourself in the mood for, including skiing, birdwatching, hiking (we love the adorably-named Gopher Tortoise Trail), and much more. Stay the night in a rental cabin, or if you're looking for something a little more rustic, there are plenty of tent and RV campsites available. Some sites are even located right next to the peaceful lake.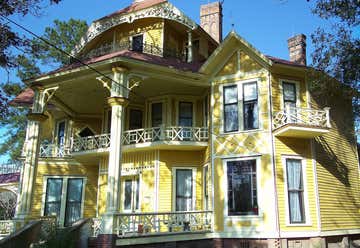 626 N Dawson St, Thomasville, GA, US
The Lapham-Patterson House is a National Historic Landmark celebrated for its unique architecture. It was built in 1884 for Charles Lapham, a businessman from Chicago. Lapham was said to have had many quirks that led to some of the home's more interesting features. His surviving the Great Chicago Fire of 1871 led to a fear of flames, and this phobia is presumed to be the reason behind his placing 45 doors and 53 windows amongst the 19 rooms. Check out the fretwork outside the gentlemen's parlor over the balcony; you can see animal and amorphous shapes cut into the wood, including a cow that's assumed to be Mrs. O'Leary's, which, according to legend, started the Chicago Fire by kicking over a lantern. The house was also designed at a strange angle to take advantage of the sunlight on the spring and fall equinoxes.
Three families lived in the house over the years, and numerous events are still held here. Oh, remember to keep an eye out for paranormal activity or strange happenings while inside. It's rumored that Mr. Lapham was involved in the occult, and people occasionally report mysterious goings-on inside the home.
542 Reed Bingham Road, Adel, GA, US
After a day of whimsy and architecture, pay a visit to Reed Bingham State Park, a perfect place to camp and soak in some Georgia sun. The park is a great place for swimming, walks along peaceful nature trails (keep an eye out for tortoises), and BBQing with friends or family. The large lake within the park is popular among fishermen, canoe and kayak paddlers, and wildlife lovers. Though all of the sites are spacious, book ahead to snag the super-special private paddle-in campsite located smack-dab in the middle of the lake! Miles of hiking through swamps and bogs provide for some gorgeous pictures and wildlife when you aren't chilling out at your campsite. Reed Bingham is conveniently located not far off I-75, which is great for travelers looking to relax for a night or two and be right back on their roadtripping way!
Running between Cordele and Americus, the SAM Shortline is a historic train that takes passengers through quaint towns with unique attractions, delicious local restaurants, and one-of-a-kind shopping in a vintage 1949 train car. Trips might include stops at Georgia Veterans State Park; Lake Blackshear; Habitat For Humanity's Global Village and Discovery Center; and much more. Adding some historical significance to the ride, you'll find yourself taken back in time to the days of Jimmy Carter, the 39th president of the United States, who is from the town of Plains and attended Georgia Southwestern State University. Here, you can explore his campaign museum and experience life as he did years ago. Taking in all of the incredible Georgia scenery and history in such a nostalgic way is a perfect ending to a trip full of southern hospitality, stunning nature, and unforgettable fun. Be sure to check the constantly changing schedule and pick an excursion that sparks your interest!
Georgia offers beauty that's wildly underrated. Beginning with the "Little Grand Canyon" and making your way through the state, you can experience a taste of all the Peach State has to offer. This trip will prove that Georgia is the perfect place to get away from the hustle and bustle for a little while, and enjoy serene parks and charming small towns. Lakes, incredible wildlife, and camping-- in combination with strange historical landmarks-- make for a trip travelers will remember for a lifetime!