With a gigantic coastline that runs for 12,000 kms, Western Australia is top of the class for epic number of places to go for a dip. The hardest part is choosing where so we've narrowed it down to the top seven.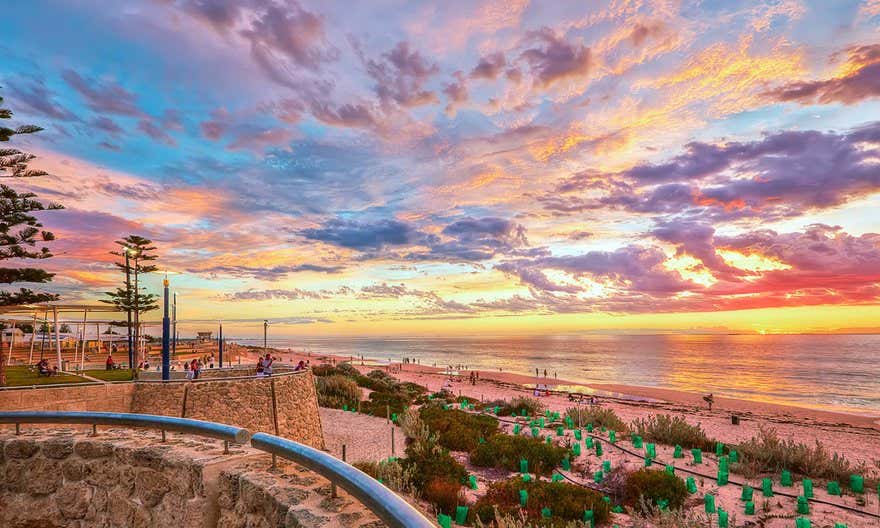 Cable Beach, located just a short trip from Broome, is a 22 kilometre stretch of pure white sand known for its spectacular sun sets. Tourists flock here to ride a camel along the beach where they can appreciate the red ochre cliffs on one side and the stunning topaz-coloured water of the Indian Ocean on the other. There's also 130-million-year-old dinosaur footprints at the southern end of the beach which you can see in low tide. Spot dolphins and migrating whales from Gantheaume Point Lighthouse or marvel at Staircase to the Moon - a natural phenomenon which occurs when when a full moon rises over the exposed tidal flats. End your day with a cocktail at one of the beachside bars located in the resort's that dot the beach.
The best way to experience the Fern Pool is on your back. Floating in this famous pool, looking up the crazy red rock, full of iron, and the sky above, with ferns peeking into your peripheral vision is bliss. Especially in the inevitable Western Australian heat after a challenging scramble in. The Fern pool is at one end of Dales Gorge after Fortescue Falls. Another favourite spot to dip in the park is Circular Pool, at the other end of Dales Gorge so it's easy to combine all three (if you have three hours up your sleeve). Both pools are very special to local Aboriginal people. Full respect's required.
Once you get into Karijini National park, head to Fortescue Falls then follow the class 4 track upstream for about 300 metres.
One of Perth's most popular beaches, this is the place to come on a warm summer's evening to eat fish and chips and share a bottle of wine with friends on the beach. Cottesloe Beach, located halfway between Perth's CBD and the port of Fremantle, is known for its village atmosphere and rich maritime history. It's the place to come for swimming, snorkelling, surfing and watching the sun set over the Indian Ocean. Make sure you swim out to the Pylon, a large concrete bell-shaped floating structure that was originally built as part of a shark net. Now it's used by swimmers to climb onto and jump off.
Check out the stunning art-deco Indiana Teahouse building on the beach which has become a Cottesloe landmark. There's a restaurant on the upper level while surf life savers occupy the ground floor. Across the road from the beach you'll find cafes, pubs and surf shops.
There may be Scarborough Beaches all over the world (and three in Australia) but this one is a firm favourite. It's another central Perth beach that is hugely popular. With a good swell for surfers and boogie boarders, white sand, and safe swimming it's usually packed on a hot day. If you don't want to swim in the ocean there's also a geo-thermally heated pool on the foreshore for year-round swimming. Plus, with the host of restaurants, BBQs and unreal sunsets you can spend a whole day or week here.
There's plenty of tucked-away beaches to explore along the stretch of coastline that includes Bailey Beach. If you're a snorkelling enthusiast, head straight to Bailey Beach to explore the protected reef located just off the shoreline. In calm waters, you'll only need to go a few meters from the beach to spot redlip morwong, boxfish and schools of herring.
After you're done exploring underwater, take a walk along the coast to see if you can find a stretch of sand nestled among the cliffs that you can have all to yourself for an afternoon.
The Basin is not so much a beach but more a natural swimming pool and one of the most popular spots on the idyllic Rottnest Island. You only need to take a couple of steps from the beach across a shallow reef platform before you'll find yourself at the edge of a large "hole" in the reef. This hole provides the perfect dimensions and depth to make it just like a swimming pool. Unlike a chlorinated swimming pool, you'll be bathing in crystal-clear salt water. Keep an eye out for the buffalo bream fish which will swim around your ankles.
The Basin is a great place for children learning to snorkel as its free of strong currents and crashing waves. If you're more experienced, venture out to deeper water towards Longreach Bay to see a great selection of fish and colourful coral.
Don't let the unsealed gravel road put you off from visiting the beautiful, rugged Mandalay Beach, 30 minutes from the town of Walpole. This long white-sand beach complete with rocky headlands and untamed bush is the perfect spot for a day of swimming and exploring. You'll also want to bring your fishing rod - this beach is known as a great spot to catch skippy, herring and whiting.
If you're there during low tide, see if you can spot the three-masted Norwegian Barque "Mandalay" ship which was beached in 1911. Further out, you'll be able to see right out to Chatham Island.
Access to the beach is via a boardwalk which descends to the sand.