From Chicago to St. Louis, the Illinois stretch of Route 66 is still home to countless roadside diners, kitschy art, and other reminders of the Route's famous past. A lot of the old Route 66 has been gobbled up by modern highways, and trying to trace the original route inside Chicago is hardly worth the effort. All that aside... by using this Illinois Route 66 map and guide, you should have plenty of authentic stops and time on the remaining parts of the Mother Road to make your Route 66 trip through Illinois feel complete.
Snap your first picture with the Gemini Giant at the now-closed Launching Pad Drive-In in Wilmington, IL. He's one of many muffler man giants made back in the day, and he pays homage to the Gemini space program, complete with rocket in hand.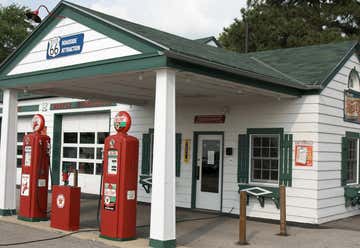 W Waupansie St, Dwight, IL, US
Illinois's Route 66 is dotted with old service stations, many of which have been beautifully restored and are being used for various purposes. Your first stop at one is in Dwight, IL at the Ambler's Texaco Gas Station. Operating till near the end of the century, it was one of the longest running gas stations on the Mother Road. Today it serves as a visitors center for the town.
5257 Old Rte 66, McLean, IL, US
Funks Grove Pure Maple Sirup. So you're not going to "eat" per-say, but you're going to walk away with some of the best maple syrup or "sirup" as they call it. Funks Grove Maple Sirup still produces over 1,800 gallons of that sweet, sticky goodness using old-fashioned techniques and bottled in beautiful vintage-looking bottles. Channel your inner Buddy-the-Elf and have all the syrup you can handle!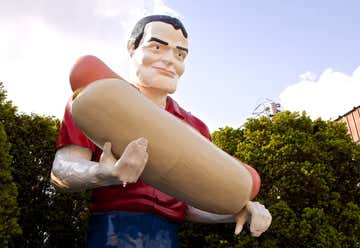 110 Southwest Arch Street, Atlanta, IL, US
Your next encounter with a giant "muffler man" happens further down the road in Atlanta, IL where Bunyon With a Hotdog greats you. Sure does make you want one of those Cozy Dogs, doesn't it?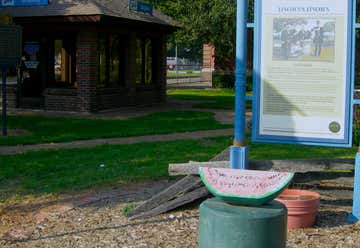 101 N Chicago St, Lincoln, IL, US
A quick stop in Lincoln, IL also yields a couple interesting photo-ops, the first of which is the Watermelon Lincoln Monument, made to commemorate when Lincoln christened the new railroad in town with a slice of watermelon.
1750 5th street, Lincoln, IL, US
Nearby the Railsplitter Covered Wagon has also been a roadside icon for years, but recent reports say it is currently under renovation. Check it out and report back to us!
6th street, Springfield, IL, US
While the corn dog may have already been invented, it was the folks at Cozy Dog Drive-In that put it on a stick! Their "Cozy Dog," is the grandfather of all corn dogs you have been devouring at every county and state fair since you were a kid. Stop by to have a taste of the original!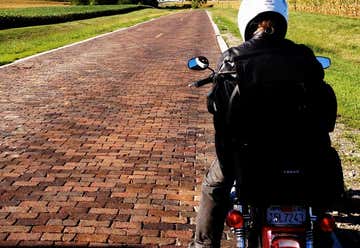 Snell Road and Curran Road, Auburn, IL, US
Check out an original brick stretch of the Mother Road outside Auburn, IL (Historic Brick Road).
1500 N Historic Route 66, Litchfield, IL, US
If you have time catch a flick at the Sky View Drive-In in Litchfield, IL, the last Route 66 drive-in theater in Illinois.
413 Old Rte 66 N, Litchfield, IL, US
Your next food stop is down in Litchfield, IL at the Ariston Cafe. Thought to be one of the first, if not THE first restaurant on Route 66, the Ariston Cafe is a Route 66 icon. The Adams family has been running the place for years, and the food is just as good as the great history behind the cafe. Save room for dessert!
710 West First St., Mount Olive, IL, US
Just in case you haven't taken a thousand photos of your car at old filling stations, your last stop is the Soulsby Service Station. The place has been beautifully restored, and you get that feeling you're a traveler back in the 1950s.
1107 Historic Old Rte 66, Staunton, IL, US
Henry's Rabbit Ranch is part roadside attraction with its VW Rabbits buried in the dirt, part Route 66 visitor center, and part actual rabbit ranch. The place is so quirky it's well worth a quick visit.
Originally built in 1949, the bottle is an excellent example of roadside Americana, and thanks to the Catsup Bottle Preservation Group, it stands tall and beautiful as it did in the olden days. If you're really lucky you'll swing through in July when they host the Catsup Bottle Festival or one of the other numerous festivals and parties held near here at the local American Legion.
Illinois's Route 66 has something for everyone with great food, quirky roadside attractions, and stops dripping with Americana and local history. Armed with your Roadtrippers map and guide to Illinois's Route 66, get out there and explore.