The Roswell incident is easily the most popular UFO legend in the country. Despite murky details and multiple contradicting accounts, the idea that a UFO crash landed here won't die. In fact, the town of Roswell has become synonymous with extraterrestrial life and has embraced its reputation, down to the alien-shaped street lamps. But before you visit, here's a quick rundown of what exactly happened.
Sometime in late June or early July of 1947, a ranch hand named Mac Brazel found a pile of wreckage made up of "rubber strips, tinfoil, a rather tough paper and sticks". Brazel, after hearing rumors around town about flying saucers, reported his findings to the town sheriff, who called the Roswell Army Air Force Base. Soldiers came and whisked away the wreckage, and in the confusion, someone told a reporter for the local paper that the materials were from a downed flying saucer. The story blew up, but the next day, an Air Force official claimed that the flying saucer story was false, and that the wreck was actually a weather balloon.
Various accounts claim all kinds of things: Some say they saw alien bodies being transported from the site, others who inspected the material say that it was definitely nothing known to man at the time, and those with inside knowledge of the situation claim that the scraps and bodies were sent to Area 51 and other Air Force bases for inspection.
In the 90's, the military declassified documents claiming that the wreck was actually from a top-secret atomic espionage balloon called Project Mogul from Alamogordo AFB in New Mexico. It was a high-altitude balloon the military hoped to use to spy on Soviet nuclear tests. It was allegedly so top-secret that no one at Roswell at the time even knew about it, so they didn't exactly know what to do when they were called to the crash site.
It all sounds a little... convenient, but it's also plausible. The only way to know for sure what the truth it? Investigate for yourself!
To visit the actual crash site, which is closer to Corona than Roswell, actually, you'll need to come prepared. The site is really in the middle of nowhere and is only reached by a dirt road that is best traveled on with a 4x4 or something meant to tackle rough conditions. You definitely need a full tank of gas, and maybe even an extra can, and water. Expect no cell service, so plan accordingly. About a mile down the road, you'll reach the debris field. You'll see two red pillars that show the path the (alleged) UFO took, and a stone marker on the site where the craft came to rest. The marker reads:
WE DON'T KNOW WHO THEY WERE WE DON'T KNOW WHY THEY CAME WE ONLY KNOW THEY CHANGED OUR VIEW OF THE UNIVERSE THIS UNIVERSAL SACRED SITE IS DEDICATED JULY 1997 TO THE BEINGS WHO MET THEIR DESTINIES NEAR ROSWELL NEW MEXICO JULY 1947
Since the early 90s, the UFO Museum has been informing, educating, and scaring the crap out of those of us who look up into the night sky and wonder… Are we alone out there? Founded by Walter Haut and Glenn Dennis, two honest-to-goodness Roswell Incident participants, the Museum and Research Center is a hub for all things UFO. The museum came about after Haut, who was a public information officer during the Roswell Incident, decided that there needed to be a place that could gather all the information known about the incident, and UFO phenomena in general for anyone to discover. The International UFO Museum and Research Center has extensive exhibits with information on crop circles, Area 51, abductions, ancient astronauts, sightings, and of course the Roswell Incident itself. It's such a UFO hotspot that people come from all over the world to explore the exhibits, hit the UFO library to do a little research, or grab a flying saucer keepsake from the UFO gift shop. The museum tends to sit on the serious side, so if you're looking for kitsch, make your way to the Alien Zone (more on that below). Chances are if you're headed to Roswell you're already a fan of our cosmic space friends so you'll know what to expect.
The International UFO Museum and Research Center is a true piece of American pop-culture, and anyone with even a mild interest in space travelers, UFOs, the paranormal, or aliens, will feel like a kid in a candy store!
For a kitschy, classic Western experience, grab a bite at the Cowboy Cafe. It's as old-school as they come. Think, liver and onions, all day breakfast, huge burgers, and the like. And, of course, since this is Roswell, they make an Alien Omelet, which is actually a delicious option; it's a ham and cheese-stuffed omelet smothered in house-made green chile sauce. Can't miss add-ons include the chicken fried bacon and homemade pie!
The Roswell Space Center is home to the Roswell Space Walk, a totally trippy and utterly bizarre art installation that is absolutely worth a visit, if only to inspire and open your mind to the endless possibilities of the universe. It's a black light audio-visual display created by guys who were underground comic book artists in the 60s and 70s. Originally made for the Roswell UFO Festival, it was given a home at the Roswell Space Center, which also houses a gift shop that sells some more unique items from local artists.
The Alien Zone is totally cheesy, totally weird, and exactly what you want from an attraction in Roswell. You'll get some background on the Roswell incident, but alien photo ops are the best part. They're posed in all kinds of displays and situations (at a bar, at home on the couch, grilling out in the back yard, doing various jobs on their spaceship, etc.) It's just a classic slice of UFO kitsch that won't take long to visit... but it'll provide endless laughs.
For a quick snack or caffeine boost, pop into Stellar Coffee Co. They have a cute outer space theme but don't rely on the atmosphere to keep their business going. Coffee snobs will appreciate being able to get a pour over of single-origin coffee, and those with a sweet tooth will love the latte art. It's definitely a gathering spot for the community, so you can talk to the locals and find out what it's like living in the alien capital of the US.
For a bit of culture that isn't kitsch, the town has the Roswell Museum and Art Center. Their exhibitions of art draw inspiration from the local history and atmosphere, so you're bound to see some pretty unique stuff here. From Native American art and pieces inspired by the Western landscape to contemporary sculptures, this little museum offers a ton of bang for your buck, especially when you consider how small the town is and how impressively well-curated this place is!
While visiting the Roswell Museum, visit the attached Goddard Planetarium if they happen to be having a show or event. On Wednesdays and the occasional Saturday, you can kick back and enjoy a trip beyond our galaxy as you learn about everything from comets to quarks to black holes. With all of the alien talk you'll hear around town, you'll probably have more than a few questions about the universe, and this is a great place to find some answers.
Yes, it's a McDonald's... but it's a flying saucer-shaped McDonald's! Worth a photo op before you grab some fries and a soda for the road. The Walmart and the Arby's in town have subtle touches of extraterrestrial kitsch as well, apparently!
One of the most entertaining, non-alien-themed attractions in town is the Anderson Museum of Contemporary Art. As you wander from gallery to gallery through the 22,000 square foot museum, you'll see all kinds of unexpected and interesting exhibits. Everything is immensely creative and incredibly thought-provoking... quite the feat in a town that has successfully managed to make UFO tourism its main draw!
The Walker Aviation Museum is a testament to the military history in the area. It's inside Roswell's airport terminal, but history buffs will love the look back at this former AFB's collection of WWII artifacts and information. This part of the country has a rich and fascinating history with aviation and innovation, and you can get a great taste for that here.
Another reason everyone heads to Roswell in the summer is the Roswell UFO Festival, a week-long celebration of all things UFO, that takes place the first week of July. Expect fireworks, parades, costumes, and four days of pretty solid, out-of-this-world fun.
Alternately, if you're more looking to have your own close encounter with a real extraterrestrial being instead of a costumed one in a parade, we made this handy map of UFO sighting hotspots across the US. Happy hunting!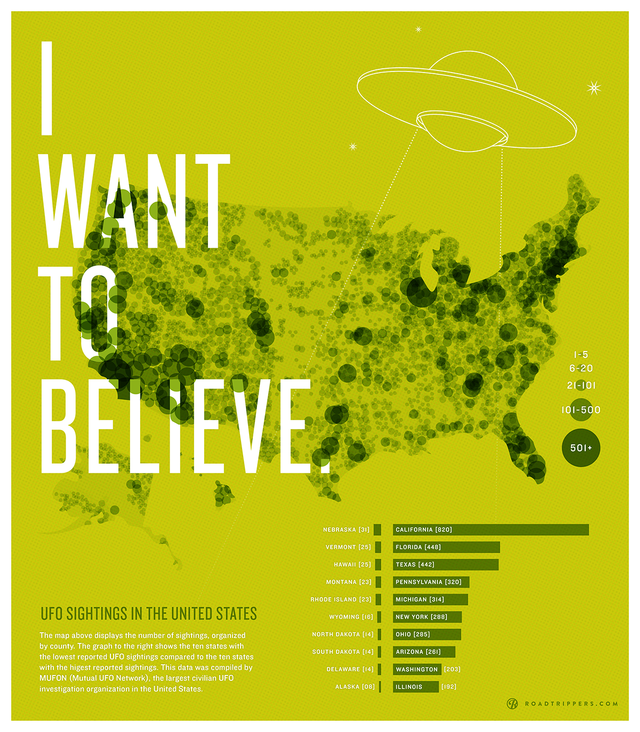 The best of Roadtrippers—hand picked by our team