The Aurora Borealis has attracted visitors from all over the world, and it's not hard to see why; they're what bucket lists were made for. It's like watching the sky be painted with brilliant greens, reds, purples and blues. But what causes them, and how can you experience the fickle phenomena for yourself?
Auroras occur around the northern and southern poles, so the further north (or south) you go, the better your chance of seeing it... although on lucky nights, they show themselves as far south as Michigan and Montana. Equinoxes in September and March mean these two months are the best times to see them, although any time between late August through early April will work. Don't worry about needing to stay up too late to spy them, either: peak hours are between 6pm and 4am, with spikes frequently occurring between 10pm and 11pm. Other things to consider are solar storms, which can cause more activity, darkness (no sunlight or light pollution), and clear skies/good weather... none of these can be fully planned for, so patience will be the most important thing to bring along on your Northern Lights peeping trip.
For the most comfortable experience viewing the Northern Lights, you can't beat the Aurora Village. Heated seats, heated outdoor bathrooms, tons of hills and observation decks, and more ensure that you won't freeze to death while watching the aurora dance across the sky. They even have tepees where you can warm up, and a lodge that sells warm beverages and snacks that you can pick up during your visit. They also offer dog sled tours, guided hikes, boat tours, and more.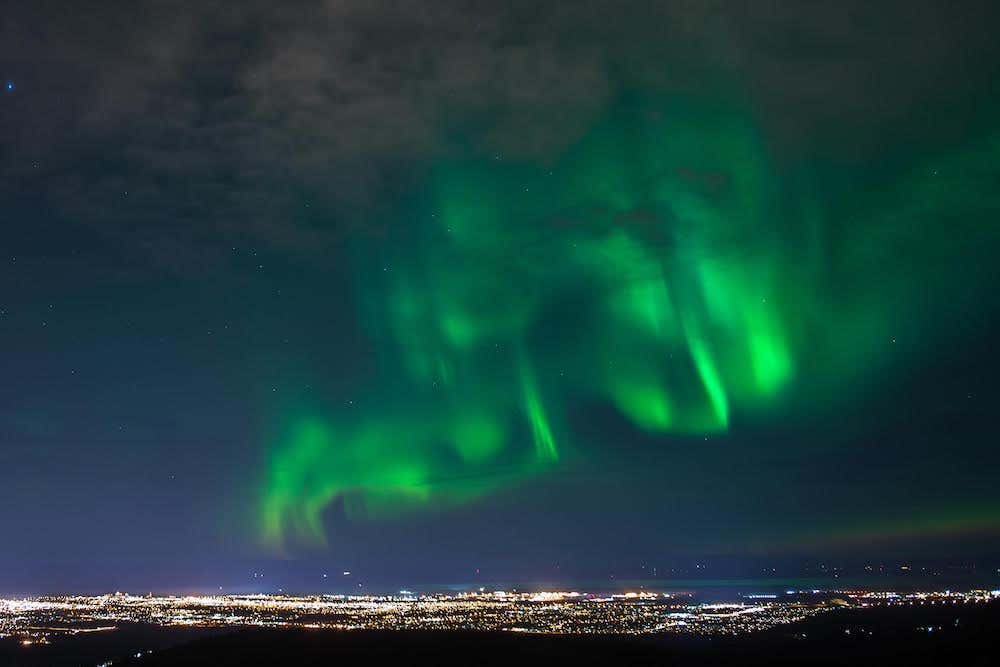 Visit Anchorage between mid-September and late April for your best chances of catching a glimpse of the Aurora Borealis lighting up the night sky. The city makes a great home base for several different experiences and viewpoints. Here's the inside scoop on a few of the best spots for northern lights viewing around Anchorage.
With an unobstructed northern horizon and secluded, riverside setting, Eklutna Tailrace is a prime spot for aurora nights just outside Anchorage. Pro tip: Most aurora tours in Anchorage have this area as one of their preferred locations to chase the northern lights.
For a shot of the auroras dancing above Anchorage, the Glen Alps Trailhead is the perfect vantage point. A short drive from the city center puts you 1,500 feet above the coast, on the edge of one of Alaska's great mountain ranges.
Devote nights to the skies and days to the slopes. Alyeska Resort is Alaska's largest ski resort, and the 304-room property in the mountain town of Girdwood is a prime basecamp for groomed and backcountry alpine skiing, cross-country skiing and even dog mushing. And if all that outdoor activity leaves you needing some shut-eye, the resort offers a northern lights wake-up call to notify you when the auroras are out.
In addition to being on 16 acres of Alaskan wilderness, which is prime for Northern Lights spotting, the Aurora Express Bed & Breakfast is also a totally adorable B&B that features suites located in vintage train cars. All the rooms have private entrances and 10-foot ceilings, along with themes and period-appropriate decor. After a late night of watching the Aurora, grab breakfast in the dining car, and fill your days with exploring the wild landscape... or relaxing in your room!
The Cleary Summit region of Alaska is famed for being a primo spot for viewing the Northern Lights, and this is where you will find the Aurora Borealis Lodge. Their rooms have large, north-facing windows for lights viewing with couches placed right in front, and they'll even text or walkie-talkie you with updates on the conditions for the aurora. Their chalet even has a private, 15-foot tall deck!
They even offer evening aurora tours for people who are staying in other Fairbanks area hotels. You get access to their lodge, with massive windows, spacious deck, and hot drinks. They'll even pick you up from your hotel if you don't have a car!
For a more rugged experience, Chandalar Ranch is a hostel located on top of a hill, a great spot to see the lights. Their accommodation options include bunks in a room as well as a cabin. They can help you plan fun activities like ice fishing and dog sledding during the day, and then they set up chairs on their porch for checking out the aurora at night. They can even rent you parkas and cold-weather gear in case you aren't fully prepared, and offer the aurora experience and the excursions to those staying in other hotels in Fairbanks as well.
Chena Hot Springs is a cute little resort near Fairbanks that offers warm, geothermal pools for soaking and unbeatable views of the Aurora Borealis. They have cabins and rooms for rent, along with campsites and yurts, a restaurant with cuisine inspired by Alaska, massages, the hot springs, an onsite ice museum (with an ice bar that makes a mean appletini), and tons of activities and excursions. They're super knowledgeable about seeing the Northern Lights and can provide plenty of tips on the best ways to have an exeptional experience.
This tour service company offers loads of packages and excursions, from snowmobiling and dog sledding to guided hikes and ice fishing. They also offer plenty of different ways to see the Northern Lights, with a package for every kind of traveler. Whether you want to catch them at a luxurious spa, or in a quiet and remote cabin, or simply want to spend one evening under the lights, check out the various tours they offer.
Alberta Sky Aurora Tours offers two- and three-day packages that include a telescope, photography lessons, guided walking tours, a room at the Sawridge Inn, snacks and hot drinks, and even pair you with an astronomer/photographer who will help you make the very most of your experience. You won't find a more immersive and informative tour, and you're guaranteed to leave with some completely jaw-dropping photos.
The Tundra Lodge is a one-of-a-kind hotel that specializes in polar bear viewing. It's entirely built on wheels and moves around to find the best spots to see the incredible creatures. Private rooms have windows, and you can access mesh decks to look right down at the bears! You'll get to hang with naturalists who know all about polar bears, enjoy carbon-neutral travel, and even get to see the Aurora Borealis at night. It's an absolutely unique experience that any nature-lover will adore.
Here are a few more tips for optimizing your Northern Lights viewing. The ideal amount of time for an Aurora Borealis trip is three days, as this will give you plenty of time in case you run into bad weather or weak lights... and if you're super lucky, you'll get three nights of lights, and you can see how different each night's show can be. Check out Aurora Watch or Aurora Warning websites, as these are frequently updated and can send out email notifications when conditions begin to align. If you plan on taking pictures, research the settings and equipment that you'll need to take extra-awesome shots. Also, remember that in the winter, the far north parts of Alaska and Canada experience polar night (ie, very shortened or nonexistent daytime sunlight) so outdoor activities might be limited.

Roadtrippers helps you find the most epic destinations and detours—from roadside attractions to natural wonders and beyond.