The Greenbrier Resort in West Virginia has it all-- a spa, a famed golf course, a casino, laser tag, stunning scenery, and a secret emergency relocation bunker for Congress in the event of a nuclear Holocaust. And the best part? You can tour part of the massive underground complex today-- after your massage, that is.

The property that the hotel sits on has been used for its healing mineral hot springs since before Columbus arrived. By the mid-19th century, a hotel was built on the property. Famous guests to the Greenbrier include Bing Crosby, Grace Kelly, Indira Gandhi, multiple Presidents and various Kennedys. But that's not the coolest part of the resort-- that honor is reserved for the ginormous bomb shelter they kept hidden until recently.
Construction on The Greenbrier Nuclear Bunker began in 1958 and by the time it was completed in 1961, it was a whopping 112,544 square foot complex built into the hill and below the West Virginia Wing, which was being built at the same time. Clever! It contained decontamination chambers, 18 dorms that held a total of over 1,000 people, a power plant with water purification systems, a TV production room and audio equipment, a hospital with 12 beds, a laboratory, a pharmacy, a cafeteria, and meeting rooms for the House of Representatives and the Senate. It was staffed by a group of government employees under the guise of "Forsythe Associates", a fake audio/visual support company.
While you're in the area, check out another subterranean wonder at the Lost World Caverns. In fact, the entire town of Lewisburg is something of a hidden gem. There's a few lovely historic inns to stay at and several really nice restaurants and cafes, as well as a cute little antique district.
There's also the Humpback Covered Bridge nearby, which is a fascinating bit of architecture, and makes for an amazing photo op, and a lovely spot for a picnic.
No one ever actually used the nuclear bomb shelter, not even during the Cuban Missile Crisis, but the whole thing (which was nicknamed "Project Greek Island") was kept staffed and stocked, yet remained a well-guarded secret for almost three decades until 1992. That was when a Washington Post article revealed the existence of the facility. It was immediately decommissioned and the Greenbrier quickly repurposed the space as data storage and opening parts of it up for tours. It's nice to know that the bunker is there... just in case.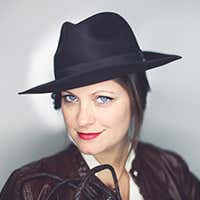 Roadtrippers co-founder. When I grow up I'm going to be Indiana Jones or a professional pizza tester. Current Status: Mom to Bruce and Nina.