Every city has a little something weird about it, and St. Augustine is no exception. Not only are there three classic ghost tours (one on foot, one on a boat, and one in a hearse), there's also an iconic pirate museum, a pretty offbeat wax museum, and a totally phantasmagorical castle, where you could easily get lost exploring for hours.
Explore the darker side of America's oldest city on a one-of-a-kind nightly trolley tour. Experience the historic haunted tales and legends that hide among the alleys of the city, from a retelling of the famed pirate Andrew Ranson's gruesome execution to the chance to enter the town's most haunted building, the "Old Jail", and maybe even come face-to-face with a sprit.
As one of the first exhibits of its kind in the US, Potter's Wax Museum has an important place in history, but the wax figures are still super impressive in their own right. From historical characters like Henry VIII to modern day icons like Brad Pitt, you could easily spend an hour or two appreciating the attention to detail on the life-sized wax figures, and snapping photos with your favorites. Where else can you grab a picture with Michael Jordan and Freddy Krueger?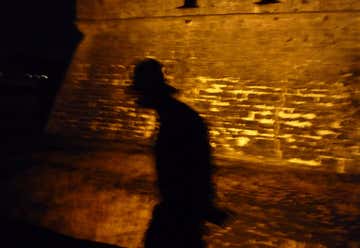 4 Granada Street, St. Augustine, FL, US
As the oldest city in America, St. Augustine is loaded with spooks and specters. Ghost Tours of St. Augustine offers three different tours that will let you experience the city's scary side. There's a classic Ghostly Experience Walking Tour that will offer plenty of stories and experiences to frighten and thrill, a longer Ghosts & Gravestones tour that gets you access to some of the city's most haunted hotspots, and a paranormal investigation at Potter's House of Wax. Whichever tour you choose to take, you're sure to leave terrified and intrigued!
If you're looking more for something that will give you nightmares, rather than entertain you with historical facts, then GhoSt Augustine is the tour for you. These tours focus more on paranormal research, adding real ghost hunting equipment into the mix. Plus, GhoSt Augustine also offers a haunted pub tour and a ghost hunt that includes a ride from ghostly spot to ghostly spot in a real hearse... so get ready for the scare of a lifetime.
One of the coolest things about St. Augustine? Its swashbuckling pirate past. Kids will love the interactive treasure hunt, and history buffs will appreciate the awesome displays, artifacts, and in-depth looks at the city's history with bloodthirsty marauders at the St. Augustine Pirate and Treasure Museum. Gazing at the authentic pirates' gold, it's not hard to see why these men took to the high seas in search of treasure!
But if you're looking for the truly strange, for an attraction so bizarre that your brain can't even imagine it, then Ripley's Believe It Or Not in St. Augustine is a must visit. It features 200,000 square feet of the weirdest oddities from across the world. It's the first and oldest Ripley's Museum, so you know there are some impressive displays here. Shrunken heads, a bone motorcycle, two-headed animals, Abe Lincoln's death mask, and tons more can be seen on a tour through the Odditorium, located inside the majestic castle that houses the exhibits!
Whether you want to hunt ghosts like a paranormal expert, or you're in search of treasure like a pirate of days past, there's tons to discover in St. Augustine. The city's rich history is filled with offbeat and interesting tidbits that you can experience for yourself as you explore the streets and attractions of America's Ancient City.