A dream trip - Sept. 25-Oct. 9, 2015
We flew to Denver from Boston on Friday Sept. 25, 2015 Spent a wonderful Saturday (Sept. 26) in Denver. Started by touring the Molly Brown House. Had lunch (burger truck) and a beer at the Great Divide Brewing Co., then walked the grounds of the state capitol building, went to 4:00 mass at Holy Ghost Church. Capped the day at Coors Field watching the Rockies beat the LA Dodgers with a CarGo walk off home run!
Mount Rushmore National Memorial, Keystone, South Dakota United States
Sunday Sept. 27. Drove from Denver to Rapid City, SD, approx. 8-hour drive. Checked into our hotel in RC then drove to Keystone and Mount Rushmore National Memorial. It was awesome. Arrived at 4:30 pm, saw the memorial, the introductory film, had dinner at the restaurant on site, walked all around the amphitheater scouting the best seat for the lighting ceremony. Stayed for the lighting ceremony, which was awesome--very stirring.A fantastic day!
We stayed at the Alex Johnson Hotel in downtown Rapid City.
Badlands National Park, Wall, South Dakota United States
Monday September 28. We drove from Rapid City east to the entrance of Badlands National Park. En route we stopped at Wall Drug and had breakfast, then continued on the Badlands NP. We spent approx. 5 hours driving the northern loop road through the national park. It was magnificent!
510 Main St, Wall, SD, US
After driving the loop road through Badlands National Park, we stopped at Wall Drug on our way back to Rapid City. Totally kitschy tourist stop--we loved it! Bought souvenirs and took a lot of pictures. Had some free ice water!
Tuesday Sept. 29. Left Rapid City heading west. First stop, breakfast in Sturgis, SD--also bought our motorcycle-riding friend a t-shirt. Then on to Deadwood. At Deadwood, we toured the Adams Museum, bought sandwiches for a picnic at the Pump House Restaurant, then went to Mount Moriah Cemetery to see the graves of Wild Bill and Calamity Jane. Then it was on to Devils Tower.
Devils Tower, Wyoming, United States
Left Deadwood, stopped at the Wyoming NE Visitor Center and had a picnic lunch. Stopped at the Vore Buffalo Jump site and then continued on to Devils Tower National Monument. Devils Tower was awesome!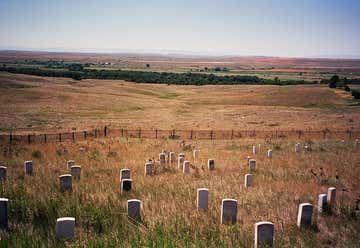 I-90 Frontage Rd,, Crow Agency, MT, US
Wednesday Sept 30, 2015 -- a dream day: fulfilled a long-time wish to visit this hallowed site. Little Bighorn Battlefield National Monument was phenomenal. A sacred site.
Spent Tuesday and Wednesday nights at Sheridan. After spending the day at Little Bighorn Battlefield we returned to Sheridan and had a wonderful dinner at Frackleton's in downtown.
Thursday Oct 1. Drove from Sheridan to Cody through the Bighorn Mountains--a gorgeous drive! Arrived in Cody at 10:30 am and went directly to the Buffalo Bill Center of the West, a tremendous museum. Spent 5.5 hours at the museum seeing 3 of the 5 museums in the complex: Buffalo Bill Museum, Draper Natural History Museum, and the Cody Firearms Museum. Tremendous! Friday Oct 2. Spent from 8:00 am-1:30 pm at the Buffalo Bill Center of the West seeing the Plains Indian Museum and the Whitney Western Art Museum. If in Cody, this museum complex should not be missed. Left Cody en route to Yellowstone National Park at 2:00 pm in a rain storm. Arrived at Yellowstone at approx. 3:30 pm. The rain did not detract from our enjoyment of the sites. Checked into the Old Faithful Snow Lodge, and after settling in our room went to dinner at 6:00 pm at the Old Faithful Inn, then after dinner saw its namesake geyser erupt for our first time. Awesome!
Yellowstone National Park, Wyoming, United States
We spent from afternoon on Friday Oct. 2 to mid-day Monday Oct. 5 at Yellowstone NP. Saw Old Faithful erupt at least once every day we were there. Visited Mammoth Hot Springs and the stone arch at the northern entrance. Went to several overlooks of the Grand Canyon of the Yellowstone, spent a great deal of time at the midway and the upper geyser basin. Drove to Lamar Valley. Saw bison too numerous to count, big horn sheep, a lot of elk, and two grizzlies. We loved absolutely everything about Yellowstone National Park. Cannot wait to return one day!
Jackson Hole, Wyoming, United States
Left Yellowstone mid-day Monday and drove to Jackson Hole through Grand Teton National Park. Then spent the entirety of Tuesday Oct 6 touring the splendid Grand Teton NP.
Spent Wednesday Oct. 7 driving from Grand Teton NP to Rawlins, WY through the Wind River Indian Reservation. We enjoyed majestic scenery on this lovely drive.
Back in Denver around 2:00 pm on Thursday Oct. 8. Checked into our hotel and then spent the remainder of the afternoon at the fabulous Denver Art Museum.
A magnificent two weeks in the high plains! We can't wait to go back. Next time it will be for three weeks!