There's no better way to celebrate summer vacation than with a trip to the beach. We've lived in Charlotte, NC for nearly 4 years and each summer we've sampled a new beach trying to find our favorite. When we finally discovered Folly Beach just outside of Charleston, we knew we'd found the winner-- when you have the kids begging to go back, you know you've struck gold. Folly has the best of both worlds: quaint beachy getaway on a quiet residential strip of land just minutes away from the bustling urban city where there's prime sight seeing and mouth watering restaurants to visit. We hit the road to see if we could perfect a 48 hour trip to our favorite summer spot!
Roadtrippers tip: On your way into Charleston, stop at Boone Hall Plantation and bask in the beauty of its Avenue of Oaks. Gnarled trees dripped with lush, green Spanish moss set the tone for the rest of your trip through charming and historic Charleston.
Though the ships welcome visitors by foot, our family enjoyed driving past the vessels on the water and taking in the enormous size of the USS Yorktown while dining at the Charleston Harbor Fish House where we stopped for a post-drive lunch.
The gorgeous dining room at the Fish House features an enormous wall of windows where you can look out upon the Charleston harbor, view the ships and enjoy another viewpoint of the bridge you just crossed. You can even step out on the balcony off the dining room to look out at the battleship while you wait for your food. My husband and I both sampled their Signature Fish House Grouper Sandwich, blackened, and served on a brioche bun. It was one of the best fish sandwiches we've ever had: plump, firm, juicy and perfectly seasoned!
Pro tip: We are always hoping to find restaurants that put more thought into their kids' menu beyond just chicken nuggets and were thrilled to find unique options for our kids with both fish and steak tips on the menu.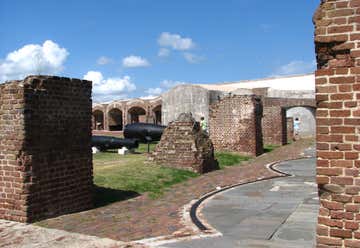 1214 Middle St, Charleston, SC, US
After a quick refueling, we were ready to head over to the dock to take the Spirit of Charleston boat tour to Fort Sumter National Monument. On the boat, we circled around the USS Yorktown before coming up on Fort Sumter herself. As we sailed, the tour guide reviewed Fort Sumter's role in the history of the Civil War. The fort played a key role in the start of the war when it was home to the first shots and was one of the last places to be reclaimed by the Union army at the end of the war. As a history buff, my husband was thrilled to finally take the time to go see the monument in person. Though much of the fort was destroyed in the war, the National Park Service has preserved many of the cannons and walls and built an air-conditioned museum that features tons of information and details about Fort Sumter.
Pro tip: The boat tour does not sell water bottles on board in an effort to go green. They do sell reusable water bottles that can be filled at water stations on the boat and on the island. Either plan ahead and bring your own bottles or be prepared to buy the ones on the boat. There are bathrooms on the island and you can escape Charleston's oppressive summer heat in the air conditioned museum or in an air conditioned portion of the boat.
72 Queen St, Charleston, SC, US
We settled into our room and quickly freshened up, before taking the kids's first taxi from the Holiday Inn hotel over to Poogan's Porch on Queen Street. Poogan's Porch is everything you imagine a charming restaurant in Charleston to be: a quaint, sunny, yellow Victorian home with a big white porch on the front. It was converted from a home to a restaurant in 1976. The waitress brought over a basket of hot biscuits with honey butter while we looked over the menu, which features southern classics like shrimp and grits, catfish and the best fried chicken I have ever had. We started with the lightest, crispiest fried green tomatoes with a pecan encrusted goat cheese ball and blueberry compote. My husband enjoyed the sweet tea glazed salmon with mint risotto and we capped off the feast with light and refreshing key lime pie tarts with blackberry sauce and creme fraiche.
Pro tip: If you're traveling with a smaller child, ask for a table near the porch! We saw a young mom stretching her legs while rocking her baby on the porch right next to the table where her family was dining. It would be a lovely spot to enjoy a fantastic meal while also keeping baby happy.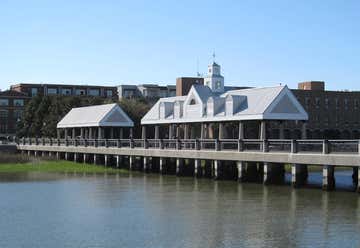 Michelle Calderon, Charleston, SC, US
After dinner, we wanted to walk off the feast (and wear the kids out before bed) so we strolled down Queen St. past gorgeous courtyards, old homes with overflowing window boxes, and photogenic gates over to the Waterfront Park. This kid-friendly park is home to a famous Charleston landmark: the Pineapple Fountain. The park itself features more than one water fountain built to double as splash zones for kids to beat the heat. Long pathways take you alongside the Cooper River where you can get unobstructed views of the Ravenel Bridge and watch the water taxis come and go. A gorgeous canopy of oak trees shade several park benches throughout the park making it an ideal place to rest and relax on a lovely evening. Our girls ran and played in the Pineapple Fountain a bit before we took another taxi back to the hotel for the evening.
Pro tip: Plan ahead and have kids wear waterproof sandals before you come... children won't be able to resist running in the splash pad!
476 1/2 King St, Charleston, SC, US
After a rejuvenating night back at the Holiday Inn hotel, I started my Saturday early by letting my family rest in their comfy beds while I walked over a couple blocks to Callie's Hot Little Biscuit to pick up some breakfast from this adorable grab and go eatery. I arrived 20 minutes before the store opened and was the first one there, but within 10 minutes, a line had formed. When I left with my bag full of treats for the family back at the hotel, the line ran from the counter, out the store, and down the block! We tried a sampling of their most popular flavors, and the blackberry biscuit was my favorite, hands down. It was crispy on the outside, fluffy on the inside, and loaded with a healthy slather of blackberry jam. My husband preferred the cracked black pepper and bacon biscuits, which were a little more dense and savory. If you really want a taste of the south, get their grilled pimiento cheese sandwich on a biscuit! Ask for the spicy version, if you're feeling adventurous. Callie's is definitely worth the wait!
Pro tip: The cinnamon biscuit is a local favorite.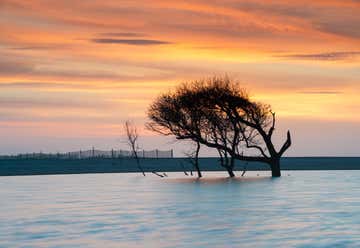 1010 W Ashley Ave, Folly Beach, SC, US
With our bellies full of biscuits, it was time to get back in the car and head over to the Folly Beach County Park for a day of swimming and beaching. Located at the far end of Folly Beach island, the county park has public parking (for a fee), easy access to public restrooms, and an umbrella/chair rental provider. We love Folly for its wide open views, clean sandy shore, and all the wildlife we've been able to spot: dolphins, horseshoe crabs, sea turtle nests, and so much more. We've always found it to be not too crowded and it's very family friendly. I sat and enjoyed the view from my beach chair will my husband took the kids wave jumping. We brought our own cooler full of water bottles and juice boxes for the kids to stay hydrated and plenty of sand buckets and shovels for castle building. Unfortunately, our day got cut short by strong winds that turned the beach sand into a mini sand storm! We were so grateful for the pool back at the Holiday Inn hotel. It was the only way we convinced the kids to give up on the ocean for the day.
Parent Tip: There are lifeguards on duty, but be sure to check in with them on the local water conditions, in case there's a warning for rip tides or other concerns.
26 Center St, Folly Beach, SC, US
We packed up our things and drove back towards the downtown district of Folly Beach where our all-time favorite seafood spot, the Folly Beach Crab Shack, waited for us. There are few restaurants more inviting than the Crab Shack, where you can dine on the front patio and snack on peanuts, tossing the shells into buckets on your table. The kids ate their weight in freshly shucked peanuts while we waited for our seafood to arrive in metal buckets. I eagerly ordered the king crab legs and my kids giggled endlessly at the flinging of empty crab shells into the table bucket. This is the kind of place where you'll have crab juice and melted butter running down your elbows and mop it up with handiwipes at the end of the meal. It's a down and dirty (and insanely delicious) place to relax.
Parent Tip: There are plenty of non-seafood options here, and the servers are incredibly accommodating with substitution requests.
501-A King St, Charleston, SC, US
We headed back to downtown Charleston for showers and a change of clothes at the Holiday Inn. After rinsing off all the sand, we hit the pool on the 2nd floor for a little downtime before heading back out for the evening. When we'd gotten our fill of water time, we got dressed for the evening and walked back over to King Street, right across from Callie's Hot Little Biscuit, where I spotted Jeni's Splendid Ice Creams. I've been dying to try Jeni's for a few years and was thrilled to discover there's now a location in Charleston! Jeni's features an enormous list of the most delicious hand-crafted, all-natural ice cream flavors. The tough part comes in making your choice. We sampled seasonal favorites including sweet cream biscuits & peach jam, birch and marshmallow, salty caramel, and brown butter almond brittle served in our choice of a cup or freshly made waffle cone.
2 Center St, Folly Beach, SC, US
We capped off our visit to Charleston the very best way we know how: by heading back to the ocean for one last view. We drove back to Folly Beach and headed to Rita's Seaside Grille for Sunday brunch. You can't beat their crab cake eggs Benedict, but we loved their spin on the Monte Cristo Sandwich; theirs was built out of French toast with blueberry preserve for dipping. The kids inhaled the Cap'n Crunch French toast while my husband enjoyed a custom omelette with fresh fruit and bacon. The open air patio is sunny and brightly colored, which makes it the perfect place for easing into the day. Our visit was made even better by the addition of live music!
After breakfast, we strolled over a block and grab some iced coffees to go for my husband and I from Center Street Coffee. This little hole in the wall local coffee shop has a full menu of coffee options and makes a perfectly strong cup of joe to help power through the last bit of the trip. It's an easy walk from there back over to the Folly Beach Pier.
The Folly Beach Pier extends more than 1,045 feet out into the Atlantic Ocean. We spotted fishing stands all up and down both sides of the pier, where fishers pull up all manner of crazy ocean creatures and release them. We saw stingrays and baby sharks being caught and released during our stroll to the end of the pier, where a two-story gazebo with picnic tables waits; it's the perfect spot for dolphin-watching. Relaxing with this ocean view is a fantastic way to wrap up our Charleston visit: you can experience the beach and ocean without getting sand and salt water all over before getting back in the car for the drive home.
Having Charleston and Folly just a simple 3.5 hour drive away is one of the greatest perks about living in Charlotte. From the vibrant culture to the beachside bliss, it's perfect for everyone. We're already dreaming of going back again!