The Blue Ridge Parkway isn't technically a National Park, but it might as well be. It connects two National Parks (Shenandoah and the Great Smoky Mountains) together and the parkway itself is the most visited unit controlled by the National Parks System. Each year, more people drive along its roads than visit the Grand Canyon. True fact. People flock to it with good reason, though...it's pretty gorgeous. Plus, there's tons to see and do along the way. Here's a few highlights to see along the way.
Honestly, you can't pick a bad time drive the Blue Ridge Parkway. In summer, the parks along the Blue Ridge Parkway are lush and green. In the fall, the entire drive is covered in fiery foliage (usually from early October to early November). In winter, the driving is a tad precarious, especially if it's a snowy winter. But, the Blue Ridge Mountains become blanketed in snow and it looks like a white wonderland. In spring, the flowers bloom across the route: the best to see them is between April and May.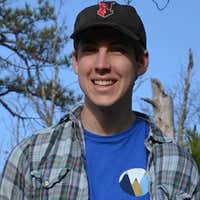 Life's an adventure. Live it.