The Sierras offer everything from mountain hikes to meadow picnics. But if you're looking to relax and recharge, you'd be hardpressed to find a better (and cheaper) alternative than spending a day soaking in one of the many hot springs of the Sierras. Not only are the Springs free, they're also indescribably beautiful. Set against a natural backdrop of forests, hills, and mountains the Eastern Sierra hot springs are a world unto themselves.
Between Bridgeport and Mammoth Lakes Basin, you have about 60 miles of hidden hot springs to explore. Take Highway 395 through the Sierras and you'll find your escape in Long Valley, a geothermically-high concentration of hot springs. Now, yes, hot springs are, well, hot. But there are some that are scalding. So, you need to be aware of what you're looking for. Be sure to bring plenty of water and snacks because these are not commercial areas. These are natural hot springs so there's likely not going to be a McDonald's or Trader Joe's when you enter. Usually they're maintained by volunteers, so please pick up your trash before you leave. Here's a great guide to the best hot springs in the Eastern Sierras. Start with a night at Bridgeport Inn and then embark on a road trip of relaxation.
Located near Bridgeport, this pair of tub springs are actually pretty popular. The water averages 105° and offers amazing views. Get there early to enjoy the serene setting alone. There's even some camping areas available near the Spring.
Half a mile south from Bridgeport, on Jack Sawyer Road, just off Route 395 are Buckeye Hot Springs. This spring is in the Toiyabe National Forest. If you're looking for local accommodation, there's Toiyabe Motel nearby. The pools here are right next to a little brook, which provides a gorgeous setting. There's a nearby cave to explore as well. There's also a nearby campground, Buckeye Campground.
Next stop: About an hour drive to Mammoth Lakes for a day of hiking and reconnecting with nature. Whoa Nellie Deli and Tamarack Lodge and Resort are two pit stops you can make to refuel and recharge.
Following 395 South from Mammoth, you'll get to Highway 120 toward Benton. It's a good idea to get reservations to these hot springs. There are nine tubs with some of the freshest, purest mineral water in America. Four tubs are made from antique redwood, two are fiberglass and one is made from stone. Each tub has hot and cold taps for you to control. A great place to stay if you're not camping is the Inn At Benton Hot Springs.
Just a few miles away from Mammoth Lakes you'll find Hilltop Hot Spring, which offers soakers a gorgeous sweeping view of the Eastern Sierras. This is another popular hot spring, but totally free and no reservations needed.
These hot springs are only a few miles away from Mammoth Lakes and is definitely for the rustic geothermal explorer. Hop back on 395 to Benton Crossing Road, then drive a few miles til you see a fork in the road and follow the signs a few hundred yards towards the springs.
Hot Spring Tips & Etiquette: Use only public hot springs. Springs can be slippery, so be cautious. Temperature varies, so again, be cautious. Some springs smell like sulfur. You can die if you stay in too long and pass out. Don't drink the water, but definitely bring some and hydrate yourself. Be courteous to others, especially if you want to bathe in the nude.
SOURCES
Mono County California, Sunset, Go California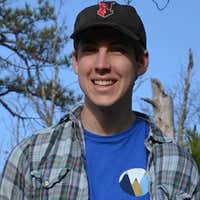 Life's an adventure. Live it.