Written by Amy Bizzari
Born in a tiny cabin on the banks of the Little Pigeon River in eastern Tennessee, Dolly Parton moved to Nashville the day after she graduated from Sevier County High School in 1964. With stars in her eyes and four great goals in her heart—to dream more, learn more, care more, and be more—Parton went on to become the "Queen of Country Music," composing at least 5,000 songs to date.
Parton was in the news recently for rejecting a planned statue of herself in Nashville, but visitors to Music City can still experience the places where she made her mark—from the studios where she recorded her first albums to the clubs where she sang her heart out, to the many places inspired by her glamorous style and no-nonsense outlook on life. Here are 14 must-visit stops in Nashville associated with one of Tennessee's brightest stars.
Parton was inducted into the Country Music Hall of Fame in 1999. Learn more about her and see her original, glam performance costumes in various exhibits throughout the museum.
The Music City Walk of Fame on Nashville's Music Mile is a landmark at your feet, with pavement-inlaid tributes to more than 80 legends of Music City, including classic country stars Johnny Cash, Emmylou Harris, and Hank Williams Sr., and modern artists Garth Brooks, Jack White, and Faith Hill. Parton, the most honored female country performer of all time, received her own star on November 8, 2009.
Over the last six decades, Parton has graced the stage of this live performance, radio, and television broadcast venue countless times. Ryman Auditorium was home to the Opry until 1974, when the show moved to this 4,000-seat venue. The Grand Ole Opry continues to be performed here every Tuesday, Friday, Saturday, and on occasional Wednesdays, from February through October each year with an annual 3-month winter foray back to the Ryman Auditorium.
A wall at the 5 Spot, a popular music venue, is now adorned with a mural of Parton painted by Nashville-based artist Kim Radford. The mural also features a now-famous comment Parton made to Billboard magazine in 2020: "Of course Black lives matter. Do we think our little white asses are the only ones that matter?"
Parton is pictured alongside her fellow Country Music greats in a wide mural on the corner of 5th and Broadway avenues, at Legends' Corner, a popular Nashville honky tonk.
Like Printer's Alley, Tootsie's was a venue where Parton performed early in her career. Originally named Mom's, Hattie Louise "Tootsie" Bess bought the future honky-tonk in 1960. Tootsie was an angel to early artists and often slipped dollar bills into their pockets. When a painter made the exterior of the lounge purple, Tootsie changed the name to Tootsie's Orchid Lounge and today the exterior is still painted the same vibrant color.
The Ryman Auditorium was born as a gospel church, but its excellent acoustics and 2,362 seats made it a world-renowned performance space and the original home of the Grand Ole Opry. Founded on November 28, 1925, as a one-hour radio "barn dance," the weekly country music stage concert is the longest-running radio broadcast in U.S. history. In 2019, at a performance celebrating 50 years as a member of the Grand Ole Opry, Parton pointed out that she had actually been singing on the show for more than 60 years—when she was just 13, she was introduced by Johnny Cash.
Parton began her career in Nashville by performing in the clubs and bars of Nashville's historic Printer's Alley. Once home to Nashville's printing industry, nightclubs opened here in the 1940s, and the alley has long been a launching pad for up-and-coming country music performers.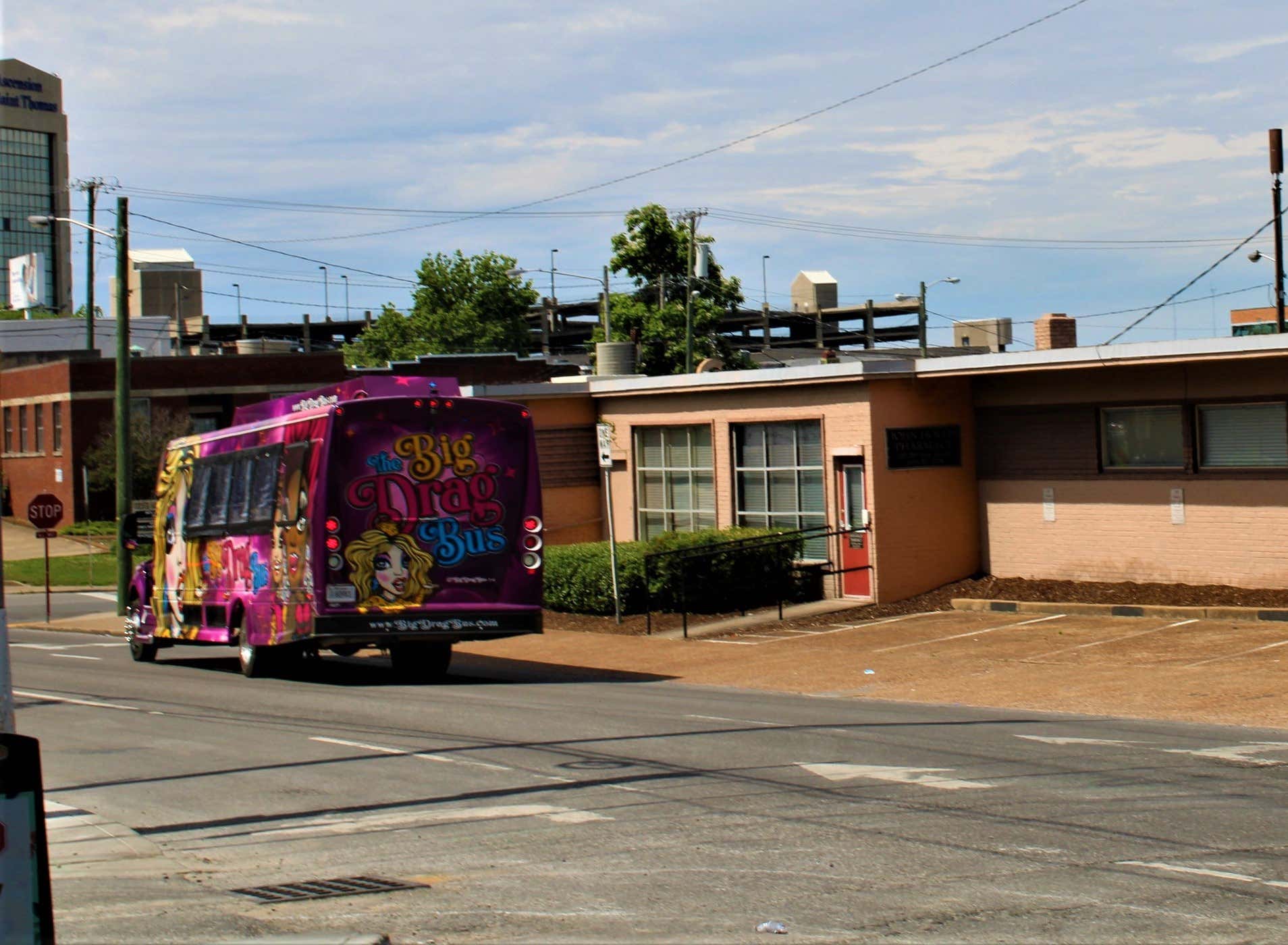 Expect to laugh, sing, and shake your booty with Music City's most regal drag queens as your guides on the Big Drag Bus, Nashville's most fabulous tour. "We have one of the most amazing and beautiful Dolly impersonators in this part of the country," says owner Josh Cloud. "She's fabulous!"
517 Church St, Nashville, Tennessee, United States
The Graduate Hotel's granny-chic rooftop restaurant, bar, and pool is an ode to Parton, featuring portraits and a larger-than-life sculpture of the star. Sip cocktails such as the "Queen of the Rodeo" or the "In a Honky Tonk Down in Mexico" and save room for the "Millionaire's Twinkie" (caramel crème, chocolate, and shortbread crumble).
Established in the 1980s, Arnold's is a traditional "meat and three" hotspot that serves up Southern and soul food classics plus desserts from a cafeteria-style steamer. The restaurant is one of Parton's local favorites; she loves the chicken liver dish.
On her first day recording for RCA, Parton certainly made an entrance at the Nashville studio. In her 1994 autobiography, Dolly: My Life and Other Unfinished Business, she recounts how due to a combination of nerves and inexperience on the road, she drove directly into the side of the building while she was parking. She writes, "In my rush to get to the studio that day, I forgot one basic element of driving—braking. I arrived at the old RCA studio on Music Row and plowed right into the side of the building. Bricks were still falling onto the hood of my car as I walked nonchalantly into the recording session, as if nothing bad had happened." Tours of Studio B depart daily from the Country Music Hall of Fame and Museum.
Banner Photo Credit: Amy Bizzari

Roadtrippers helps you find the most epic destinations and detours—from roadside attractions to natural wonders and beyond.