The Greater Phoenix area is a unique abutment. It is both an innovative and advanced urban oasis, and a deeply historical place with an ever-present past. Throughout its sprawling landscapes, we've found that there are countless places dedicated to highlighting and honoring the city's sacred Indigenous history. And, contrary to what you might think, these historical places aren't just museums or galleries. You can find history in Phoenix's mountains, shops, restaurants, and spas. Be sure to bookmark this extraordinary trip for your next visit and you'll see exactly what we're talking about.
Despite its location in the heart of the rugged Superstition Mountains, the Hieroglyphic Trail is considered a relatively easy hike. Perfect for families and beginners, the three-mile trail (round trip) is gently sloped and features some unique views of the southern end of the mountain range. In the winter and spring, a waterfall gives way to flowing streams and pools of water nestled among the boulders, all of which add to the surrounding beauty. But the most rewarding part of the trail—and the reason it has become one of the more popular hikes in Greater Phoenix—is because of what visitors find at the end: hundreds of petroglyphs. Most of these incredible rock drawings can be found on the far side of the pools and are believed to have been left by the Hohokam, a civilization that thrived in Central Arizona between 500 and 1450 A.D. This means that some of the petroglyphs could be almost 2,000 years old, so please be respectful and enjoy them from a distance.
Rumored to still house gold from its mining days, Lost Dutchman State Park is 320 acres of pure adventure. Due to its incredible location at the base of the Superstition Mountains, the park has become a popular place for hiking, camping, sightseeing, and geocaching. The Superstition Mountains (their name inspired by Pima Indian legends) have been a source of mystery and legend since early times. The area is dotted with ancient cliff dwellings and caves, many showing signs of former habitation. With so much ground to cover and so much to do, it's easy to see why people spend a few days at Lost Dutchman. If you want to stay the night, the park does offer both tent and RV camping, as well as cabin rentals—all of which can be reserved in advance. Entrance to the park costs $7 per vehicle ($10 on the weekends and holidays) and you can visit year-round.
Founded in 1929, the Heard Museum is considered to be one of Phoenix's first cultural attractions. And while the museum has grown immensely since then, its core mission has remained the same for nearly 100 years: to be the world's preeminent museum for the presentation, interpretation and advancement of American Indian art. One of the things that makes the Heard Museum so unique is that it works hand-in-hand with Native American artists and tribal communities to give visitors an authentic, first-person perspective. The award-winning exhibits and collections housed here have earned the museum international recognition. In addition to the art, the Heard regularly hosts events and festivals—including the annual Indian Fair & Market and Hoop Dance Contest, which are now being offered virtually. When visiting, be sure to set aside a few hours in order to fully explore both floors and the large, outdoor courtyard.
Across the country, natural history museums have become synonymous with big bones and dinosaurs. And while that is also true of the Arizona Museum of Natural History, this particular museum offers so much more. Ideal for all ages, the multi-level space is full of floor-to-ceiling interactive exhibits and incredible galleries. The museum has been constructed in a way that puts visitors inside the past and gives them a real feel for how Arizona's native animals and people lived. There are numerous exhibits dedicated exclusively to local Indigenous Peoples, including an entire gallery highlighting the Hohokam and their lives within the Phoenix Basin. Another big draw to the museum is the outdoor Mesa Grande Cultural Park (temporarily closed). The park sits right behind the museum and is dedicated to preserving an ancient temple mound that was built by the Hohokam.
Located within the Gila River Indian Community, Aji Spa offers unique ways to connect to the surrounding Sonoran Desert and its earliest inhabitants. By blending contemporary spa treatments with traditional Native American healing practices, Aji (the Pima word for sanctuary) provides a sense of rejuvenation and relaxation that has been thousands of years in the making. Owned by the Pima and Maricopa Tribes, the spa experience here is inspired by ancient legends, practices, and traditions that are honored through the treatments, ingredients, architecture, and artwork. Guests can choose from Nahtogig, a therapy that draws directly on the tribes' creation story, or Ho'ishp, which uses sacred prickly pear in various clays, oils, and teas. If you're looking to spend some significant time here, be sure to check out the Mustangs and Massage package, which consists of a morning horseback ride in the desert, followed by a 50-minute massage and a delicious lunch at the Aji Café.
For nearly 30 years, Fry Bread House has been serving up traditional Tohono O'odham cuisine. In that time, this cozy restaurant in Phoenix's Melrose District has turned its main attraction—a simple, deep-fried dough that's filled with a variety of sweet or savory toppings—into an award-winning entrée. Cecelia Miller opened this hidden gem in 1992, and today her family carries on her legacy by giving guests a true taste of Tohono O'odham comfort food. The menu here is so notable that it garnered James Beard recognition in 2012, making it one of only three Arizona restaurants, and the first Native American restaurant, to win the James Beard America's Classics award. Popular items include the beef stew, red beef fry bread, and chocolate butter sweet fry bread.
The Native Art Market began as an open-air weekend market where Native American vendors and artists could sell jewelry, paintings, sculptures, pottery, and tapestries. In addition to browsing all of the individual seller tents and live demonstrations, visitors could sample a wide variety of native foods and enjoy live music and dance performances. Due to the immense popularity of these weekend markets, mother-daughter-duo Denise Rosales and Heather Tracy recently brought the Native Art Market to a brick-and-mortar shop in Old Town Scottsdale. Now customers are invited to learn about Native American history and culture, connect with Native artists, and shop beautiful artwork every day of the week. The open-air market still takes place at every Saturday and Sunday from November through March, and the Old Town shop is open year-round from 9 a.m. to 8 p.m.
Even if you don't consider yourself a history buff, this road trip is proof that history can be found in a wide variety of places and span many different interests. Not only does it offer memorable activities and sites, but we hope it provides a deeper understanding of the city of Phoenix and its incredible roots. After all, to truly know a place, you need to know its history.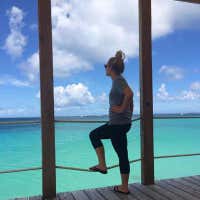 Midwesterner: Named in KS. Learned to play outside and camp in MO. Fell in love with beaches & seasons in MI. Travel passions: Morning walks before cities wake up, searching for the best latte, markets & parks, appreciating nature, wandering local shops, & stopping to smell the roses & rosé.