Few cities are lucky enough to have an architectural icon like St. Louis's Gateway Arch overlooking the thundering Mississippi River... But there's so much more to STL than just the Arch! A booming craft brewery scene, rich history and cultural institutions, and lively locals come with the iconic Gateway Arch in this Midwestern city. Whether you're eating at an old-school soda fountain or getting lost in a phantasmagorical wonderland, St. Louis is a pretty great weekend destination!
Belly up to the bar at Dressel's Public House for a beer or two. With an impressive selection of craft beers, plus wine, cocktails, and bar bites, this Welsh pub is a cozy place to knock a few back with the locals.
The Doubletree St. Louis hotel at Union Station looks like a castle, but it's actually an historic converted rail station. That means the building is stunning, inside and out (seriously, the lobby is drool-worthy), and it's in an awesome, central location. The rooms have that old glamour feel, but modern amenities; it's a Hilton Doubletree, after all. Pro tip: there's an hourly lights show projected onto the 65-foot vaulted ceilings each night between 5 p.m. and 11 p.m., you don't wanna miss it!
Nothing like a hearty brunch to start your day! Rooster offers a little something for every kind of brunch-lover: scrambles and savory crepes for the traditional folks, sweet crepes topped with ice cream and French toast topped with zesty citrus butter for those with a sweet tooth, and a brunch burger for the ravenous.
Whether or not Budweiser is your beer of choice, there's no denying that their operation is impressive. Stop by the St. Louis Anheuser-Busch brewery and take one of their tours, which range from beer school (a beginner's introduction to different styles of beer) to the history tour, which takes you into their Schoolhouse Museum, to the Day Fresh Tour, where you can meet the Budweiser Clydesdales. Or, just grab a drink in their biergarten!
St. Louis loves its barbecue, and Pappy's Smokehouse is one of the city's most beloved BBQ joints. They only serve food until they run out, and the wait might be long, but once you taste the ribs and burnt ends, you'll understand why. They also have Frito pie, which is your choice of meat with cheese and onions over a pile of Fritos. Sounds weird, but it's totally delicious.
The St. Louis Soldier's Memorial Military Museum was originally built to honor WWI vets, but it's been tweaked to encompass other soldiers as well. Uniforms, weapons, portraits, even art installations make this a sobering and well-thought-out little museum.
The St. Louis City Museum describes itself as a "phantasmagorical wonderland", which should tell you just about everything you need to know about this place. Opened in 1997, the museum, which is housed in an old shoe factory, is made mainly of found architectural and industrial objects (including a school bus, cranes, a fire engine and two old Saber 40 aircraft fuselages). There's an aquarium, a ferris wheel, a 10-story slide and tons more, but don't expect to have an easy time finding any of it, since the whole place has essentially been turned into a maze of crazy exhibits...and there's no maps (to encourage you to explore and discover). You never know where each crazy ladder or slide will lead you...you could end up inside a life-sized whale statue, a giant skate park, an enormous ball pit filled with dodge balls, or in a treehouse bar, where you can order up a nice beer.
Elevated American classics are the specialty at Reeds American Table: think fried catfish over green curry broth, meatloaf made with lamb, pork and beef and topped with tomato jam, and salad made with kale and juniper-maple dressing. Don't skimp on drinks or dessert (they have awesome cocktails and a great wine menu, and the roasted pears are to die for).
End your trip through St. Louis at one of their more famous craft breweries: the Schlafly Taproom. In addition to their delicious beers (there's usually 16 on tap; try the Grapefruit IPA or the Oatmeal Stout). The taproom offers live music Thursday-Saturday, pub fare if you need something to soak up the booze, and a fun crowd of beer-loving locals.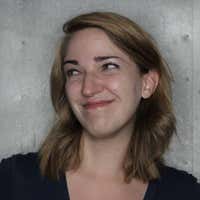 Just a Civil War beard enthusiast, writer at Roadtrippers, and aspiring astronaut reaching for the stars.