Colorado Springs is an outdoor adventurer's paradise. Great weather, natural, red rock beauty, and protected parks abound in this corner of the state. Pack your hiking shoes, climbing gear, sunscreen, and camera, and get ready for a weekend filled with adrenaline-pumping excitement and stunning scenery.
For any adventure in Colorado, the mantra should be "go big or go home." And what's bigger than the Garden of the Gods, where more than 300 feet of towering sandstone protrudes against the backdrop of snow-capped Pikes Peak? There are 15 miles of hiking trails to explore and free nature talks throughout the day that fill you in on the ecology, geology, wildlife, and cultural history of the Colorado Springs area (including how the area's famed red rocks came to be). The park also features mountain biking trails, front-range climbing outfitters, and Segway tours. If you arrive early or right around dusk, you'll get to watch the shadows dance across the spectacular scenery while avoiding the busiest crowds. Or, if you're short on time, simply cruising along one of the scenic drives will take your breath away.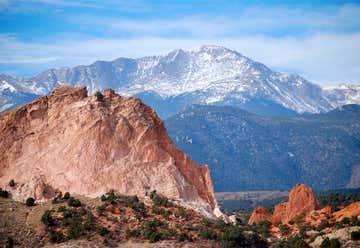 Next up: a trek to the top of Pikes Peak. If you've never been to the top of a 14er (climbers' speak for mountains over 14,000 feet), there are a few things to know, and Pikes Peak's tourism guides do a stellar job of keeping visitors informed.
If you choose to drive to the top, expect it to take three to four hours. You'll pay $15.00 for adults and $5 for kids. Consider purchasing the $5.00 CD guide as well; it's synced with your drive and shares interesting facts about the shifting terrains, waterfalls, and wildlife you'll pass. The guide also will give you valuable tips about driving down the mountain—Your brakes will thank you.
If you're more of the adventurous sort, there are a couple routes to hike to the top of Pikes Peak. Pre-arrange for someone to meet you at the top to drive you back down, or give yourself extra time to descend in case the high elevation tires you out faster than you expect.
Be prepared to feel a little winded once you reach the summit—either because of the decrease in oxygen or the breathtaking landscape, or a combination of the two factors; This is the scene that inspired the song, "America the Beautiful" after all. Staying well-hydrated throughout your visit will help fend off elevation sickness, and there's medical staff on hand just in case. On your drive back down, take your time to pull over to take in more amazing views, and maybe a glimpse of a mountain goat or a skier shuttling down the slope in the distance. Oh, and while you're at the top, don't forget to grab some "magic" donuts as well: frying dough at this elevation makes the treats extra light and fluffy!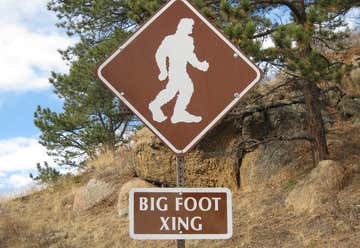 5250 Pikes Peak Hwy, Cascade, CO, US
No trip to Pikes Peak is complete without a photo by the Big Foot Sign! There are some conflicting reports about where you can find this particular sign, but it's near mile marker 3 on your ascent to the top of Pikes Peak. If you happen to miss it, don't fret! There are plenty of Big Foot markers to stumble on along the way. Keep an eye out for signs directing you to more nature highlights along the route, including the Crystal Reservoir, the Devil's Playground, and the Bottomless Pit.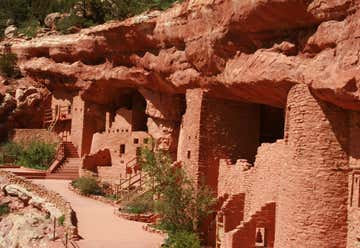 10 Cliff Rd, Manitou Springs, CO, US
Make your next stop the Manitou Cliff Dwellings. They were erected 800 to 1,000 years ago by the Anasazi people, and are still standing to this day.
After browsing the two museums that showcase ancient artifacts, go inside and walk in the footsteps of the Native Americans who built these impressive dwellings. You'll also find a gift shop that offers reproductions of these items along with modern Native American pottery, jewelry, and more here as well. Pack a picnic lunch; you can munch at one of the site's tables while taking in the incredible view of the dwellings and Pikes Peak.
2910 E Platte Ave, Colorado Springs, CO, US
You haven't really visited a city until you've had its pizza. Fargo's Pizza Company is the spot to stop for pie when you're near Colorado Springs. Housed in a two-story Victorian structure, it's the world's largest family pizza restaurant.
You can watch your pizza being made in their exhibition cooking area, or marvel at the vast array of detailed stained-glass art and countless artifacts adorning the space. Even the employees dress to impress in Victorian-style garb.
You order and pick up food at a window, but the prices are right (even for the beer and wine), and if you're traveling with kids, there's plenty of novelty to keep them entertained.
1665 N Newport Rd, Colorado Springs, CO, US
As far as one-of-a-kind eateries go, The Airplane Restaurant is pretty unforgettable. Should you land here for lunch or dinner, you'll have the option of dining inside the fully intact Boeing KC-97 tanker or the nearby extended dining area. Either way, make a reservation—especially if you want to eat on the plane—and snap a photo in the cockpit before leaving.
Several years ago, a group of Benedictine Fathers had a dream… a dream of a fine winery located on the grounds of the historic Holy Cross Abbey in Cañon City, Colorado. Now that dream is a reality, and the staff at the winery invite you to share in the vision of those entrepreneurial monks. The winery is fairly new (it opened in 2002), but has earned more than 100 awards and medals from prestigious international wine competitions over the last three years. Give yourself a little bit of time here, though—the pace tends to move a little slower. Take that time to enjoy the vista of the nearby Wet Mountains.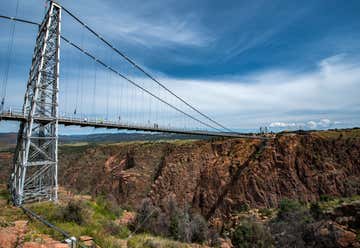 4218 County Road 3A, CO, US
In search of more thrills? In Cañon City, hanging 955 feet above the Arkansas River, sits the Royal Gorge Bridge. It held the record of being the highest bridge in the world from 1929 until 2001, when it was surpassed by the Liuguanghe Bridge in China. At its widest point, the bridge spans 938 feet, and is covered by a wooden walkway that is 1,292-feet long. Hopefully you aren't afraid of heights because you have to experience the thrill of walking across it, or better yet, zip-lining across it. To do either of these things, you'll need to buy a ticket to the park. Admission will also give you access to several other rides and activities, and it's redeemable for a second day if you're staying in the area.
Don't forget, you can white-water raft the Arkansas River below!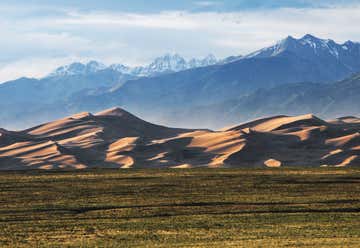 11500 State Highway 150, Mosca, CO, US
Sand isn't just for the beach! Build a castle, feel your toes in the sand and climb to the top of the world's tallest dunes. The park offers opportunities for all sorts of activities, but definitely plan to sandboard or sled. Make sure you rent or buy a board meant for use on sand, though; these versions are different from those you would use on snow. Beyond the dunes you can find opportunities to hike, backpack, swim, horseback ride, and fish. Keep in mind that Great Sand Dunes National Park is at a high elevation in the Rocky Mountains; it can get rather windy, and the weather isn't always predictable, so remember to bring a sweater or jacket. Like many parks in the area, Great Sand Dunes welcomes canine friends, but the sand can be really hot on their paws, especially in the mid-afternoon sun, so plan accordingly.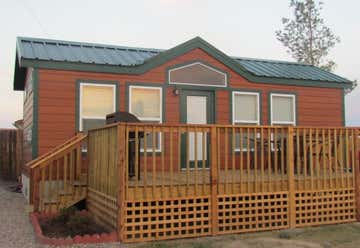 9040 Interstate 25 South @ Exit 74,, Pueblo, CO, US
At the Pueblo South / Colorado City KOA Holiday, you'll get the tranquility of a country-mountain setting with the convenience of being only minutes from the city.
The campground offers plenty of grassy and shady areas and is set up to handle RVs and big rigs with a variety of pull thru sites, regular and Deluxe Cabin travelers, and tent campers. In addition, the site has a heaping lot of amenities, including a heated pool, fitness center, mini-golf course, and bounce house. It also plays host to barbecues, breakfasts, and dessert socials! Within 10 minutes to an hour, you can be at any of the spots mentioned so far, or you can discover other nearby sites such as Lake Isabel or Bishop's Castle. The staff here is incredibly friendly and knowledgeable, and the on-site store stays well stocked with necessities and souvenirs.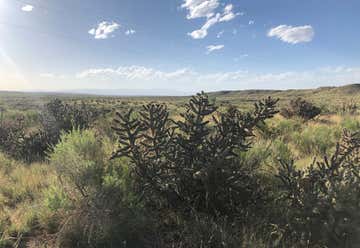 4131 Interstate 25 North, Exit 108, Pueblo, CO, US
If you want to get a little further away from the city, nearby Pueblo KOA Journey is the way to go. Here you'll get beautiful sweeping views along with some really unique amenities, such as the Jumping Pillow, pedal karts, a playground, and an adults-only hot tub. You can even get wings or pizza delivered to your site from the Kactus Kitchen! The site also offers a 24/7 laundry, and free cable. Plus, there's an 8,000-square-foot fenced dog park where you can let your dog off its leash.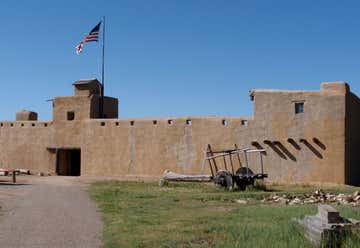 35110 Highway 194 East, La Junta, CO, US
Bent's Old Fort National Historic Site is a fully reconstructed 1840s fur-trading post along the Santa Fe Trail. This is the type of place where traders, trappers, and travelers would have met up with Cheyenne and Arapaho tribes to discuss peaceful trading terms and for special events. The reconstruction of this site was extremely detailed, so it feels very authentic.
In addition to providing a shaded picnic area, the site also offers a shuttle so people who can't walk from the parking area still can experience a taste of history. If you're coming from La Junta, Colorado, you can catch the Amtrak Southwest Chief train, which carries volunteer narrators who will give you an introduction to the fort before you even arrive.
The La Junta KOA Journey straddles the Santa Fe Trail and is just minutes from Bent's Old Fort. Also nearby is the Koshare Indian Museum, which features one of the world's most varied collections of Native American art and artifacts and holds Native American dances throughout the summer. Picket Wire Canyon, a half mile away, has the largest-known trackway of dinosaur footprints in North America. Here you'll find a lot of the excellent amenities you experience at other KOA campgrounds, including an on-site store, swimming pool, cable, clean bathrooms, great service, and a nice little dog park. You're close to restaurants and a Walmart, too.
From ancient cliff dwellings to massive red rocks to majestic sand dunes, there are so many adventures around Colorado Springs that you might need more than just a weekend to fully experience it all! Pack up the car and get exploring.