New York City is a great place to go in search of inspiration for pretty much anything. But, as the city did spark a lot of creativity in the imaginations of some of the country's best writers, it's particularly inspiring for writers and literary geeks alike. A lot of that creativity wasn't just the city though... some of that spark probably came from the bottom of a bottle. Many writers are notorious for drinking, after all. From Abraham Lincoln to Jack Kerouac and beyond, here's a bookworm bar crawl to famous literary bars that will hopefully get you motivated to write something more than just a drunk text to your ex.
Pete's Tavern says that they are the oldest operating bar and restaurant in NYC... and while several other joints also make that claim, there's no denying that Pete's is historic. The building is from 1829 and was originally the Portman Hotel, and it's thought that in 1851 or 1852, it started operating as a "grog and grocery". It officially became a drinking establishment in 1864, and in 1899, the name was changed to Healy's. That's what it was called when author O. Henry lived down the street from it, between 1903 and 1907. He mentions it in one of his short stories, "The Lost Blend", under the name "Kenealy's". During Prohibition, Healy's disguised the bar as a florist's shop. It's been known as Pete's Tavern since 1926.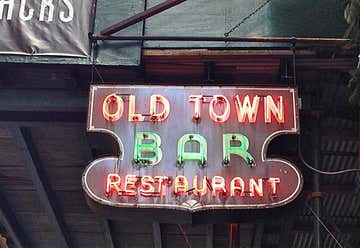 45 E 18th St, New York, NY, US
Old Town Bar might not be quite as old as Pete's, but it's still respectably old. It opened in 1892 as Viemeisters, a German bar. Once Prohibition rolled around, it turned speakeasy, changing its name to Craig's Restaurant and pretending to only serve food. It got pretty run down through the 1940s and 1950s, but in the 1960s, it started to see a resurgence in popularity. It's retained a lot of its original fixtures, like the 55-foot-long marble and mahogany bar, the tin tile ceiling, wooden booths, antique cash register, and New York's oldest dumbwaiter. Literary icons who have been known to drink at Old Town include Nick Hornby, Billy Collins, and Seamus Heaney. Frank McCourt was also a regular here-- looked for a signed copy of "Angela's Ashes" above one of the booths.
BONUS: The bar is also the setting for scenes from music videos like House of Pain's "Jump Around" and Madonna's "Bad Girl" as well as TV shows like "Sex and the City" and the intro to "Late Night with David Letterman".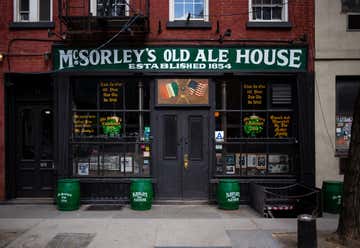 23 3rd Ave, New York, NY, US
McSorley's is one of New York's oldest bars, and is one of the longest-running Irish pubs in town. Unfortunately, they were one of the last "Men's Only" pubs, only admitting women in 1970, when forced by law to do so. Other than that and the addition of a Coney Island hot dog to the menu in 2017, basically nothing about the bar has changed since 1910. Harry Houdini's handcuffs are allegedly hooked onto the railing, and the wishbones above the bar were supposedly hung there by boys going off to WWI; the ones left hanging are from those who died fighting and were unable to come back to remove their wishbones.
Famous patrons included Abraham Lincoln, Ulysses S. Grant, Teddy Roosevelt, Peter Cooper, Boss Tweed, Woody Guthrie, Hunter S. Thompson, Brendan Behan, Paul Blackburn, LeRoi Jones, Gilbert Sorrentino, Dustin Hoffman, and George Jean Nathan, among others.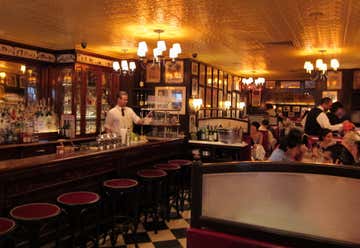 113 MacDougal St, New York, NY, US
Minetta Tavern is another joint that got a major facelift recently. Back in the day, it was an Italian restaurant opened in 1937 that fed the likes of Ernest Hemingway, Ezra Pound, Eugene O'Neill, and E.E. Cummings. The basement was also the first offices of Readers Digest. Minetta Tavern was also a hangout for eccentric, hypergraphic beatnik Joe Gould, aka Professor Seagull. When he wasn't sleeping on park benches, he was working on writing the longest book in the world ("An Oral History of the Contemporary World"). Today, it's an upscale eatery that, surprise surprise, retains a lot of its old-school charm.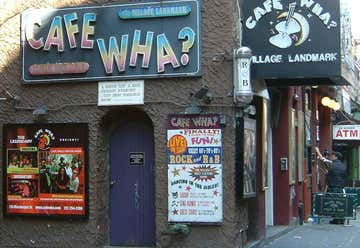 115 MacDougal St, New York, NY, US
Every night at this Greenwich Village hangout is a party- you never know what will happen or who will show up. It prides itself on being the former stomping grounds of Bob Dylan, Jimi Hendrix, Bruce Springsteen, Peter, Paul & Mary, Kool and the Gang, Richard Pryor and more. The live music (in some form every night) ranges from Brazilian dance to funk to modern alt rock, to keep things interesting.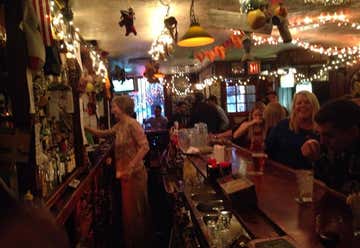 59 Christopher St Frnt 2, New York, NY, US
Kettle of Fish was a hangout for icons like Jack Kerouac, Allen Ginsberg, Gregory Corso, and Norman Mailer. Bob Dylan was even known to drop in for a drink when he was playing the Gaslight Cafe nearby. Of course, where didn't Kerouac and Dyland drink? Anyways, Kettle of Fish is actually still a great little dive where you can play darts and pool, check out the jukebox, and catch a Packers game (it's a diehard Green Bay Packers bar, too.) Don't forget to pose for a picture with the neon red "BAR" sign in the back like Kerouac famously did.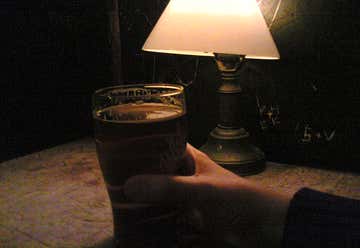 86 Bedford St, New York, NY, US
Chumley's was a haven for a ton of literary greats: Willa Cather, E.E. Cummings, Theodore Dreiser, William Faulkner, Ring Lardner, Edna St. Vincent Millay, Eugene O'Neill, John Dos Passos, and John Steinbeck to name a few. It was also a famous speakeasy back in the 1920s. You know what it means to "86" someone? That comes from Chumley's! Often, before the cops would raid Chumley's for serving alcohol during Prohibition, a friendly policeman would phone the bar and tell them to "86" the customers, or send them out of the 86 Bedford Street door while the cops would raid the Pamela Court entrance. Today, it still has the secret staircase, trapdoors, and other speakeasy-style inner workings.
White Horse Tavern is a must-visit for literary geeks. Most famously, Dylan Thomas went on a bender here days before he died. Other famous patrons were James Baldwin, The Clancy Brothers (who also performed at the establishment), Bob Dylan, Richard Farina, Michael Harrington, Jane Jacobs, Seymour Krim, Norman Mailer, Jim Morrison, Delmore Schwartz, Hunter S. Thompson, Mary Travers, and Jack Kerouac, who lived right nearby. In fact, Kerouac was often cut off and kicked out of the Tavern. You can see the words "JACK, GO HOME!" scrawled on a bathroom wall in Kerouac's honor.