When travellers think of New South Wales (NSW), the iconic structures of Sydney spring to mind, but dig deeper and you realise the city is just one aspect of the state.
From the sandy beaches of Port Macquarie to the alpine wilderness of the Snowy Mountains, travel north to south with us as we share our perfect NSW animal adventures.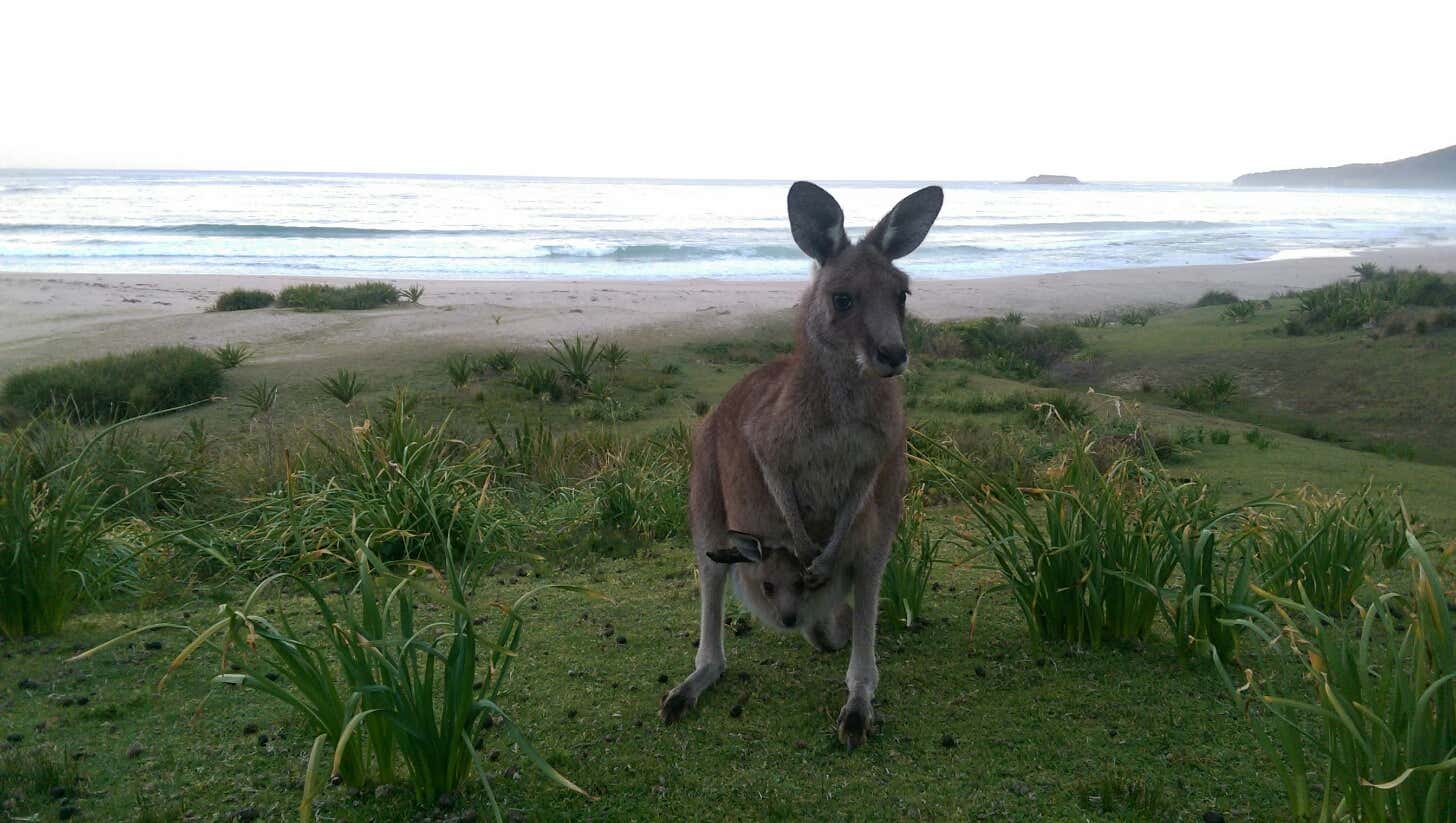 Conservation focused animal sanctuaries are always worthy of your time and money but there is something special about a place dedicated to koalas. In Port Macquarie, not only does Koala Hospital rescue and rehabilitate those cuddly, gum-tree-hugging marsupials, they also let you visit.
Four hours from Sydney, the not-for-profit Koala Hospital is free to enter, open daily, and their guided tours are at 3pm. It's worth timing your visit for the tour, as you gain awesome koala facts, as well as watching them feed. You can also donate to plant a tree or adopt a koala. (And no, you can't take him home).
For a relaxing time exploring the marine life off the coast of NSW, consider a getaway to the World Heritage island of Lord Howe. The stunning azure waters, tropical fish, and unspoiled coral reef are trip worthy in themselves, but add in turtles, stingrays and (harmless) sharks and you can see why people rave about a stay here.
The unique marine ecosystem is home to 90 species of coral and 500 breeds of fish and is best explored by diving or snorkelling. Birdlife is also plentiful. And if you're lucky, maybe you'll come across the recently rediscovered Lord Howe Island Phasmid, the world's rarest insect.
This may come as a surprise, but the Hunter Valley isn't all about wine! Close to the remote and peaceful surrounds of the Barrington Tops National Park is a significant Tasmanian devil conservation park. Devil Ark plays a key role in the survival of this misunderstood marsupial, as well as rescuing the lesser-known eastern quoll.
The Devil Ark 2-hour 'Devil's in the Wild' tour is fun, allowing you to watch their feeding time, as well the rare opportunity to hold a baby devil.
If you're ready to go gung-ho, Devil Ark has a 4-bedroom retreat nearby where stays include accommodation, the 2-hour tour and wild platypus viewing at dusk.
One of Gosford's key attractions is its Australian Reptile Park. As most reptiles found in the park are not native to the region, it affords a chance to get up-close-and-personal (but not too close) with crocodiles, an Eastern water dragon, the deadly common brown snake and even the brilliantly named magnificent tree frog.
The park has been open since 1948 and is famed for its venom-milking program, saving a whopping 300 lives a year. Aside from many reptiles, other furry Australian friends can be found here so you can make a day of it snapping selfies in front of koalas, wombats, Tasmanian devils and more.
You might think that while you're in a big city, you have to skip the animals but Sydney has always been big on creating havens for wildlife. While the most famous Sydney destination may be Taronga Zoo, Featherdale Wildlife Park provides a more intimate setting to interact with native Australian animals.
With fantastic initiatives, including the Koala Genome Program and rescue hospital, Featherdale is at the forefront of NSW's native animal conservation. Forget cuddling a koala, at Featherdale, you can tuck into a continental breakfast with a koala! Featherdale is often taken as a stop on the way to the Blue Mountains.
If you like the idea of wildlife on your doorstep, then enjoy an escape to the rainforest paradise of Kangaroo Valley at the southern end of the Sydney basin.
With the clue in the name, you're almost guaranteed to spot a joey or two. Hang around at dawn or dusk and you can watch 'roos, wombats and maybe a swamp wallaby come out to feed. Bendeela Campgrounds are recommended as a base for optimal wombat spotting.
If you prefer not to leave your animal sightings to chance, The Cedars is a private wildlife sanctuary in the area caring for in-need iconic Australian animals.
The combination of pristine beaches with the whitest sand in the world, aquamarine waters, and a hinterland fringe are alluring enough, but add to that extraordinary marine and wildlife and you have a winner in Jervis Bay.
Jervis Bay is also framed by Booderee National Park, which is a superb location to view kangaroos, wombats, wallabies, echidnas, and over 200 species of birds. Then cast your eyes out to sea where you'll spot dolphins frolicking year round.
In addition, you can look for humpback and southern right whales from the Cape St George Lighthouse, which is the perfect whale watching site as it affords superb views of the whales at the beginning of their migration, to Queenslands warmer waters, from early June to the first week of July. Remember, due to the reduced glare from the sun, the best time of day to see a whale is late morning or early in the afternoon and clear, calm days are best.
There are the kangaroos you see from afar, slouched under a bush, then there are the Pebbly Beach kangaroos in Murramarang National Park. These 'roos are so friendly they will let you pat them or even pose for an Instagram-worthy shot. If it's a hot day, they may even join you for a dip in the ocean!
A popular camping and surf spot, a stay at Pebbly Beach can also be rewarded with wallabies, goannas, kookaburras and sea eagles soaring high above. Year-round dolphin sightings are common but remember to keep an extra eye out June to November for migrating whales.
Montague Island Nature Reserve is an overlooked destination, yet from late winter to early December, it is teaming with hundreds of fur seals, thousands of little penguins and over 90 species of birds.
Montague Island is only explored by tour. Choose your pick from swimming with the seals, evening penguin spotting excursions, fishing charters or whale watching cruises (in season).
If quirky accommodation is up your alley, there is the gorgeous lighthouse keeper's cottage, available for a minimum 2-night stay. You can escape to the craggy shores of Montague Island by ferry which departs from Narooma.
The Snowy Mountains are surprisingly fruitful for wildlife adventures. Head there in spring or summer and expect to cross paths with wombats, echidnas, kangaroos, and emus on the drive alone.
Once in the park, if you keep a low profile, you might get lucky and spy the pygmy possum or adorable spotted-tail quoll. The endangered corroboree frog calls the Snowy Mountains home, though stay clear of these little guys as they are one of those poisonous Aussie critters you read about.
Nearby Bombala has the epic Platypus Reserve. Visit early morning or late afternoon to optimise the likelihood of snapping these adorable monotremes.
Banner Photo Credit: The Legendary Pacific Coast