With so many beautiful views that you'll lose track, Pennsylvania is a brilliant place to rediscover the wonders that our earth has to offer. Breathtaking scenic overlooks, jaw-dropping natural wonders, lush forests, secret waterfalls, and lazy Sunday scenic drives… this is an awe-inspiring tour of a few of Pennsylvania's most beautiful places to visit.
The first stop on your scenic journey across Pennsylvania is Ricketts Glen State Park. Ricketts Glen is known for its spellbinding, free-flowing waterfalls, each tumbling through clefts in a hillside. Ganoga Falls is the highest of the 22 waterfalls, coming in at 94 feet. To check out all of the waterfalls, make sure to take a hike on the 7.2-mile Falls Trail; it's not exactly a quick and easy hike, but definitely worth the work. For those who would like a more low-key hike, the park has a variety of relaxing paths, including the Beach Trail, which takes you right up to Lake Jean.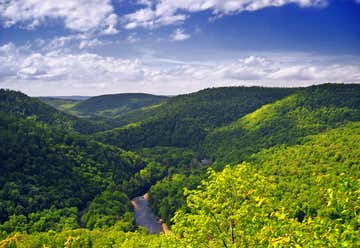 82 Cabin Bridge Rd, Forksville, PA, US
Located in the valley of Loyalsock Creek, Worlds End State Park is another gem to check out on your trip. The 780-acre park is surrounded by Loyalsock State Forest, offering beautiful photo opportunities of the mountainous and tree-lined landscape. The park boasts a small swimming area formed by a mountain stream, which is a popular place to cool off after a long hike during the summer. Loyalsock Creek is also known for its whitewater boating opportunities, which are at their peak between March and May. The park's photo ops range from High Knob Vista to the Endless Mountains. Don't forget to pack your camera!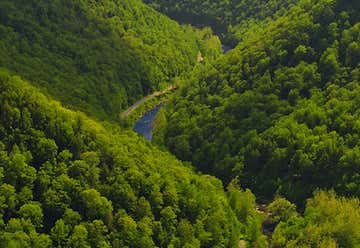 4797 Rte. 660, Wellsboro, PA, US
Known as the Grand Canyon of Pennsylvania, Pine Creek Gorge is a must-see. The canyon runs 47 miles across Pennsylvania, and reaches a depth of 1,450 feet. For those looking to hike along it, the Turkey Path at Leonard Harrison State Park takes you past cascading waterfalls and breathtaking panoramic views. The trail descends down into the bottom of the canyon, so you can see a beautiful view of the gorge from both above and below. The Gorge is also a popular destination during the wintertime, as the surrounding state forest has over 177 miles of snowmobiling trails.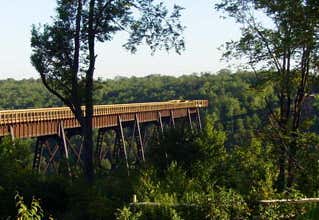 1721 Lindholm Road, Mount Jewett, PA, US
For a totally different view of Pennsylvania, head to Kinzua Bridge State Park. The main feature of the park is the skywalk, an old railroad trestle bridge turned epic trail. The trestle, which was once the tallest and longest railroad structure at 2,053 feet long and 301 feet tall, had been abandoned for years, then suffered further damage from a tornado in 2003. It's been rebuilt as the totally awesome skywalk. Visitors can walk along the rebuilt bridge and take in the sweeping views of the Kinzua Gorge, and, if you're brave enough, peer down below from the partial glass platform at the end of the skywalk.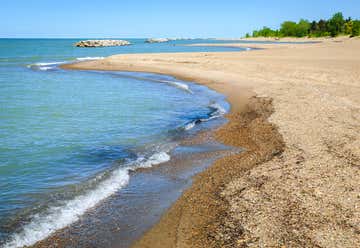 301 Peninsula Dr, Erie, PA, US
Located in Erie, Presque Isle State Park is a great way to feel like you're on a pristine Caribbean island, without leaving the United States. Presque Isle is home to 11 different beaches, each with unique activities and special features. Make sure to check out the Presque Isle Lighthouse, which is the second oldest lighthouse on Lake Erie. It offers daily tours for six dollars each through the month of September. The park is also home to over 15 hiking trails, many of which bring you right up to the Lake Erie shore.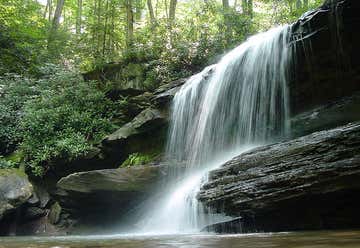 171 Dinnerbell Rd, Ohiopyle, PA, US
With over 20,500 acres of rugged natural beauty to explore, Ohiopyle State Park is the next stop on your scenic adventure. The Youghiogheny River runs right through the park, which offers some of the best whitewater boating in the Eastern United States. There are some outfitters that run guided whitewater trips on the "Yough," which is great for beginners or those who don't have their own gear. The river is also known for its abundant trout, with public fishing allowing throughout the park. If that isn't enough, the park hosts 79 miles of hiking trails, as well as plentiful opportunities for rock climbing.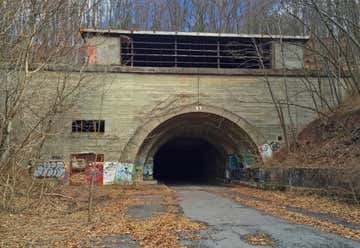 49 Washington St, Wells, PA, US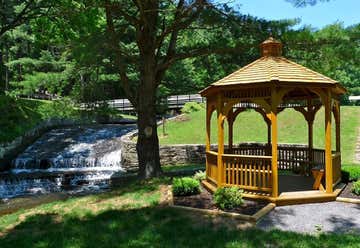 1701-1717 Doubling Gap Road, Newville, PA, US
Make your next stop Colonel Denning State Park, located in lovely Cumberland County. Named for a cannon manufacturer named William Denning (who, weirdly enough, was never actually a Colonel) the park now encompasses 273 acres of wooded area as well as a 3.5-acre lake. Doubling Gap Lake's swimming beach is open from May to September, and allows for non-motorized boats to be used. The lake also has a fishing pier for those looking to catch a few trout, and hunting is also common on the park's premises. During the winter, visitors enjoy ice skating on the frozen lake.
Hickory Run State Park and Campground lies in the foothills of the breathtaking Pocono Mountains. This park hosts a whopping 40 miles of hiking trails, lots of trout fishing, and three state natural areas. The park's most striking feature is Boulder Field, a stretch of land strewn with striking boulders. The park's Sand Spring Lake offers both swimming and fishing opportunities, and the park also has activities such as disc golf and geocaching. The park's campground has modern restrooms with guaranteed warm showers, a camp store, and electric hookups for RVs. They also have a few rustic camping sites that are open until mid-December. You can even make reservations online in advance.
Located along Philadelphia's Schuylkill River is a picturesque row of 19th century boathouses. Boathouse Row is utterly charming, popular for all ages and skill levels to come and enjoy the wonder that is the sport of rowing. Each boathouse in the row is a separate rowing club, many of which host activities for young rowers all the way up to adults. The peaceful river is a popular place for both single rowers and experienced teams, and is home to many regattas that bring in hundreds of excited viewers. Plus, they're all decorated with lights, which are turned on every night.
As you explore the mountains, forests, streams, and hills that make this state so special, you'll find yourself falling in love with the natural beauty of Pennsylvania. Whatever time of year or park you visit, there's no denying that Pennsylvania is filled with quiet but memorable natural features that make exploring an invigorating experience.