Spend two nights in Blue Ridge, Georgia, and visit local wineries.
All our trips start from Atlanta as an example. Click on "Take this trip" to start customizing. Don't forget to bring a cooler for a picnic lunch and to keep any wine you buy from the hot Georgia sun. Drink and drive responsibly - pick your designated driver for the day!
8660 Blue Ridge Dr, Blue Ridge, GA, US
Stop at Mercier Orchards to buy a picnic lunch for later today. In addition to the orchards, Mercier''s large store has local products from produce to crafts.
450 Tipton Trl, Morganton, GA, US
Wine tasting at Serenberry Vineyards. Serenberry has a beautiful outdoor space to picnic after your tasting.
637 Odom Rd, Blairsville, GA, US
Wine tasting at Odom Springs. Enjoy wine and cheese on the back porch with a beautiful view.
632 E Main St, Blue Ridge, GA, US
On Fridays and Saturdays, reserve a spot in their Wine and Chocolate pairing to sample handmade chocolates with a perfect pairing. Anytime, have a tasting of 6 local wines and try an appetizer or more substantial fare from their menu.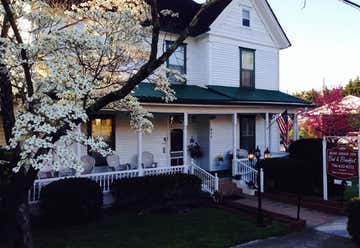 477 W First St, Blue Ridge, GA, US
Check in at your accommodations in Blue Ridge, like the Blue Ridge Inn Bed and Breakfast. Most of the restaurants in Blue Ridge close early, so it's a good idea to check before you set out for dinner.
Good Morning! Time to pick another designated driver, or hire someone to drive you safely. Try Drive for You at www.driveforyouwine.com .
3640 E 1st St, Blue Ridge, GA, US
Pick up a picnic lunch. Angelina's is open at 10:00 am Monday to Saturday.
7150 Canaan Dr, Hiawassee, GA, US
Wine tasting at Hightower Creek Vineyards. After your tasting, you can purchase cheese and crackers, or have your lunch on the porch or grounds.
916 Crane Creek Rd, Young Harris, GA, US
Wine tasting at Crane Creek Vineyards. After your tasting, you can have your lunch outside overlooking the vineyards. On Fridays nights, make reservations for Tapas and Music, or on Saturdays reserve a spot in the Vintner's tour where you see the winery up close and have a full tasting and cheese platter.
224 W Main St, Blue Ridge, GA, US
Head back to Blue Ridge for dinner. Visit Southern Charm for a taste of the Deep South.
Dahlonega, Georgia, United States
On your way home, stop in Dahlonega to shop, eat, and visit one of the tasting rooms for local wines.
We hope you had a great time on your trip. Come see us on our Facebook page and let us know all about it.
https://www.facebook.com/wineriesingeorgia/