Oh, Canada... Our neighbors to the North may drink milk out of bags, but they also have some pretty genius ideas. They did invent poutine, after all! Another one of their great ideas? Their decision to test uber-modern accommodation options in some of their more popular National Parks during the summer of 2016. Think, tiny homes and crazy new tent-like options. Here's a guide to the totally cool, totally outside-the-typical-tent new structures they tested!
Their cheapest new option is something they call the "Double Tent", which is basically a tent inside a bigger tent. The inner tent has a bed (you just have to bring sleeping bags), while the outer tent is equipped with a table and chairs, meaning you can use it as a dining room where you can eat without having to worry about wind, rain, or bugs. At $55 (Canadian) a night, it's certainly a ton more convenient than setting up your own tent and carting in your own folding chairs!
Forillon National Park is home to two sleek, new "Micro-Cubes". It's not much more than a room with a bed and an outside porch, but the minimalist, contemporary design is drool-worthy, and it comes with windows you can open up! There's no kitchen or shower attached, so you're still pretty much camping... or, as they say, "glamping".
Cape Breton Highlands National Park has a super-special new take on the tent: the cocoon bed! Suspended above the ground in a tree, the cocoon's whole floor is padded and acts as a mattress, and as you drift off to sleep, you'll feel it swaying gently in the breeze. It's also got little hatch "windows" you can open, and a wooden staircase that leads up to the entrance, so it's pretty easy to bring your stuff into the tree sphere. For only $70 a night, you can enjoy this beachside treehouse experience!
One of the most unique of the new accommodation options was installed at Fundy National Park: The Goutte d'Ô. It's a teardrop-shaped structure that has a sleeper sofa on the main floor, and a hammock loft above, reachable by a rope ladder. The back half has windows with shades that can be pulled down for privacy, and the whole thing has been placed on a wooden patio, although the Goutte d'Ô structures are often suspended in the trees or placed on stilts. Seriously, how cool does this thing look?
If you're less sure about how you and camping will get along, then rent out one of the two tiny homes that have been installed at Waterton Lakes National Park. They both sleep up to 4 people, and although they have different layouts, they have beds, kitchenettes, toilets, and showers.
Of course, these were being tested, but they'll probably keep most of them around for 2017. And, we can hope that they got enough positive feedback that they start installing more cool camping options soon! I'm planning my summer vacation to Canada already...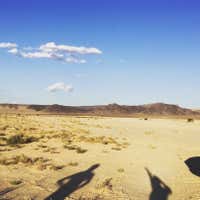 1 husband, 2 dogs, a million roads to venture.