Christmas in the Golden Isles means the best of both worlds: You get the magic of the holiday spirit, but with nice weather and beaches where you can enjoy warmer temperatures. From "ice skating" right by the beach to special tours of Christmas decor around the charming towns, there are tons of ways to get into a holly, jolly mood! And, of course, when you're done skating, you can always take a nice stroll down the beach and dip your toes in the water.
Two hundred perfectly decorated rooms filled with Christmas magic are yours to explore at The Cloister on Sea Island during the season, along with five miles of private beach. Enjoy plenty of holiday entertainment at the resort, and treat yourself to a five-star Christmas dinner. Christmastime on the grounds has become a tradition for many and is sure to be something you remember for years to come. Plus, you'll still get to take advantage of the other standard amenities, like their awesome nature tours, activities and golf!
Remember being younger and riding around in the back of a car, looking at neighborhood Christmas lights, filled with excitement and Christmas spirit? Now imagine all of those warm fuzzy feelings, minus the frostbite! Hop on a trolley in front of St. Simons Island Pier for an incredible tour of the area's Christmas lights. Hot chocolate, cookies, and even a visit from Santa happen during this 90-minute guided tour.
Reservations required!
Keep those classic Christmastime activities rolling with ice skating on Jekyll Island! Skate on the "ice" right on the beach for just $5 a person, taking in a fantastic view of palm trees and the Atlantic Ocean. The rink opens for skating in mid-November and doesn't close until January, so you have plenty of time to visit, even if a Christmas vacation isn't in store! There's even a grand Christmas Tree Lighting Festival on the Saturday after Thanksgiving each year.
Jekyll Island is full of historical homes and cottages that ooze holiday magic during the Christmas season. Starting from the Jekyll Island Museum, you can tour the historic district and its decked-out homes for a small fee to really experience Christmas on the island. Pop into the museum itself for a history-rich educational experience that's unique to Georgia's fascinating past during Christmas and any other time of the year! In addition to being around Jekyll Island during the holiday season, be sure to also check out the Holly Jolly Jekyll Parade that takes place every December, with a float competition and plenty of holiday music!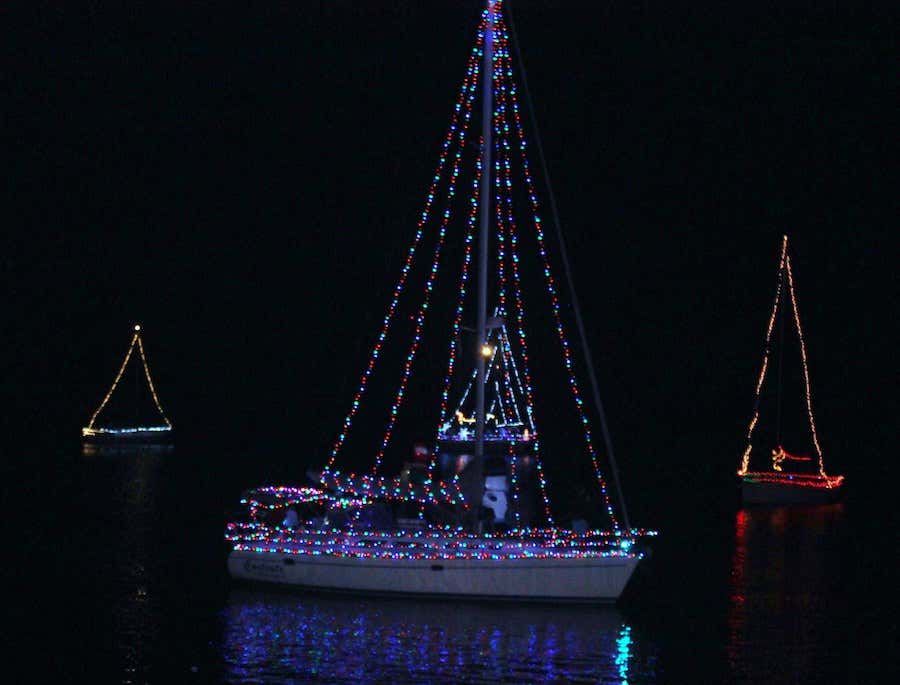 Celebrate a coastal Christmas in Historic Downtown Brunswick at the annual Christmas Boat Parade, held at the beginning of December. After taking in the sights and sounds at the traditional nighttime Christmas parade down Gloucester Street, head over to Mary Ross Waterfront Park to continue the festive fun to see shrimp boats and sail boats completely decked out in holiday decor.
Christmas and the holidays are a magical time. Spending your days immersed in Georgia's Golden Isles, yet still feeling like you're celebrating properly, is something that the Georgia coast prides itself upon. The area hopes to continue to make its visitors feel at home from Thanksgiving into the New Year each trip around the sun!

Nestled on the Georgia coast lies the mainland city of Brunswick and its four beautiful barrier islands: St. Simons Island, Sea Island, Little St. Simons Island and Jekyll Island. Pristine stretches of marshland, punctuated by small islands, define the Golden Isles' breathtaking landscape.