One thing that never gets old about Mad Men (other than everything, because it's an amazing show) is watching the characters drink all day long, to great excess. Seriously, think of all the drama, and even comedy, that's been caused as a result of the characters' drinking. Take a long, boozy lunch out of the office and turn this guide to Mad Men filming locations into an epic, Don Draper-inspired bar crawl, featuring the real-life places where the fictional employees of SCDP drank.
To remind you that this is a cautionary tale, we'll start with the Grand Central Oyster Bar, where Don and Roger enjoy an opulent feast of booze and oysters...only to find out that the elevator is broken and that they need to haul butt up 20+ flights of stairs to get to a meeting for which they're already late. The end result of the combination of liquor, oysters and strenuous activity is, as Roger discovers, quite unpleasant. Today, walking inside feels like stepping onto the set of Mad Men; it looks almost exactly as it did in the 1960's.
The head honchos from Putnam, Powell, and Lowe (the British company that purchased Sterling Cooper) were doubly lucky that they got to have a fancy meal here at La Grenouille (thanks to Joanie)... because not only is it a really fancy spot, but while they were there, they missed out on the gruesome lawn mower accident that resulted in one of their employees needing his foot amputated. Ew.
Be sure to check out the original oak bar, from which the Plaza's classy Oak Room receives its name. Hopefully you and your drinking buddy are having better luck with relationships than Don and Roger were when they grabbed drinks here.
Forget the '60's....PJ Clarke's has been open since the 1880's! The employees of Sterling Cooper frequent this drinkery in the earlier seasons of Mad Men. This is where Peggy and some other secretaries go to celebrate Peggy's first successful copywriting gig. I doubt putting "The Twist" on the jukebox will elicit the same reaction it did in the show, but it's worth a try. The characters in Mad Men aren't the only fans of the bar either; Nat King Cole called their bacon cheeseburger "the Cadillac of burgers", and it's also where legendary 1950's rockstar Buddy Holly proposed to his wife...on their first date!
Back in the day, Sardi's was quite the place to be...so it's no surprise that Don runs into a former flame, Rachel Menken, while on a date with his new sidepiece, Bobbie Barrett, the wife and manager of annoying comic Jimmy Barrett, who was doing an ad for Sterling Cooper. The eatery is probably most famous for its walls upon walls decorated with caricatures of celebs who have dined at Sardi's.
Keens is where Don and Pete take Horace Cook, Jr. for steaks and drinks as they try to talk some sense into him regarding his ridiculous dream of bringing jai alai to America... and instead wind up agreeing to help him with his scheme. Even today, the decor features pictures of guys from the 60's (none nearly as handsome as Don, of course) and the menu still reads like a classic mid-century steakhouse: they serve salad, steak, booze, and not much else-- they suggest taking a client out to dinner and ordering a Rye Old Fashioned and the Dover Sole for a Don-inspired meal.
The Minetta Tavern has been featured on the show more than once actually... but it's most notably where Peggy dresses up extra fancy for her date with Abe, expecting him to propose after getting some advice from the wise Joan (instead he asks her to move in with him-- scandalous!)
Talk about awkward. Barbetta is the old-world Italian joint is where a recently divorced Betty and Don have an unpleasant encounter... Betty definitely feels jealous of Don's date, the young, pretty, and mildly irritating Bethany Van Nuys (seriously, Don doesn't always have the best taste in women, does he?) Regardless of uncomfortable social situations, Barbetta is a great place to take a date you want to impress... especially if you can nab a seat in the garden!
Don and the other ad men aren't the only Mad Men characters who find comfort at the bottom of a whiskey glass; the Dublin House is where Joan's husband Greg drowns his sorrows after learning that he's been passed over for a promotion at his hospital. Seriously, he passes up a homecooked meal with Joan to drink at this old-school hole-in-the-wall.
The Slipper Room is the... club where the boys of Sterling Cooper take Pete for his bachelor party. Pete, being the sleazeball that he is, uses the opportunity to attempt to hit on another woman. Even though this Slipper Room didn't open up until the late 1990's, it still features old-school Vaudeville-style shows and burlesque like what was still popular in the early 1960's.
The Palm is where Harry and other SCDP employees go for some steak and cocktails before the Muhammad Ali/Sonny Liston boxing match... it's also where Don specifically doesn't go to avoid them. Instead he stays with Peggy in the office, making her work on the Samsonite account before they go to another bar to listen to the fight... and, of course, the night ends with a sloshed Don puking into a toilet back at the office. Lovely.
If you'd rather keep is classy and stay sober while still enjoying some Mad Men vibes, then head to the Time Life building and reminisce on all of the history that occurred there... in the show, and in real life.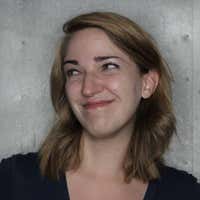 Just a Civil War beard enthusiast, writer at Roadtrippers, and aspiring astronaut reaching for the stars.