Take a relaxing trip through bay and then east past Yosemite, stopping at all my favorite spots to swim, float, and soak.
Russian River, California, United States
First stop is the Russian River! I don't have a favorite beach, because anywhere you can jump in an inner tube or a kayak and start lazing down the river through the trees is perfect. When it's time to dry off head into Guerneville - one of the best small towns in California!
Again, all of the beaches in Tomales Bay State Park are great, but Shell Beach is special because the path to get there is a short but lush hike through the loveliest of forests. Tomales Bay is my favorite place to swim not only because of the nature and seclusion but because the water is perfect. You get the float-y benefits of ocean salt water in the calm warmth of a small bay.
You'd be hard pressed to find another beach this close to San Francisco where you can easily swim for much of the year. This beach has everything the beaches of SF have - big banks of sand, iconic views, great sunsets - but without the swarming crowds and frigid temperatures. Plus, after the sun goes down, you can make your way to the best tiki bar in the East Bay, Forbidden Island.
The Yuba River is littered with some of the best swimming holes anywhere. Much like the Russian River but with even deeper, lusher canyons, clearer, greener, sparkly-er water and a more consistent abundance of hot summer sun. Once you've floated your cares away you can drag your sun-baked self to Nevada City, a town filled with perfectly quaint historic buildings, ideal stroll-able streets, plenty of things to eat, and the best dive bars around.
On the other side of the Sierras, just past one of the greatest US landscapes (where you should absolutely stop and stay a while on your way - I'm talking about Yosemite National Park), is a magical spot to rest your bones in a very magical part of the state. Wild Willy's Hot Springs is not easy to find - it's essentially a big hole in the ground surrounded by mountain range panoramoas, way off behind a tiny old church on an empty road - but that's what makes it great. The water is hot and filled with clay. You can just lay back and watch the clouds roll by for hours. There are a handful of other natural hot springs in the area as well as pristine mountain lakes (June lake), alien-like natural formations (Mono Lake), high altitude waterfall hikes (Devil's Postpile), and the biggest Ghost Town of them all (Bodie, CA).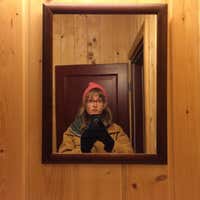 I love planning trips almost as much as I love going places.