Left at 2am to avoid Atlanta traffic...
...that wasn't early enough.
Chamberlain, South Dakota, United States
Dinner at Oklahoma Joe's BBQ, the most renowned place to eat in the BBQ capitol.
Badlands, South Dakota, United States
The real gateway to the west. Everything changes when you cross the river.
Mount Rushmore, South Dakota, United States
The most beautiful park I have been to. No matter how good the photos you see are, they do not do justice to the Badlands.
So much to see in one little corner of South Dakota.
Devils Tower, Wyoming, United States
A fun town with so much history.
Bowman, North Dakota, United States
Amazing how far away you can be and still see this wonder.
A small town oasis in the middle of miles of road.
The most beautiful part of the country.
Ballpark # 1 of the trip, and time to make a left.
Beautiful snow-capped mountains, and lunch with an old friend.
A crazy drive through the hills ends up at the Pacific.
Hugging the coast, through the Redwoods and San Francisco, ending here for the night.
Awoke to the Lone Cyprus, and ended watching the sun disappear into the Pacific.
Ballpark #2, and a great burger for lunch.
If you're going to take the long way, take this way.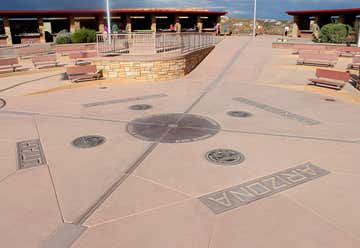 Located at the Junction of Colorado, Utah, Arizona, and New Mexico, NM, US
Standin' on the corner in Winslow, Arizona.
Standin' in four states, at the same time!
8500 miles, 27 states, 15 days. Time to get home!