Lake Tahoe is pretty much the ultimate vacation spot. Whether you want to relax at a five star resort and maybe visit the spa or casino while taking in some breathtaking scenery, or you want to try something a little more adventurous, like hiking, kayaking, or even parasailing, you'll find it at Tahoe. Plus, it's conveniently located on the border of California and Nevada, so you get the best of both states!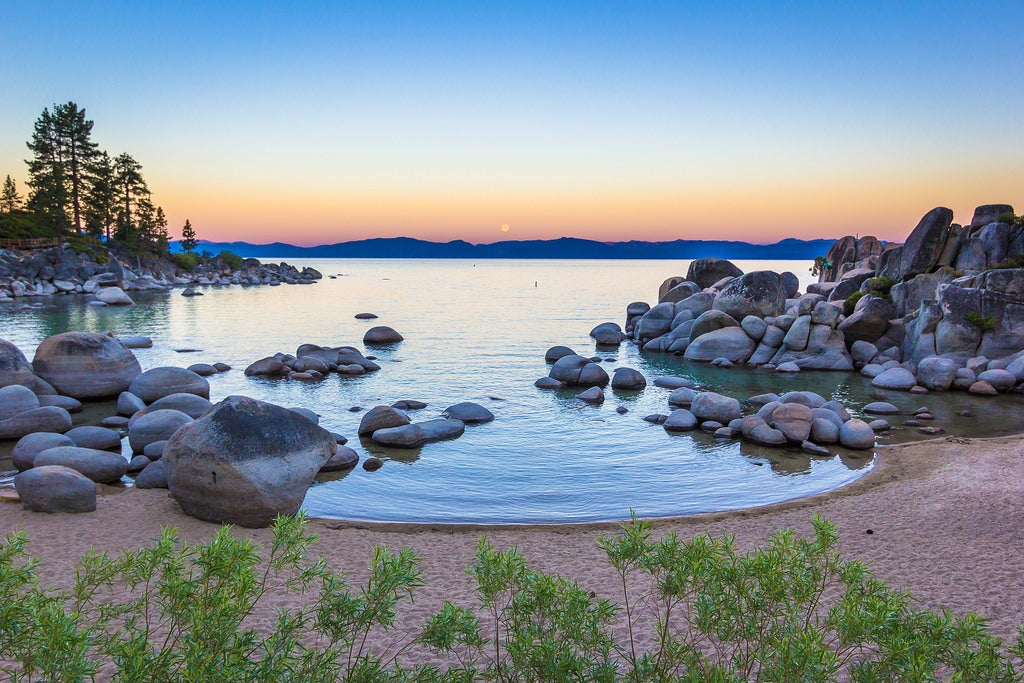 Since it's such a popular destination, though, it can be hard to decide how to spend you trip-- at a ski lodge, or at a casino, or maybe camping? Hopefully this little guide will help you figure out how to best explore all the wonder Lake Tahoe has to offer!
Did you know that Lake Tahoe is home to a Viking castle? It is! Vikingsholm was one of the many vacation homes built by the West Coast's wealthiest along Lake Tahoe, but its distinctive design set it apart from other summer homes. You can tour Vikingsholm and learn more about the fascinating woman, Lora Knight, who made it possible.
For more stunning views of the landscape, take a trip on the Heavenly Scenic Gondola Rides! The 2.4 mile trip up the mountain gives you views of the entire lake, plus the Desolation Wilderness and the Carson Valley. There's an observation deck at the top so the views don't have to end when the ride does!
And if you're looking for something on which you can hone your photography skills, check out Bonsai Rock. The huge boulder in the lake has four trees growing up out of it, seemingly against all odds, and is the perfect subject for a photo shoot!
If you're looking for a spot of fish, then head to Whale Beach. It's also dog-friendly, so feel free to bring Fido.
And if you're feeling really adventurous, bare it all at Secret Cove-- this beach has Tahoe's highest percentage of nude bathers!
If you only get to do one thing on your trip, make sure you rent a kayak and see the lake the way it was meant to be seen! You can take it easy and have a peaceful float on the water, leaving your worries back on the shore, or you can set off on an adventure to one of Tahoe's many beaches and coves. Sand Harbor is one of the most photographed spots on all of Tahoe, and with good reason. Even the Washo Indians spent their summers hunting and fishing at what is now Sand Harbor! Here you'll find hiking, scuba diving, and 55 acres of sandy beach, rocky coves, and tons more. They even hold an annual Shakespeare festival here.
If you're of the outdoorsy persuasion, then you'll probably want to camp on your vacation-- perfect, since Tahoe is surrounded by dozens of excellent campsites. Washoe Lake State Park is just East of Tahoe and is a bit less crowded, plus it's great for windsurfing, beach volleyball, horseback-riding, off-roading, hunting, and, of course, camping.
North Tahoe also has Lake Forest Campground, which is a short walk from a beach and has tons of trees to shade you while you set up your tent.
It's okay if you'd rather not rough it while visiting Tahoe, because there are tons of other accommodations as well! If you like cozy, rustic B&Bs, then book a stay at The Cottage Inn. The 1938 property has one room options, as well as private cottages, suites, and tons more. All rooms have a fireplace, and some even boast private hot tubs! And there's nothing quite like enjoying their hearty breakfast outside on their deck.
There's also the new, eco-friendly boutique spot, the Basecamp Hotel. They have unique room setups, like a family room option with lofted bunks (which kids love), but the coolest room in the hotel has to be The Great Indoors... because the bed is located inside a giant tent. It's also got faux firepits for scary stories and s'mores roasts, a rooftop hot tub, picnic tables for spreading out... and high speed internet. It's the best of both worlds!
And, of course, Tahoe is famous for its casinos. If you're looking for something with more personality than the chain casinos, check out the MontBleu Resort Casino & Spa. It's got everything you could ever want from a casino: restaurants, gambling, a spa, entertainment, and cozy luxurious rooms. Ahhh! Doesn't get more relaxing than that!
Some more rad stats to get you excited: Lake Tahoe is North America's largest alpine lake, with a depth up to 1,645 ft, which makes it America's second deepest lake (after Crater Lake). It's also America's sixth largest lake (by volume), just behind the five Great Lakes.

Roadtrippers helps you find the most epic destinations and detours—from roadside attractions to natural wonders and beyond.