What could be better than a National Geographic photographer taking an entire year to tour all 59 U.S. National Parks? Doing it in an Airstream!
This year, our friend and photographer, Jonathan Irish, is hitting the road in one of our favorite silver bullets to soak in the beauty of America's National Parks. From the Caribbean to northern Alaska, the west coast and everywhere in between, Jonathan and his team have crafted a unique route to capture the best of every park by December 31, 2016.
Instead of being jealous of his travels, you may ask, 'Why on earth is he doing all of this?' Well, this year is the centennial of the U.S. National Park Service. Throughout his tour we are celebrating some of the most beautiful places in our country and the people dedicated to preserving and protecting those places.
Here are some of the highlights from his trip thus far!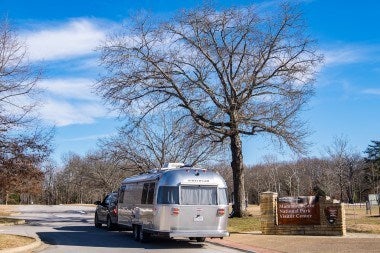 This awe-inspiring photo was snapped on the way to Hot Springs National Park in Arkansas. Looks like a drive through the 'middle of nowhere' led to be a pretty beautiful destination. Sometimes it really is about the moments that you don't expect. The moments that can so easily be passed by without notice can quickly become some of the most treasured moments of all.
"One of the great things about road trips [is]….you have this goal in mind but you end up chancing upon some amazing things along the way. It's those unexpected surprises that continue to delight and fascinate us." – Jonathan Irish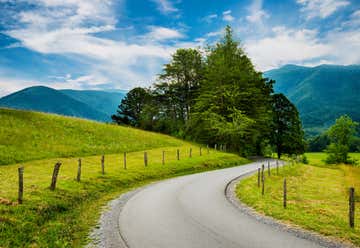 107 Park Headquarters Road, Gatlinburg, TN, US
With the Blue Ridge Parkway winding its way through the park, rushing rivers ready for kayakers and the hikers making their way along the Appalachian Trail, Great Smoky Mountains National Park was sure to be a highlight. The beauty of the great outdoors is nothing short of captivating.
"Layers for days. Ever since I first saw images like this I've always wanted to visit and photograph the Great Smoky Mountains National Park. Layers…whether they are layers of mountains, people, or multiple different things…always catch my eye….So it was with great anticipation that we arrived in the Smokies and started exploring. And they didn't disappoint."
Airstreamers share an adventurous spirit, eager to explore the world, to see every inch of the biggest mountains and the smallest flowers. Our lives are filled with curiosity and wonder. While at Mammoth Cave National Park the crew had quite an adventure exploring deep into the 400+ miles of caves, which happens to be the longest cave system in the world. Their sense of adventure and curiosity grew and grew the deeper they went.
"These early explorers were lowered into the unknown with ropes tied around their waists. They had only reed torches to light their way, and they had to hope and pray they had enough light to find their way out. If the torch went out, or they lost their way, they were done. And yet, they continued to explore further into the cave each and every time. They explored miles and miles of Mammoth Cave with nothing but these basic tools and an incredible sense of adventure. What a testament to human curiosity."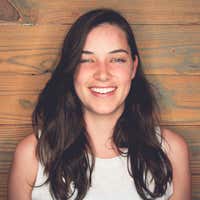 Western Mass transplant. I like small towns with big ideas, preferably under snowfall.