I'm a big fan of traveling to new places near and far and strongly believe traveling isn't defined by the number of miles covered. One of the things I love so much about living in Los Angeles is all the incredible places I can visit just couple hours away. For a little weekend getaway, my boyfriend and I packed our bags and headed down to San Diego. Much to our dismay San Diego was experiencing a down-pour.
Needless to say all the outdoor activities were off the list for the day, but no worries because what I love the most while traveling is eating!

For breakfast we hit up Snooze, an A.M. Eatery, a famous spot in San Diego. Knowing that it would be a food-filled day, we split a Benny Duo (two types of benedict's), The Ham Benedict III + Chilaquiles Benedict and a side of Blueberry Pancakes. Snooze AM's menu is large enough to please everyone, and they specialize in a lot of fun twist on American classics. The restaurant has a retro feel and the staff was friendly and fun. We had to wait about 30 minutes for a table – not bad considering the big festival happening nearby and the thunderstorm.
Since it was raining hard, we took a stroll around around Fashion Valley instead of heading directly to the beach.
While we chose Fashion Valley for this particular trip, San Diego has tons of amazing activities if you're caught in the rain! Consider taking the family to Birch Aquarium or the San Diego Automotive Museum where you can see Louis Mattar's Fabulous Car complete with an ironing board and water fountain!
We worked up an appetite on our shopping tour, so we headed for lunch at Lucha Libre, San Diego's gourmet taco shop.
It was definitely worth the visit and the wait! We ordered the Surfin California Burrito – grilled steak, shrimp, french fries, avocado, pico de gallo, cheese, and a "secret sauce". Apparently Lucha Libre was featured on the TV show Man vs Food for their tacos and burritos, but what I really loved were all the salsa varieties and delicious chips.
Roadtrippers Tip: Rumor has it that anyone who shows up in a Lucha mask gets a discount!
Luckily the rain cleared while we were snoozing, so we drove to Sunset Cliffs to catch the days' end. A popular place for locals, tourists and photographers, the view is absolutely beautiful and the rare rain made for a particularly stunning sunset. Grab a blanket and hang out here until the sun ducks behind the waves...you won't be disappointed.
Afterwards we headed over to Rocky's Crown Pub to enjoy a bite to eat. There are two types of burgers (with cheese and without!) and be sure to ask for grilled onions and basket of fries. A great classic burger to finish the night.
After the big lunch, we checked into our room at the Holiday Inn San Diego Miramar to settle in since we were in a bit of a food coma. I wanted to nap forever the bed was so comfy!
After a restful sleep, we enjoyed breakfast at the hotel and then headed out for a short hike. We opted for a popular and well-maintained trail up Cowles Mountain, the highest point in San Diego. The hike to the top is roughly 1.5 miles and offers a 360º view of the city. The sweat-worthy hike took us about 2 hours to complete and it's an exposed trail, so don't forget those hats!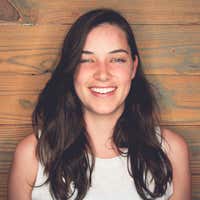 Western Mass transplant. I like small towns with big ideas, preferably under snowfall.