There's no New England seaside escape with the same fame and reputation as Cape Cod. Presidents, the rich and famous, and everyday folks flock here each year to enjoy the summer breezes, beautiful beaches, and rich history. While most will get to and from Cape Cod via US Highway 6, hopping off the interstate and taking Route 6A, the Old King's Highway, will make your trip to the Cape one to remember. Originally a Native American trail, Old King's Highway became a cart path for early settlers, and during the 17th century it became an extension to the Plymouth Colony's "King's Highway." Today, Route 6A still follows much of the original path.
Sandwich, Massachusetts, United States
Starting in Sandwich, MA, the Old King's Highway takes you through a series of charming seaside towns before merging back with Highway 6 toward the tip of Cape Cod. There's plenty to see and do in each little town and on the road between.
129 Main St, Sandwich, MA, US
At 376 years old, Sandwich is Cape Cod's oldest town and one of the oldest towns in the entire country. If you came to Cape Cod looking for New England charm, your first stop has it in spades. Before heading out on Old King's Highway, walk the boardwalk to the beach, gaze at the amazing creations at the Sandwich Glass Museum, and make a stop at the Dexter Grist Mill, originally built in 1654 and restored in 1961. Watch as the old wooden mill still grinds corn into cornmeal, just as it did hundreds of years ago.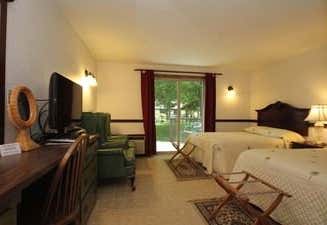 378 Route 6a, East Sandwich, MA, US
The simple and modest Earl of Sandwich Motel is a low-key lodging that has a very cute duck pond onsite, free wifi and a continental breakfast.
Barnstable, Massachusetts, United States
Then you'll come to Barnstable, MA. More a series of villages than a singular town, Barnstable hugs the Great Marsh and features plenty of historic buildings which form the Old King's Highway Historic District. You'll want to hop off 6A and head south to the largest village in Barnstable, Hyannis. A favorite of President John F. Kennedy, Hyannis now features the JFK Hyannis Museum, a must-see for any history buff. Also, drive by the Kennedy Compound to get a peek at where the Kennedys called home for so many years.
Yarmouth Port, Massachusetts, United States
The Old King's Highway winds through the center of Yarmouth Port, which features dozens of historic homes, many of which were once the homes of wealthy sea captains, so keep your camera handy while slowly driving through.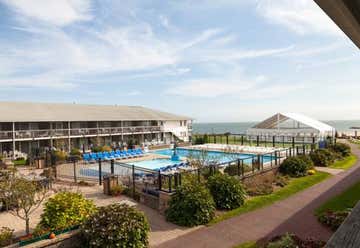 1 S Shore Dr, South Yarmouth, MA, US
If you're looking to spend the night in South Yarmouth, the Red Jacket Beach Resort is located on a private beach and features rooms with ocean views, free wifi, and not one, but three pools onsite. There's also direct access to a private beach, a local pub on the property and seasonal activities, like summer bonfires.
Dennis, Massachusetts, United States
Just a few miles east on the Old King's Highway, you'll come to the town of Dennis. It's most well-known for The Cape Playhouse, and if you have time to catch a summer show while on your drive, this iconic venue is the place to do it.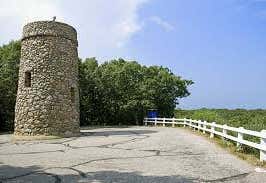 Scargo Hill Road, Dennis, MA, US
Dennis is also home to Scargo Tower, another must-see on your way to the Cape. The tower is about 30 feet tall and was built in 1901. From atop the tower you can see wonderful views of Cape Cod's hills and on a clear day you can see all the way down to Provincetown and the Sagamore Bridge. It's not a tough climb, but in rainy weather the staircase can be slippery. Some people believe that the land upon which the tower was built and the lake were both sacred and, bonus, the historical tower is free of charge.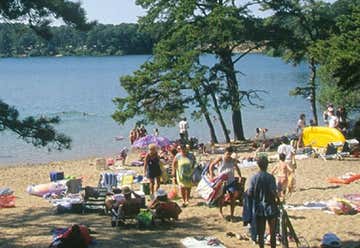 3488 Main St., Brewster, MA, US
From there it's onto Orleans. After the town was captured twice by the Brits during the Revolutionary War, they wanted a non-English name, so they picked a French one, Orleans, as a way of showing gratitude to the French for their support during the war. Orleans would once again face attack during the War of 1812 and even again during WWI: it was the only U.S. site attacked by the Germans during the war. Thankfully, the town is once again a peaceful seaside retreat. If you're going through town, make a stop just outside at Nickerson State Park for plenty of outdoor fun like swimming in Flax Pond, or bike over to Cape Cod Bay.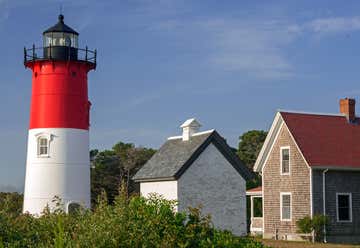 From Orleans, you'll merge back onto Highway 6 as the road shoots toward the tip of Cape Cod and the Cape Cod National Seashore. Make stops at lighthouses like Three Sisters, Nauset Beach Light, and Highland, and enjoy 40 miles of sandy beaches and summer breezes.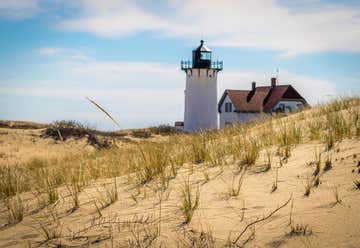 99 Marconi Station Rd, MA, US
President John F. Kennedy established the 43,000-acre Cape Cod National Seashore in 1961. The area includes wetlands, woodlands, and beaches, all of which are ready to be explored!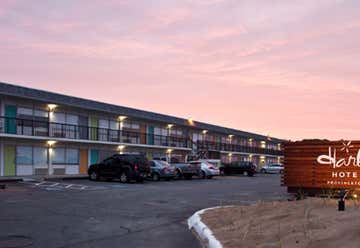 698 Commercial St Middle town hote, Provincetown, MA, US
Once you reach Provincetown, you may wanna check into a hotel for the night because there's so much to do in this vacation hotspot. The Harbor Hotel is a great choice that's only half a mile from the Cape Cod National Seashore. Request a room that overlooks the harbor. There's free wifi and some rooms are also pet-friendly. There's also a coffee bar onsite, outdoor pool with cabana bar, and an artsy little restaurant.
1 High Pole Hill Rd, Provincetown, MA, US
When you finally reach the tip of Cape Cod, you'll be in Provincetown, MA. It was here in this popular vacation spot and artists haven where the Pilgrims on the Mayflower originally sought refuge. Here, they also signed the Mayflower Compact and settled the area. The Pilgrim Monument stands to honor these early settlers.
If you're looking for truly unique accommodations, check out the Race Point Light. Here you can actually get a room in the old lighthouse keeper's quarters. Secluded and scenic, it doesn't get much more relaxing.
With everything from beaches to historic homes and presidential museums, a trip to Cape Cod has something for everyone, and there's no better route to explore it than the Old King's Highway, just as the Pilgrims did. However, knowing when to go is key. The Cape's high season is June through the end of August. This is when hotel rates will be very high. The perfect time to go is fall, end of September through October. You avoid most crowds and can experience the gorgeous fall foliage that New England is famous for.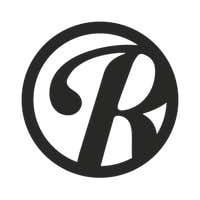 Roadtrippers helps you find the most epic destinations and detours—from roadside attractions to natural wonders and beyond.