Even if you're not an architecture buff, odds are you've heard of Frank Lloyd Wright. The man often referred to as "America's Greatest Architect" was born and raised right here in Wisconsin. His iconic mid-century modern designs drew inspiration from Wisconsin's landscapes and natural colors. On this trip, you can tour Wright-designed office buildings, schools, churches, convention centers, and homes - big and small - while taking in his inspiration for yourself. Cap it off with a peek inside Taliesin, the home studio that inspired his unique modern genius, where you'll get an in-depth look at the man behind the design. Set against the beautiful backdrop of autumn leaves, there's no better time for a trip down the Frank Lloyd Wright trail than during Wisconsin's fall season.
Green Bay, WI, United States
Famed consumer chemical and household cleaning supply company SC Johnson is based in the town of Racine, which is the perfect first stop on your trip down the Frank Lloyd Wright Trail. Wright designed several buildings on the SC Johnson campus, as well as a home for the Johnson family. The company offers tours that are perfect for architecture buffs and history geeks alike.
It was third-generation SC Johnson owner H.F. Johnson, Jr. who sought the help of fellow Wisconsinite Wright to make the company's hub of operations something more than just an office building. The SC Johnson Research Tower opened in 1950, a few years after the Administration Building. The Tower is an impressive 15-story structure stacked with alternating circular and square floors, with a "core" of elevators and stairs running up the middle. The effect is best seen at night from the outside, when you can see the circular floors lit up through the windows. The brick used is the shade "Cherokee Red," the color that Wright and SC Johnson used in most of their projects together. The campus tour stops here in the Research Tower and takes visitors through four exhibits across two floors.
The SC Johnson Company also offers tours of the former Johnson family estate, a Frank Lloyd Wright-designed home called Wingspread. It's an absolutely incredible 30-acre property set on the Wisconsin prairie. Wright described it as the last of his Prairie homes, and it was his largest as well. It features four wings jutting out from the center. Details like the cantilevered "Romeo and Juliet" balcony, which Wright designed for Johnson's daughter, the glass crow's nest designed for the kids, the teepee-inspired ceilings, the beautifully landscaped grounds and many windows make it an absolute dream of a house. The National Historic Landmark is primarily used as a conference center and is open for tours through SC Johnson as well.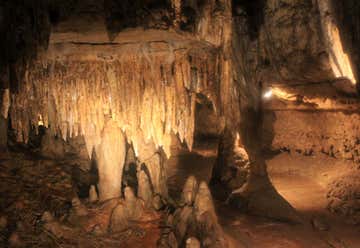 2975 Cave of the Mounds Rd, Blue Mounds, WI, US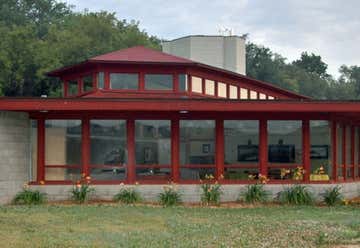 6306 state road 23, Spring Green, WI, US
Wright's beloved mother, Anna Lloyd-Jones Wright, was a schoolteacher, and fostered his lifelong passion for learning. In her honor, he dedicated land and a design for a building to the Wyoming Valley School District. Today, that building is known as the Wyoming Valley School Cultural Arts Center. It served as a school until 1990, when it changed hands a few times. It now serves as the hub for a nonprofit, and the space is used for classes, workshops, exhibits, lectures, events, and more. Tours are offered on weekends between 10 AM and 2 PM. They last about 30 minutes and a small donation is requested in return.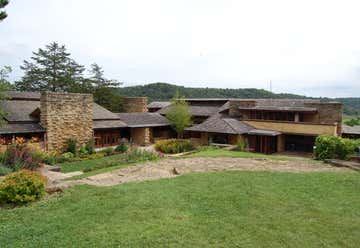 5607 County Highway C, Spring Green, WI, US
End your trip down the Frank Lloyd Wright Trail at the studio where Wright did some of his best work. He lived here on and off for much of his life, and kept his collection of Asian art at Taliesin as well. The building is a consummate example of Prairie School design.
As you tour the stunning building, you'll get an in-depth look at Wright's life. He designed the studio and moved here from Illinois with a mistress after leaving his first wife. This essential Frank Lloyd Wright stop is open daily from May through October, and weekends in November. Make sure to reserve a tour in advance, as they fill up fast! There are several tour options, including a four-hour full-estate tour, a shorter highlight tour, and even a twilight stroll that includes drinks and appetizers. Call or check the schedule to see all the offerings.
Green Bay, WI, United States
And, of course, remember to take some time to enjoy the fall colors as you cruise through the area where Wright grew up and worked. You can see the influence of the natural surroundings at work in his designs.The towering tress seen in his pillars at the SC Johnson Administration Building, the natural, local stone see in the Unitarian Meeting House, and Monona Terrace's flowing lines that evoke the lake all speak to Wright's love for Wisconsin's beauty. Immersing yourself in his work is an adventure sure to inspire.