Oregon's coast is home to some really special beaches. The atmosphere is a bit different than the beaches in, say, California or Florida or even New England. Tidepools and sea stacks and rugged cliffs punctuated by sandy coves and flat stretches of shore mark the beaches here. Towns are made up of shingle cottages tucked between the often-misty ocean and lush evergreen forests. And, most importantly, this far north, the weather is less stiflingly hot! As if the setting isn't enough, consider that the whole Oregon coast is public land. And you can drink alcohol on it, or have a little beach bonfire. Sounds kind of perfect, right?
Cannon Beach may not be the only beach town in Oregon (you have Astoria, Seaside, Newport...) but it's one that really exemplifies what makes these Oregon beach towns so special. The rich history, the incredible seafood, the unique culture of outdoorsy adventure and art, the architecture, the iconic Haystack Rock, the singing sand... you'll find it all in Cannon Beach.
Haystack Rock is kind of like Cannon Beach's mascot. You can see it from almost everywhere in town. As you descend down to the coast, seeing just how massive it is can be shocking at first, but it's also comforting knowing that it's there, standing guard over the town. Plus, Haystack Rock had something of a starring role in The Goonies. Okay, maybe it was more like a cameo at the end, but you get the picture. It's an icon. It's 235 feet tall and formed from basalt; it's the result of a lava flow from 15-16 million years ago. You can walk out to it, but do be careful; the Coast Guard often has to rescue tourists who become trapped near it when the tide comes in. If you're lucky, you might be able to see puffins nesting on it!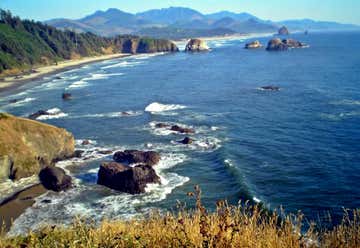 Off Hwy. 101, Cannon Beach, OR, US
Of course, since this is a beach town, you'll want to spend some time exploring the beach. There are a few options, and Ecola State Park is a great one. From the moment you turn down the entrance road, which winds through a lush spruce forest before opening up to a sweeping panorama of the coast, you'll be in love. Of course, the park is much, much more than just a view of the sea stacks. Indian Beach is a popular attraction for its surfing and swimming and sand, but don't sleep on the trails in the park. The Clatsop Loop is 2.5 miles and lets you walk in the footsteps of William Clark (of the Lewis and Clark expedition); he described the view from the north slope of Tillamook Head as "… the grandest and most pleasing prospects which my eyes ever surveyed…"
264 3rd St, Cannon Beach, OR, US
To some, a good day at the beach isn't complete without a beer. Public Coast is the perfect place to refuel after a long day of relaxing on the sand. As far as breweries go, their beers really do offer something for everyone. If you're looking for an easy-drinker, there's a lager, pale ales, a stout, and a blonde. Naturally, there are plenty of IPAs on tap as well, in addition to some really unique beers like the coconut brown ale, a mango sour, a raspberry-laced pale, and a vanilla-spiked blonde. They have food, too, and it's pretty good. Their messy burgers, fish n chips, and dirty fries are all worth a try. If you're looking for something sweet, they even add their stout to a milkshake for a perfect treat.
179 N Hemlock, Cannon Beach, OR, US
If you're looking for a classic dining experience to go with your classic beach town trip, then you have to add Driftwood to your itinerary. It's an old-school steakhouse that's stood the test of time. Snag a seat on the sun porch and prepare for an indulgent evening. Since you're on the coast, you'd do well to sample some seafood here; they nail more vintage recipes like crab and prawn cocktail, Crab Louie, and Oysters Rockefeller. They also do steak (duh) along with sandwiches and pasta (think, crab fettucini alfredo). They have lots of local beer on draft and wines from the Oregon area available as well.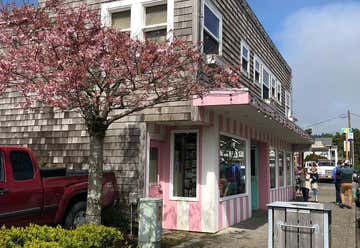 256 North Hemlock Street, Cannon Beach, OR, US
Beach towns and saltwater taffy go together like peanut butter and jelly. Speaking of PB&J, it's a flavor that Bruce's Candy Kitchen, the local saltwater taffy purveyor, makes. You also have to try the Cannon Beach sea salt and marionberry flavors, as these are unique to Oregon. If taffy isn't your cup of tea, they hand-make caramel corns, fudge, brittles, and chocolates, too. You're on vacation... you deserve to treat yourself.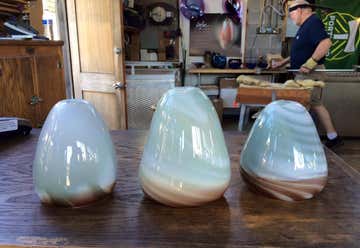 116 E Gower St, Cannon Beach, OR, US
Cannon Beach is also known for its arts scene. You'll find lots of galleries and shops featuring crafts from local artisans in town. Whether or not you're a lover of art, stop into Icefire Glassworks. Not only are the delicate, hand-blown pieces very obviously stunning, but you might even get the chance to watch glass-blowing in action. For more hand-crafted wonders, check out DragonFire, White Bird, and the Cannon Beach Arts Association as well.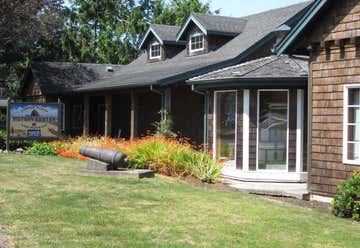 1387 South Spruce Street P.O. Box 1005, Cannon Beach, OR, US
Cannon Beach has a long and storied history as a vacation destination, and before that, the coast had to be tamed by rugged pioneers. You'll learn the full history of Cannon Beach, from the Native Americans who lived here when Lewis and Clark rolled into town, to the earliest settlers, and then the rise of tourism. You'll even learn how the town got the name "Cannon Beach"; a cannon believed to be from the 1846 wreck of the USS Shark floated ashore and the rest, as they say, is history. They also put on an annual Cottage and Garden Tour in September which, if you find yourself falling in love with the aesthetic of the town, is not to be missed.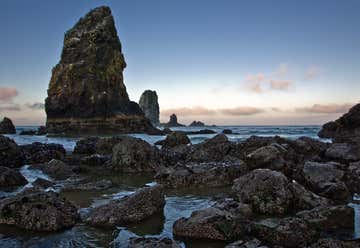 W Warren Way, Tolovana Park, OR, US
If you're hoping to walk out to Haystack Rock, Tolovana Beach is your best bet. It's less than a mile south of the site, and it offers parking and restrooms as well. While the coast is public, finding parking nearby can be tricky, so don't write that off as anything less than a major plus for visitors! This is a great place to view the Tillamook lighthouse, tidepools, and more rocky sea stacks.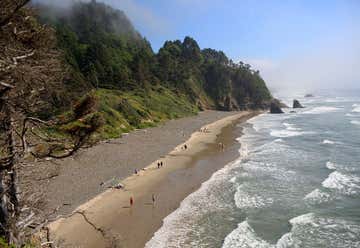 Highway 101, Cannon Beach, OR, US
Hug Point is another great beach access park with parking and restrooms. It's a bit further south than Tolovana, so while you can see Haystack, it's a bit more of a hike to reach it. What Hug Point does provide easy access to is a seasonal tidefall (that's a waterfall on the beach), caves, and more tidepools. If you're here during low tide, you can walk out to the caves, but they're inaccessible at high tide. There's also plenty of sandy beach where you can spread out and enjoy yourself.
There's also Arcadia Beach, between Hug Point and Humbug Point (which got its name since so many pioneers kept mistaking it for Hug Point!) Watch the surfers, explore more tide pools, or hike to the Silver River, lined with grey spruce trees. Keep your ears peeled as well... if you're really lucky, you might be able to hear "singing sand". While scientists aren't exactly sure why some sand grains make distinctive noises when they rub together, the sand here can sound like a squeaking noise, or even like a violin.
Summer is a popular time to visit, although it does bring fog that can obscure sunrise and sunset. Spring is actually still quite chilly here, weather-wise, and it can be rainy as well. Late summer through fall is a great time to visit as well. As with many beach towns, lots of places close for the season once summer starts to wind down.