There are plenty of places to eat while driving on I-95 (including more fast food joints than we can count) but these are some of the very best places to grab some food on your next road trip. Local cuisine, fresh fare, old-school eateries, and just plain delicious restaurants abound!
Did you know that Maine has an official state treat? It's the whoopie pie (two little rounds of cake with frosting or cream filling in between, for those who aren't lucky enough to know what a whoopie pie is)! Two Fat Cats Bakery in Portland makes incredible whoopie pies-- light as clouds with rich filling-- that make incredible road trip snacks.
Pro tip: Maine blueberries are incredible, and Two Fat Cats puts them in pies, muffins, and tons more. In fact, the official state dessert of Maine (different than the state treat) is blueberry pie!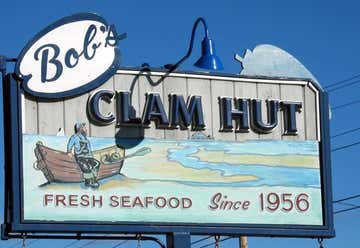 315 US Route 1, Kittery, ME, US
I-95 follows the coast, so expect to find some great seafood joints along the way. Atmosphere is almost as important to the experience of eating at a seafood shack as the food is, and luckily, Bob's Clam Hut nails both. Order your grub at the window of this long-running local institution and bring it to a picnic table to enjoy your feast. Creamy chowder, buttery and meaty lobster rolls, and huge fried clam dinners are special favorites!
113 Congress St, Portsmouth, NH, US
Portsmouth, NH is another foodie town where you can grab a great meal off I-95. The Friendly Toast has a vibrant and totally funky vibe, but the best part is that you can get breakfast, lunch, or dinner all day long! Their homemade breads are great as toast alongside omelettes or as part of grilled cheese sandwiches made with jam, jalapenos and cheddar. Wash it all down with a cocktail or beer!
306 Black Rock Tpke, Fairfield, CT, US
Nothing says "road food" quote like an old-school hot dog stand, and Connecticut's Super Duper Weenie is as classic as they come. Their fries are fresh-cut, their chicken tenders are hand-battered, and their relishes are chopped in house. Their specialty dogs are perfectly satisfying (we're partial to the Cincinnatian, of course!)
3050 Woodbridge Ave, Edison, NJ, US
As you take I-95 pass New York City, you should stop at a classic NY-style deli to get a taste of the city. Harold's New York Deli is conveniently located outside the hustle and bustle of the city, but provides a perfectly authentic experience.
They have a pickle bar, a case of desserts with dense cheesecakes, Jewish staples like matzoh ball soup, and. of course, monster-sized deli sandwiches piled high with delectable fillings, all on fresh bread. I'm not kidding, one sandwich can feed two or three hungry road trippers!
5801 Pulaski Hwy, Baltimore, MD, US
Pit beef is a Maryland specialty... but what exactly is it? It's usually a lean cut of beef that's been slow cooked until it's tender over charcoal and sliced deli thin. Think Arby's, but way better. Chap's Pit Beef serves it, along with burgers, hot dogs, smoked sausage, ribs, pork, bacon, and other meats. Don't skimp on sides... gravy fries are also a Baltimore favorite that you must sample!
2600 Insulator Dr, Baltimore, MD, US
Enjoy river views along with your seafood and cocktails at Nick's Fish House and Grill. They have a raw bar and serve up anything a seafood-lover could desire (and have options for non-fish-eaters as well) but definitely make a point to try the crab cakes... you are in Maryland, after all!
4030 MacArthur Ave, Richmond, VA, US
Step back in time at Dot's Back Inn in Richmond. They make one of the best brunches in the city, plus they have killer burgers and some great veggie-friendly options. Take your time, enjoy the patio or the vintage decor inside, and enjoy!
901 W Marshall St, Richmond, VA, US
If you're not around for brunch, Richmond is also home to The Black Sheep. Known for their massive and creative subs (which are named after battleships), they have tons of vegetarian dishes and offer a delicious brunch and dinner menu as well. But seriously... order at least one sandwich.
1479 Julian R Allsbrook Hwy, Roanoke Rapids, NC, US
As you drive further south on I-95, you'll find yourself in North Carolina. This is BBQ country, so make a point to stop off and sample the local delicacies. Carolina BBQ in Roanoke Rapids is a solid option. Fried chicken, fat back, cracklins, hush puppies, pig feet, pig tails, collards, frog legs... the buffet offers literally every Southern classic you can think of, and then some. Order the buffet and sample some of the more unusual offerings, if only to say you tried them!
1427 Eutaw Rd, Holly Hill, SC, US
As you roll into South Carolina, the delicious BBQ doesn't stop. Sweatman's is only open on weekends, but if you're lucky enough to be around when they're serving food, definitely stop by. The 100-year-old farmhouse is the perfect setting for enjoying smokey, delicious ribs and pulled pork, topped with their famous, top-secret mustard BBQ sauce.
23 Abercorn St, Savannah, GA, US
I-95 will eventually hit Savannah, and hopefully you've been working up an appetite on your way here, because this historic city has tons of great restaurants. The Olde Pink House is located in a pepto-colored Colonial mansion, and features inventive Southern cuisine (think, sweet potato ravioli with pecan cream sauce, black vinegar BBQ glazed duck, cornbread fried oysters, etc.) that's just as elegant and quirky as the building itself.
3302 Hendricks Ave, Jacksonville, FL, US
Then it's on to Jacksonville, FL. The Metro Diner will serve you a good breakfast or lunch of classic American fare: think chicken and waffles (trust me, hot sauce and syrup DO go together), shrimp and grits, burgers, meatloaf, and more. Their French toast is a local favorite!
Amazing NY-style bagels... in Florida? It might be hard to believe, but after only one bite of a bagel from Flakowitz and you'll be converted. They also serve coffee cake, lox, egg creams, and huge deli sandwiches.
Whether you're looking for roadside diners or local favorites, you don't have to go too far off I-95 to find some really stellar restaurants!