The Blue Ridge Parkway is, without question, the trip of a lifetime. It runs along the backbone of the Appalachian Mountains, connecting two of America's most stunning National Parks. But the experience is more than the beauty of the misty, lushly-forested mountains; there are quaint small towns, gorgeous hikes to jaw-dropping natural features, impressive historic sites, rich cultures, and tons more. It's no surprise then, that the scenic drive is one of the most popular in the country. It's not hard to spend weeks taking in every awesome thing the Blue Ridge Parkway has to offer. From iconic must-visit attractions to hidden gems, here's our guide to essential stops along the Blue Ridge Parkway.
At long last, after 269 miles, the Blue Ridge Parkway ends in the Great Smoky Mountains National Park. This gem is free to visit, with plenty of hikes and attractions. Explore Elkmont, the abandoned resort community being restored, cruise Cades Cove and admire the sweeping mountain views, or take in a sunset from the observation tower atop Clingmans Dome. Waterfalls worth hiking to include Abrams Falls, Mingo Falls, and Ramsey Cascades, and hikes worth taking include Alum Caves Trail and Chimney Tops. Celebrate completing the parkway with a day in Gatlinburg or Pigeon Forge, popular tourist destinations loaded with super-fun kitsch.
Asheville is the location of the opulent Biltmore Estate, the biggest and most luxurious home in America, boasting 250 rooms spread across 178,926 square feet... and that's just the main home. The main house features an indoor pool, a bowling alley, a vintage workout room, a stunning conservatory, a cathedral, and a two-story library. The grounds feature acre upon acre of impeccably manicured gardens (there are 2.5 miles of walking paths through them), as well as a farm and a village with shopping, dining, accommodations, and a winery in a former dairy barn. You can take a self-guided tour, or have a guide for an additional cost. Whatever you choose, you'll want to spend the better part of a day here to make the most of a visit.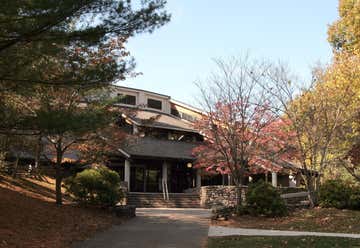 Blue Ridge Parkway Milepost 382, Asheville, NC, US
Folk art is another unique aspect of Appalachian life that's being preserved. Learn all about the style and craft at the Folk Art Center in the art haven of Asheville. It houses a library, a bookstore, three galleries, and a craft shop, all highlighting traditional and modern folk art. Demonstrations are held during the spring, summer, and fall in the visitor center as well. This is the headquarters for the historic and illustrious Southern Highland Craft Guild, and it makes a big difference to have the power of such a talented and dedicated group of artisans behind the Center.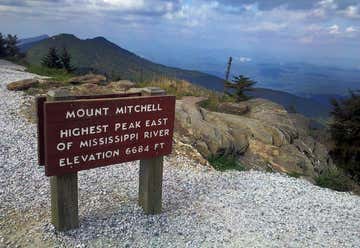 2388 State Hwy 128, Burnsville, NC, US
If you can't get enough Blue Ridge beauty, tack on a cruise along the 52-mile Mount Mitchell Scenic Drive. It begins at the top of the 6,684-foot Mount Mitchell summit, then follows the Blue Ridge Parkway before dipping into the South Toe River Valley, and ending at the intersection of U.S. 19/23 and Interstate 26. Mount Mitchell is located in Mount Mitchell State Park, and you'll want to save an afternoon to explore. There's a viewpoint at the top, which is the highest point east of the Mississippi, as well as hiking trails ranging from quick walks to day hikes. There's even a lodge-like restaurant on site that features a killer view, so it's worth it to stop in for a cup of coffee or some pie to enjoy while you bask in the scenery.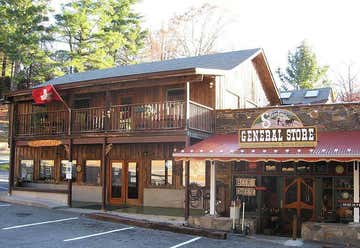 9440 State Highway 226A, Marion, NC, US
Little Switzerland is a tiny community on the Parkway (which claims a population of 46) with a quirky, Swiss vibe (naturally!). It started as a mountain resort in 1910 that took inspiration from the Swiss Alps, and the surrounding area took the concept and ran with it. One of the gems in this unique town is the Switzerland Cafe & General Store. The smokehouse has been serving up tasty and fresh fare to travelers for thirty years. The menu is loaded with salads, quiche, sandwiches, and plenty of smoked meat. Save room for dessert; no matter which cake or pie you order, it's bound to be memorable.
59 Warrior Lane, Newland, NC, US
Shenandoah isn't the only place along the Parkway to find waterfalls. North Carolina's Linville Falls is another stunner worth visiting. There's a visitor center and you can take several different trails for various views of the 150-foot-tall cascade. Erwins View Trail is a moderate, 1.6-mile round-trip with four overlooks. There's also another trail starting at the visitor center that forks; one side takes hikers into Linville Gorge (1.4 miles round-trip) and the other ends at the Plunge Basin Overlook (a 1-mile round-trip). Swimming is dangerous here, but there are boulders to climb on in the gorge.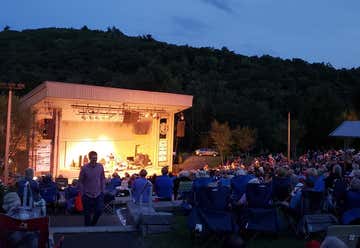 Milepost 213 Blue Ridge Pkwy, Galax, VA, US
Music is an important part of Appalachian culture, and you can gain a deeper appreciation and understanding for the sounds that helped shape folk and bluegrass at the Blue Ridge Music Center. It's open from May through October, and is generally free. It features an interactive Roots of American Music Museum and a Midday Music Program that lets visitors hear live "informal mountain music performances by local and regional old-time and bluegrass musicians" between noon and 4 PM. There are bigger concerts at the outdoor amphitheater some evenings, which you can attend for a small fee. It's incredible to see how the Center is preserving the history and forging the future of Appalachian mountain music.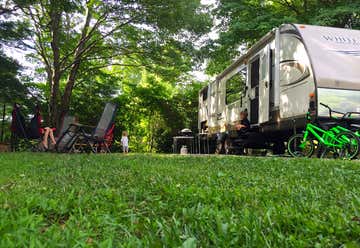 47 Fox Trail Loop, Fancy Gap, VA, US
The Fancy Gap / Blue Ridge Parkway KOA is another stellar stopover along the route. Activities include a gemstone- and fossil-panning sluice, a clubhouse, paddle boats, a pool, hay rides, and fishing. And since a happy stomach can make or break a campout, take advantage of ice cream socials, pancake breakfasts, Friday cookouts, and pizza delivery during the busy season. Those staying in an RV, a tent, or a Camping Cabin can also use the Camper Kitchens. The beautiful, forested setting is another huge advantage of this KOA; campers can reconnect with nature here.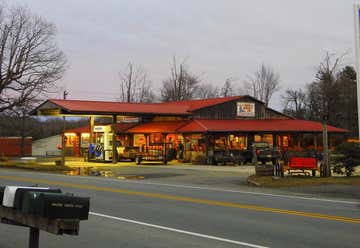 2616 Jeb Stuart Highway, Meadows of Dan, VA, US
One of the coolest features of the Parkway is the little mountain towns and farms that line it. Poor Farmers Market is a true-blue authentic country store; it even started as a roadside vegetable stand. Today, it's part gift shop, part produce market, part deli, and part bakery. Stock up on local wine, old-fashioned candy, farm-fresh apples or peaches, homemade ice cream sandwiches, hot sauce, homebaked cornbread and possum pie, specialty sub or biscuit sandwiches, pimento cheese, apple cider, and loads more, depending on the season. The banana pudding and fried apple pies in particular are local delicacies to die for. Oh, and you can even fill up on gas!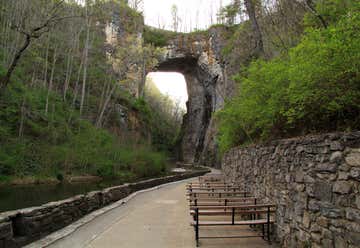 US 11 & 130 15 Appledore Lane, Natural Bridge, VA, US
Natural Bridge State Park is one of Virginia's newest state parks, but its history goes way back: This 215-foot-tall limestone rock formation carved by Cedar Creek has been a sacred site of the Monacan tribe, was once owned by Thomas Jefferson (who called it "the most sublime of nature's works"), and is listed on the National Register of Historic Places. It was a common subject for painters, its lodge has hosted countless famous guests, and there's even a tale that the bridge was surveyed by a young George Washington. Illustrious history aside, the park features six miles of hiking trail (including the Cedar Creek Trail that goes under the bridge), a recreated Monacan Indian Village, and the 30-foot Lace Falls. Pro tip: For another view, U.S. Route 11 (aka Lee Highway) runs across the top of the bridge.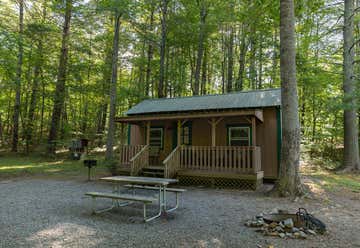 6252 Virginia Byway, Monroe, VA, US
Another great campground along the route is the Lynchburg NW / Blue Ridge Parkway KOA in Monroe, Virginia. This part of the Parkway has lots to see and do, so it's worth it to set up camp and take a day or two to fully explore the area. This KOA has lots of activities and amenities that set it apart, including an outdoor pool, a jump pad, a catch-and-release stocked fishing pond, a gem mine, and Saturday afternoon train rides. The campground offers tent sites, Camping and Deluxe Cabins, and standard, value, and premium RV sites. No matter which option you choose, you're sure to find your accommodations comfy and serene.
Blue Ridge Parkway, Nellysford, VA, US
There's nothing like a quick, one-mile hike to stretch your legs during a road trip, and the Blue Ridge Parkway scenery certainly adds to the experience. Humpback Rocks is a popular photo op, thanks to the short (but slightly strenuous uphill) trail, which also provides access to the Appalachian Trail. There's a Parkway visitor center here, with museum exhibits on mountain life and 1890s-era log cabins that were relocated here during the Parkway's construction. The visitor center also hosts one or two free mountain music concerts a week during the spring and summer. This is one of the earlier stops along the route, as it's at milepost 5.8.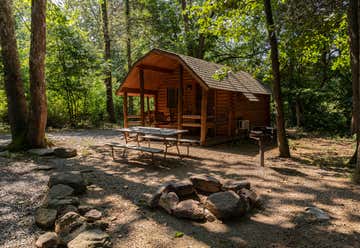 12480 Mountain Valley Rd., Broadway, VA, US
Settle into the Harrisonburg / Shenandoah Valley KOA Holiday for a night of comfort, or use it as your home base for exploring the park. The amenities, including 24-hour laundry, cable TV hookup, onsite pizza delivery, and concierge service make this an exceptionally cozy campground. It's also got tons of activities the whole family will love. There's a pool, a playground, a fishing pond, "hey" rides, and even a fenced-in dog park. This KOA's calendar is full of events like ice cream socials, theme weekends, and movie nights. The fun is further enhanced by the comfy accommodations. Deluxe and Camping Cabins are perfect for visitors needing flexibility, and there are a variety of RV and tent sites as well.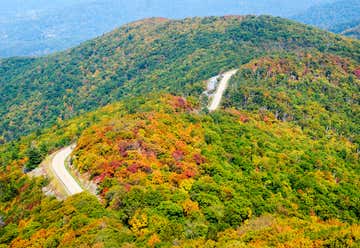 Skyline Drive, Front Royal, VA, US
But Shenandoah's most famous feature by far is Skyline Drive. This 105-mile route follows the crest of the Blue Ridge Mountains, connecting all of the park's visitor centers. It also contains a whopping 75 scenic overlooks, which are necessary, since the ever-changing scenery is constantly begging to be photographed, or simply admired for more than a passing moment. The speed limit of 35 MPH helps keep the drive nice and relaxing, too. Mileposts along the way make it convenient to find and plan stops. Definitely take a break at the Rocky Top Overlook for incredible views. It's massively popular in the fall, when the leaves start to change color, but it's equally gorgeous in the spring, when blooming flowers are highlighted.
Shenandoah National Park is one terminus of the Blue Ridge Parkway, but a visitor could easily spend a week exploring this park alone. Mountain hikes are a popular draw here. Stony Man Mountain is one of the park's signature hikes, perfect for those looking to hike up one of the park's famed peaks on a quick schedule. The loop is less than two miles, and the elevation gain is only a few hundred feet, but the views are drop-dead gorgeous. Hawksbill Mountain has a shorter and a longer hike option, and Old Rag Mountain is a bit longer, but remains one of the most popular and iconic hikes in the park. And if mountain trails aren't your thing, you can always go chasing waterfalls. The park's tallest cascade, Overall Run Falls, is worth the 6.4-mile round trip hike. The park's third-tallest, South River Falls features a shorter, 2.6-mile round trip hike. Shenandoah National Park is also home to Rapidan Camp, a group of three historic buildings built by President Herbert Hoover and frequented by other presidents in search of peace and quiet.
A trip along the Blue Ridge Parkway rewards travelers with memorable scenery, beautiful campgrounds, genuine culture, and incredible small towns. It's wildly popular for a reason, and even driving a small portion of the route will reveal hidden gems and iconic views.
Banner Photo Credit: via Shutterstock