Written by Alexandra Charitan
Although the neon sign's heyday has long passed, the colorful roadside advertisements (or to some, art) have beckoned tourists and locals from rural back roads to the centers of big cities for decades. They lure travelers with their seductive glow, urging them to stop, have a cocktail, eat a spicy footlong, or share a brownie sundae served in a clamshell. Without uttering more than a constant, barely audible buzz, they encourage roadtrippers to make it to "Tucumcari Tonite!" or simply ask, "Have you slept in a Wigwam lately?"
Glass tubes bent by the whims of a nimble fabricator take the shape of white t-shirts, blue swallows, or red stilettos. When vacuum-sealed, with electrodes affixed on each end, a neon-filled tube glows reddish-orange; argon glows blue with a little help from mercury (making repairing old signs a tricky, and sometimes dangerous process). But no matter their size, shape, or color, the following signs prove that when it comes to classic neon, if it ain't broke, don't fix it—or even if it is, please don't replace it with something new and uninspired.
These are some of the best places to find the most iconic neon signs across the U.S.
This popular resort area in upstate New York is bursting with vintage roadside charm and classic neon. You can't go wrong staying at one of the many remaining mid-century motels or cozy cottages (the A-frame accommodations at the Amber Lantern are pretty perfect). Eat soft-serve cones and cheesesteaks as big as your head from Martha's Dandee Creme, see a movie at the Glen Drive-In, walk through a haunted wax museum, and play mini-golf at one of several courses in town including Gooney Golf and the Around the World Golf Course (featuring U.S. landmarks and a Muffler Man from the New York World's Fair).
Lake George, New York, United States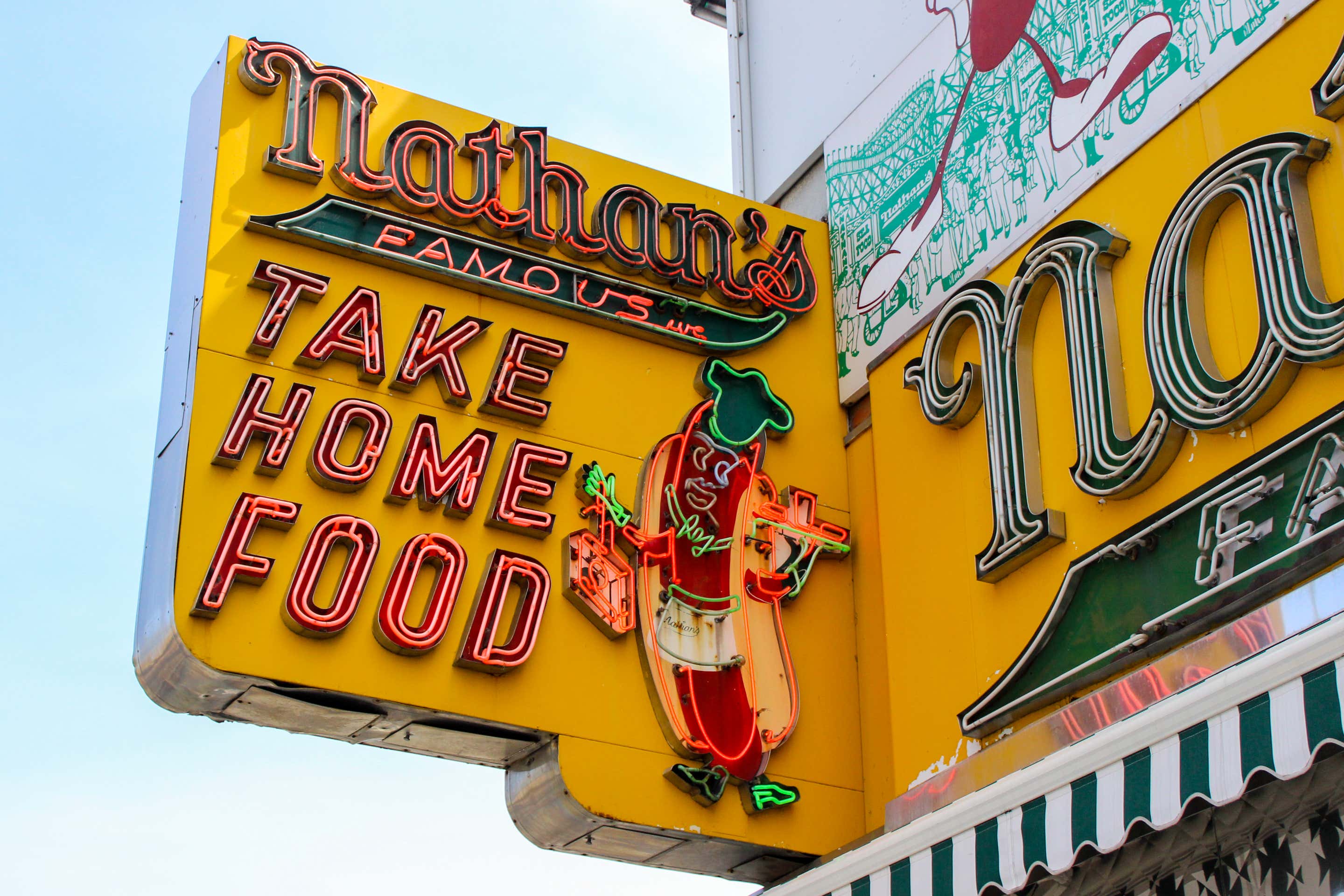 New York City's love affair with neon signage is well-documented; the city doesn't sleep for many reasons, but a big one might be the constant glow and buzz of its neon signs. Over the years, much of the city—including the notoriously-bright Times Square—has gone digital, but a few classic signs have remained. Manhattan must-sees include Harlem's Apollo Theater, Gringer & Sons' East Village appliance storefront, Katz's Deli, the original Russ & Daughters, and the Pearl Diner. Queens has the Airline Diner and an iconic waterfront Pepsi sign, but you'll have to take the D, N, F, or Q train to the end of the line for my favorite, Nathan's Famous' original location on Surf Avenue in Brooklyn's Coney Island.
New York City, New York, United States
In 1999, Tod Swormstedt, a former editor of the trade magazine Signs of the Times, created the American Sign Museum to "not only save signs, but to show appreciation for the craftsmanship that goes into making every sign." Other neon-centric museums have opened since, but the American Sign Museum, located in a former fashion warehouse in Cincinnati, Ohio, claims to be the only one dedicated to the art and craft of sign-making. Neon signs in the collection are repaired by Neonworks, a fabrication and repair shop located within the museum. Exhibits include the signs themselves—collected from around the country—alongside books, catalogs, tools, blueprints, equipment, and other ephemera related to the history and process of sign-making.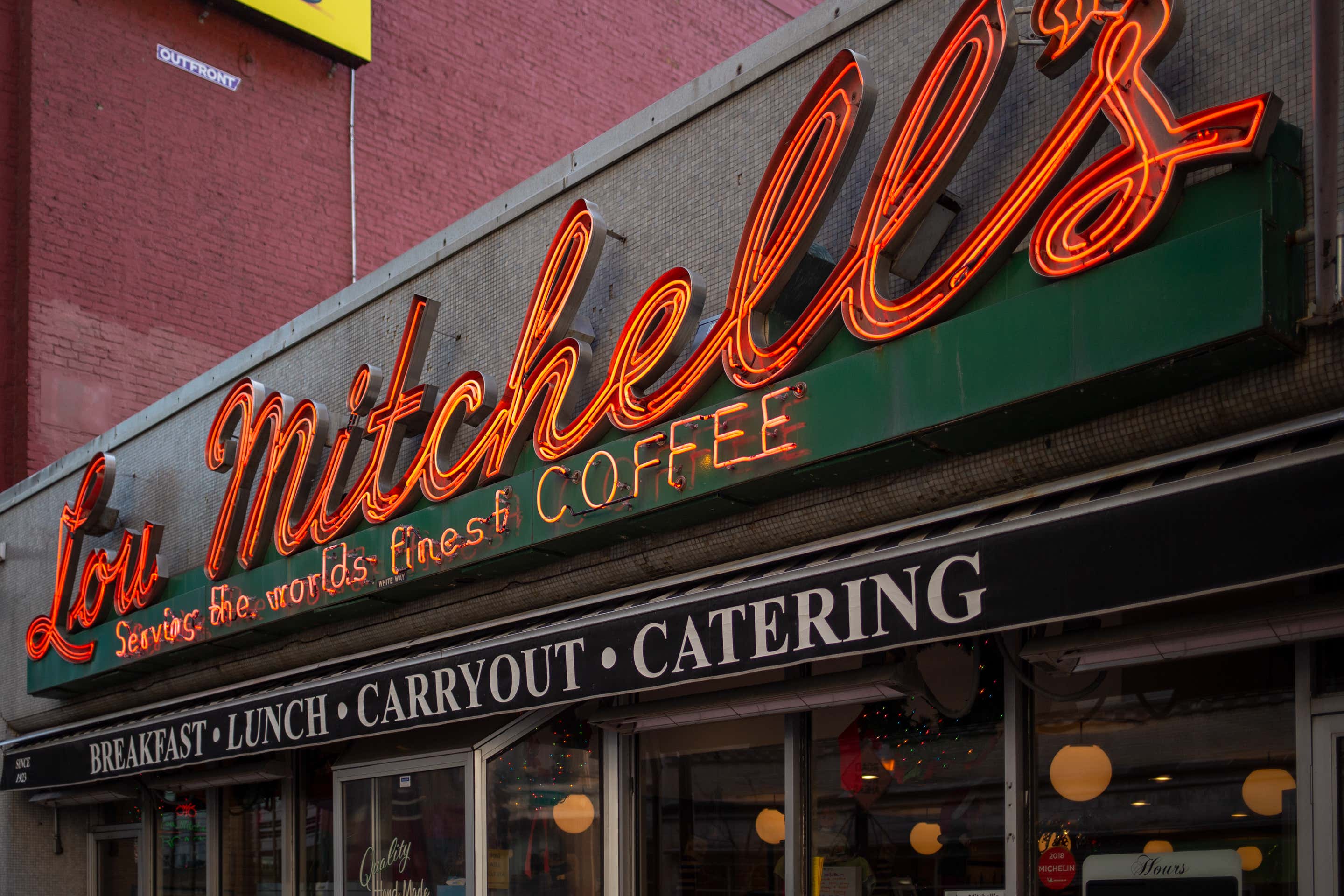 Serving enormous sundaes in clamshell dishes since the 1920s, Margie's Candies original Bucktown location is one of the oldest ice cream parlors in Chicago. Over the last 100 years, everyone from Al Capone to the Rolling Stones and the Beatles have stopped in for a sweet treat (I wonder what they played on the tabletop jukeboxes?). Keep the jazz-age vibes going at the even-older Green Mill Cocktail Lounge, a popular filming location for movies and TV shows, including Ocean's 12 and High Fidelity. If you're in town to start your epic Route 66 journey, have breakfast at Lou Mitchell's Restaurant, which has been serving "the world's finest coffee" since 1923 (predating the creation of the Mother Road by three years).
Chicago, Illinois, United States
Opened in 1948, the Elk Bar in Chinook, Montana, was on par with the post office or gas station: In the days before social media, it was a place for local farmers to get the latest news at the end of their work day. Some of the townspeople were never impressed with the bar's neon sign featuring a kicking, cocktail-swilling cowgirl advertising the bar and its "good food." Commonly referred to as the "Lass in the Glass" (the G-rated version of various nicknames), Chinook's iconic sign was sold when the Elk Bar bar closed. But decades after it disappeared, locals collaborated to locate, purchase, repair, and rehang the sign. The switch still has to be flipped manually, so the current owners only light the Lass in the Glass for parades, weddings, and other special occasions.
Located in a historic Elks building in The Dalles, Oregon, the National Neon Sign Museum opened for tours in August, 2018. The 20,000-square-foot museum features signs and artifacts from the late 1800s through the 1960s. The collection includes pieces from jewelers, car dealerships, and root beer stands. Exhibits showcase the evolution of sign-making technology from hand painted gold leaf to enamel and electric signs and eventually plastic. According to the museum's website, its "current assets represent one of the largest collections of neon storefront signs in the world."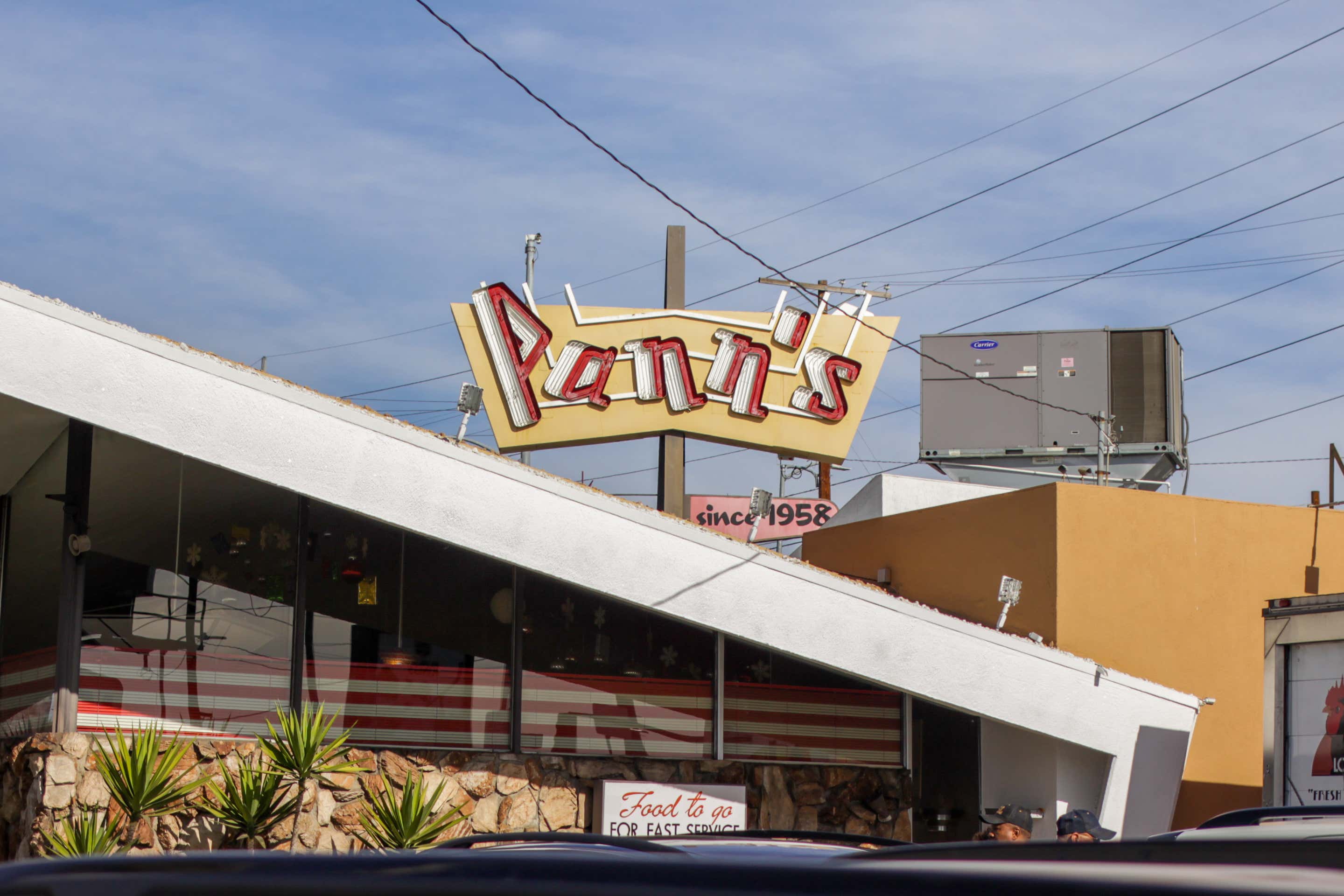 Hollywood may be lit by flashbulbs, but Southern California is also a neon-lover's paradise. Los Angeles is home to dozens of mid-century diners, most of which retain their original signage. Eat at Pann's Restaurant, but stop for photo ops outside of Googie greats Chips and Johnie's Coffee Shop. Outside of city limits, sign aficionados may recognize the more than 30-foot-tall Circus Liquor clown, a favorite filming location (perhaps most famously in the '90s classic Clueless) and the recently-restored Roy's Motel and Cafe sign on Route 66 in Amboy.
Los Angeles, California, United States
Las Vegas, Nevada, didn't invent neon signs, but it certainly embraced them—and in many ways Sin City has become synonymous with the warm glow of the colorful inert gas (the city's famous "Welcome to Fabulous Las Vegas" sign has been standing in the median at 5100 Las Vegas Boulevard South since 1959). Vegas' Neon Museum was founded in 1996 as a non-profit organization dedicated to preserving and displaying iconic signs from the city's motels, casinos, and other now-defunct businesses. At the center of the museum's Neon Boneyard is an 80-foot-tall Hard Rock Café guitar, one of only a handful of signs in the collection that have been restored and relit.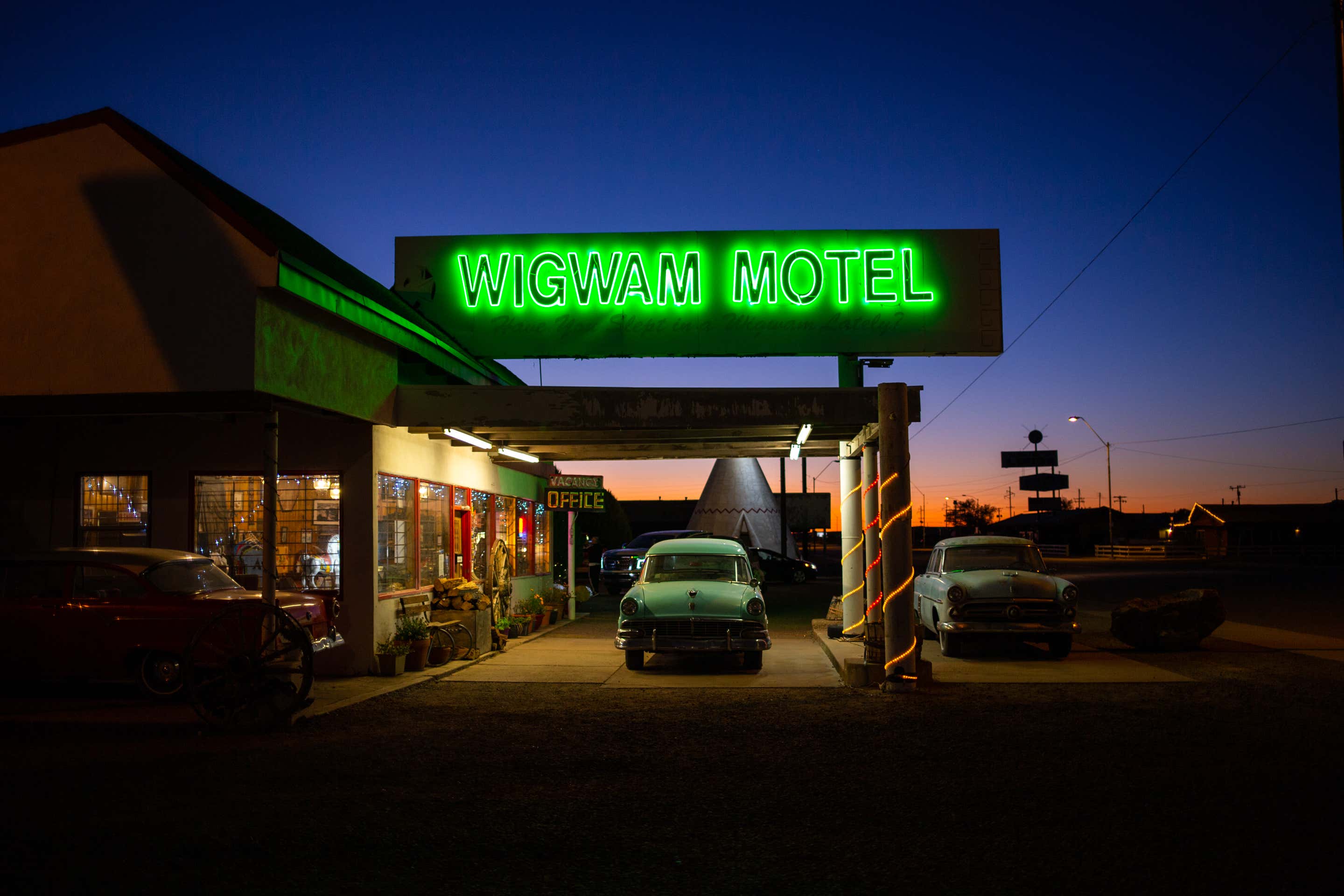 Holbrook, Arizona, is home to one of the three remaining Wigwam Motels (its neon sign asks Route 66 travelers, "Have you slept in a Wigwam lately?"), and several other motels, trading posts, and souvenir shops. Route 66 was officially designated in 1926 and the Mother Road passed right through Holbrook and the nearby Petrified Forest National Park until it was decommissioned in the 1980s. Have dinner at the Mesa Italiana Restaurant, but save room for a Blizzard—less than 2 miles away, Holbook's Dairy Queen has retained a classic neon sign advertising "Dairy Queen hamburgers," displayed directly below a more current "DQ Grill & Chill" iteration.
Holbrook, Arizona, United States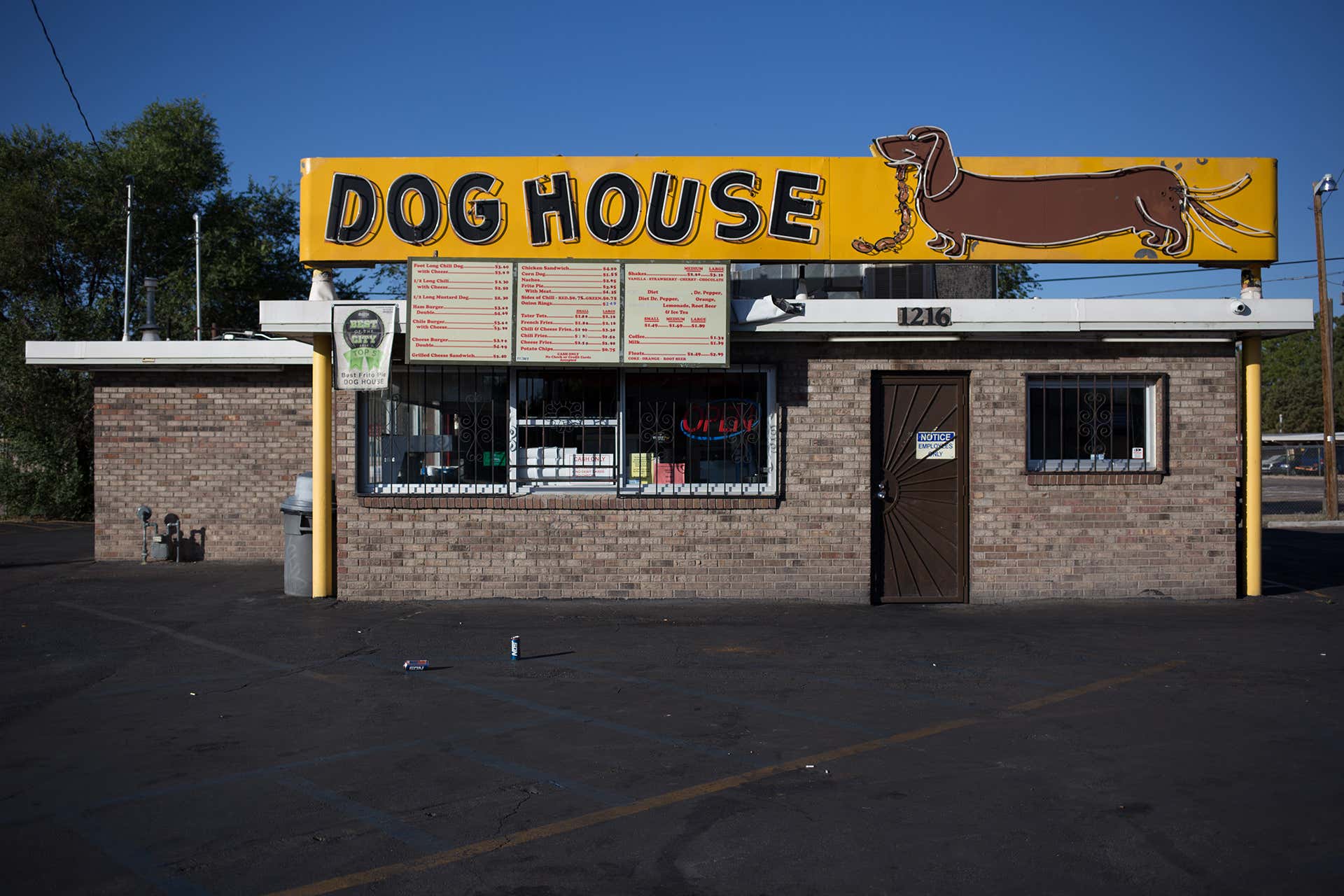 Albuquerque's Central Avenue is home to several notable neon signs, but I could write an entire article waxing poetic just about The Dog House, a staple located on old Route 66 for more than 70 years. The restaurant, serving footlongs topped with famously spicy chili, appears a few times in Breaking Bad, and its sign, which spans the entire width of the small brick building, is photogenic anytime from sunrise to sunset. But like most working neon, it really shines after dark, so stick around after The Dog House closes to watch the oversized dachshund happily wag its tail as it devours an unlimited strand of sausages.
Albuquerque, New Mexico, United States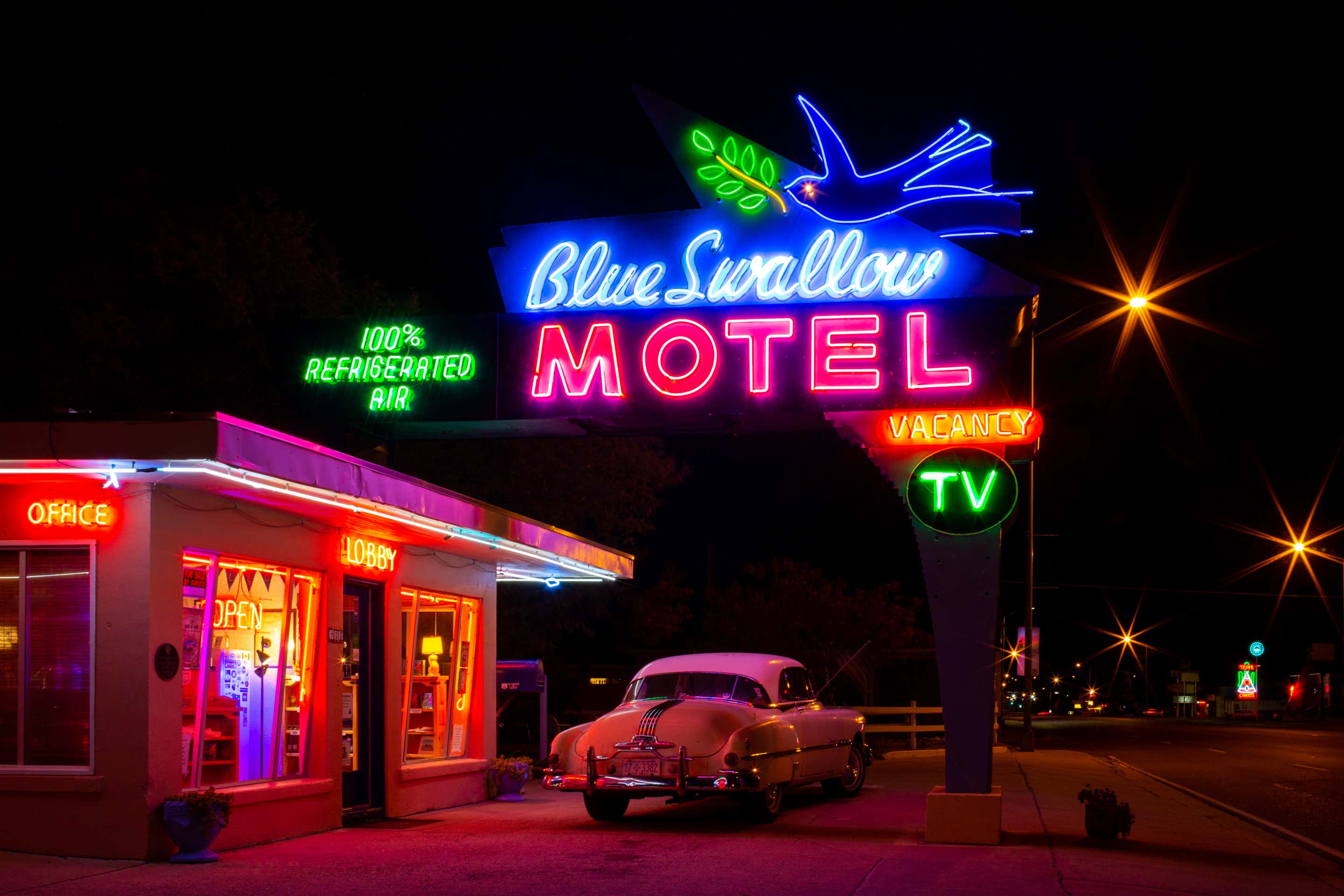 Tucumcari was founded in 1901 as a railroad construction camp called Ragtown. It was later renamed for a nearby mountain, and in its heyday, the town attracted Route 66 travelers to one of its 2,000 motel rooms with billboards for miles in each direction proclaiming "Tucumcari Tonite!" The town later adopted the tagline "Gateway to the West," but voted to return to its previous slogan in 2008 (a scene including one of the billboards is painted on the side of the Blue Swallow Motel, home to arguably the most-iconic neon signs on the entire Mother Road). The 2.5-mile stretch through town features dozens of signs—some restored and working, others in various states of disrepair—making Tucumcari a de facto outdoor art museum for neon enthusiasts.
Tucumcari, New Mexico, United States
Most big cities have streets or districts that everyone has heard of—Times Square, Hollywood Boulevard—and they're often crowded and touristy precisely because they're so well known. In Memphis, Tennessee, Beale Street is no exception, packed with restaurants, bars, and live music venues—most of which are advertised with neon signs. Custom window displays at the Blues City Cafe encourage visitors to "Put some south in your mouth!" and Silky O'Sullivan's neon green shamrock sign promises "food, music, and Southern fun."
New Orleans' Bourbon Street is famous for its 24/7 party vibe, and that translates into a lot of neon—both old and new—located on the main drag and in the surrounding French Quarter. From strip clubs, bars, and daiquiri windows, to restaurants, pharmacies, and gift shops, neon signs do all the heavy lifting here. They attract visitors' attentions (and dollars) with swirling scripts, novelty shapes, and simple typography promising all things "beautiful, exotic, elegant, erotic, gorgeous, sexy, enticing, and tempting."
If you've ever crossed from North Carolina into South Carolina on 1-95 at night, there is no way you missed the glow of South of the Border's dozens of neon signs (or the billboards that precede the exit for hundreds of miles). This kitschy souvenir mecca may be no more than a quick restroom pitstop for some, but fans of fiberglass statues, fireworks, and flashy neon will be in heaven—and if you stay the night during the off-season, you might just have the entire place to yourself. If you get caught in a summer rainstorm while roaming the sprawling attraction (like I have), just take shelter under one of the motel carports and listen to "Thunderstorms and Neon Signs" by Hank Williams III: "I've got fond memories of the way things were back then. The warmth of the neon when a bad storm was moving in […] Cause I sure love thunderstorms and neon signs."
Banner Photo Credit: Alexandra Charitan

The best of Roadtrippers—hand picked by our team