Written by Jeremy Puglisi
Located on the Olympic Peninsula in the northwest corner of Washington state, Olympic National Park is nothing less than breathtaking. Yellowstone and Yosemite may be more famous, but Olympic's geographic diversity is simply unrivaled in the U.S. Where else in the country can you find snow-capped mountains, temperate rainforest, and rugged coastline all within a few hours of each other?
Olympic is also particularly well-suited for RV adventures. There are a variety of private campgrounds around the park that offer amenities and full hookups, and 10 rustic NPS campgrounds within the park accept RVs up to 35 feet. For the most part, the roads are also easy to navigate and traverse. Make sure to pack layers. Temperatures in the park can vary widely, and depending on the season, rain is often a possibility.
Here are some of the best spots to eat, sleep, drink, and recreate in Olympic National Park. You will find dozens of other hidden gems too, but these 10 should not be missed.
Olympic National Park is filled with rustic NPS campgrounds without hookups or amenities. But we recommend staying at this KOA for a few days at the beginning (or end) of your trip so you can explore the gateway city of Port Angeles in comfort and style. The campground has full hookups, a pool, hot tub, and gorgeous views of the mountains. Be forewarned, the highway is nearby—but so is great food and drinks, funky shops, and a Minor League Baseball park. The park's main visitor center is only 15 minutes away, so plan on stopping in for maps, souvenirs, and ranger recommendations for the best outdoor adventures.
602 E 1st St, Port Angeles, WA, US
Swain's General Store has been serving the Port Angeles community since 1957. The store's motto, "Swain's Has Everything," is not so much hyperbole as it is a humble statement of fact. Swain's decor is a throwback to small town USA in the 1950s and '60s. The exposed water pipes and hand painted aisle signs will make you feel like you are shopping in your grandpa's well-stocked garage. We recommend stopping here for any last-minute gear or supplies that you may need for your adventures in the park. The selection of camping equipment is excellent.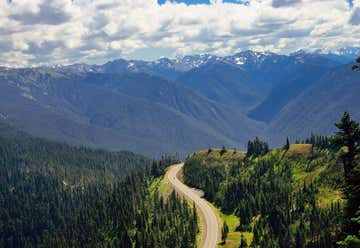 Hurricane Ridge Visitor Center, Port Angeles, WA, US
Once you are geared up, we recommend you head into the park and hit the trails. The Hurricane Ridge Trail is a quintessential Olympic National Park hike that should not be missed. About 3 miles round trip, this moderate ridge hike offers magnificent views for the entire length of the trail. Wildflowers and snow-capped mountains will delight your senses and the clean (but often windy) mountain air will invigorate your every step. Pack some snacks or a light lunch and plan on spending some time at the top indulging in views of the Puget Sound, Vancouver Island, and the absolute splendor of the Olympic Range.
113 W 1st St, Port Angeles, WA, US
After working up an appetite on the Hurricane Ridge Trail, head back down into town for a wide variety of excellent food options. Among the best is the Next Door Gastropub. The beer board offers up a rotating selection of local and regional artisan selections and the burgers and fish tacos are legendary among locals. If you are really hungry and chilly from the hike, try the kiltlifters shepherd's pie. It will warm you right back up.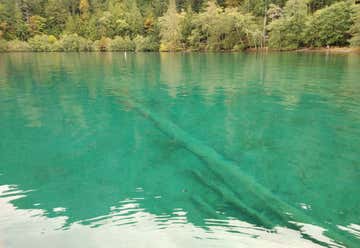 The drive around Lake Crescent is gorgeous and brings you close to the water's edge, but nothing beats getting out on the royal blue lake and taking in the panoramic mountain views. There are several places to rent kayaks, canoes, and paddleboards, but the most scenic launch point is at the Log Cabin Resort. Pricing is also reasonable. After a long paddle, reward yourself with ice cream or a cold drink from the store and relax on one of the Adirondack chairs along the shore.
Blackberry Cafe is home to the legendary 20-oz. Sasquatch Burger, which costs about $30 and can easily feed a hungry family of four. The 8-inch bun also accommodates toppings such as bacon, cheese, tomatoes, lettuce, onions, and BBQ sauce. The owners of this cute cafe claim that the burger is "caught locally" but they offer no evidence. If you end up eating here for breakfast—or find the Sasquatch Burger too intimidating—try the blueberry pancakes.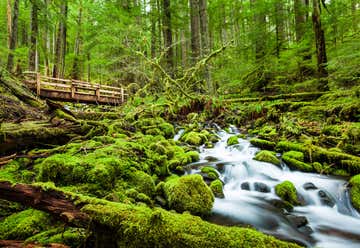 Olympic National Park, Port Angeles, WA, US
We highly recommend the brief hike out to Sol Duc Falls followed by a relaxing hour or two in the nearby hot springs. Sol Duc Falls is one of the most popular destinations in the park, and one of the most photographed, so make sure to bring your camera. The nearby hot springs has two pools and two hot tubs that require payment to enter. This might just be the most relaxing way to end an adventurous day in Olympic National Park—if you can stand the strong sulphur smell.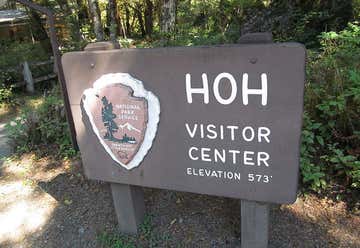 18113 Upper Hoh Rd., Forks, WA, US
The Hoh Rain Forest, which averages 140 inches of rain each year, is one of the most popular destinations in the park. The lush landscape of mosses and ferns looks dreamlike and otherworldly. There are two easy loop trails that start right at the visitor center and serve as perfect introductions to the wonders of this temperate rainforest. The Hall of Moses is .8 miles long and the Spruce Nature Trail is 1.2 miles long. We recommend allotting half a day to complete both walks at a leisurely pace. The flora, fauna, and wildlife are abundant and worth exploring a few feet at a time. Keep your ears open as well—the birdsong soundtrack here is ever changing.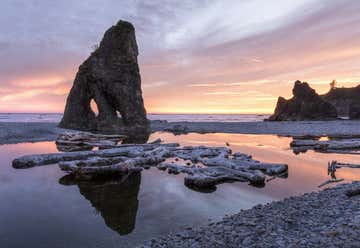 Olympic National Park, Forks, WA, US
Olympic National Park's 73-mile coastline is windswept and rugged, but there are sections where the sand and water are absolutely sublime. Ruby Beach, located directly off Highway 101, is one of those places. Bring a sweatshirt and plan on spending hours exploring tide pools and searching for starfish at low tide around Abbey Island, an iconic sea stack that sits just a few hundred feet from the rocky beach. Fallen trees and driftwood line the shore and create hundreds of nooks and crannies to explore. If you are visiting in April, May, October, or November, keep your eyes open for whales as they migrate up and down the coast.
Adventurous souls who want to experience coastal Olympic National Park in all of its rugged glory—and are willing to camp without hookups or shower facilities—will find no better place than Kalaloch Campground. Site sizes vary and only a handful have ocean views, but all of them have easy access to the beach. Kalaloch Creek Nature trail also makes for a lovely walk as you follow the water to its drainage point in the wild Pacific. Swimming is allowed but please take caution—rip tides and gigantic floating logs pose real dangers. Plan on spending windswept days exploring tidepools and take caution if you leave your awnings out.