Take an epic journey along America's first transcontinental road The Lincoln Highway. Although other highways & interstates have created faster or more convenient trips, the original 1913 route of the the Lincoln Highway is a time capsule of America. Often with a sad glimpse of all that we have forgotten or bypassed in this country.
The route makes its way from New York to San Francisco, two of young America's most internationally known cities. What is really remarkable about the Lincoln Highway, is that unlike modern interstates it was not created to connected large city to large city, it was put together from existing roads to make a cross-country trip possible in an automobile. Therefore its route is almost exclusively made up of rural towns.
In an uniquely unplanned twist, with exception to New York and Philadelphia, the entire cross-country route strays from just about any major city with exception of Pittsburgh, Omaha, and Salt Lake City. The later of which had only just surpassed 100,000 people.
The route is packed with the history of the trails it once was, from the Native Americans through the British and early Americans roads. What started out as an idea of a pieced together route using existing market roads, by automobile entrepreneur Carl G. Fisher, was actually a privately funded initiative. Fisher boldly stated "let's build it before we're too old to enjoy it" after attempts from others to get the federal government to fund large road projects.
With the goal of $10 million dollars to build most of it, Fisher got help from friends like Thomas Edison, Theodore Roosevelt, and the president Woodrow Wilson. Within one month he raised a million dollars and construction began on sections of the road.
Even before automobiles, America was filled with roads or trails connecting regions. From the Natchez Trace, to the National Road, or the automotive based Dixie Highway & Lincoln Highway. By 1926 the U.S. government created the Numbered Highway system and those names faded replaced by route numbers.
The Lincoln Highway was no exception, it's now part of U.S. Route 30, 1, 40, 50, and 93. Some of the early parts of the route were bypassed, as roads were built around towns to make travel faster.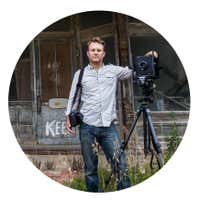 Photojournalist, filmmaker, traveler of the back roads. Documenting fading rural areas at Lost Americana. The Johnny Cash song "I've been everywhere" was written about me... Before I was born.