The Canadian Rockies are most famous for stunning national parks like Banff and Jasper in Alberta. But the beauty doesn't disappear on the British Columbia side of the mountains. Hidden gems like Mount Revelstoke National Park and Wells Gray Provincial Park are tucked among the alpine valleys, crystal clear glacial lakes, and snow-capped granite peaks. Make the most of the fresh mountain air and incredible scenery with a camping trip through British Columbia's portion of the Rockies, for an unforgettable adventure unlike any other.
Mount Revelstoke National Park might be small in size, but with wildflower fields and lush rainforests, it's as filled with beauty as Banff or Jasper. Summit the mountain either by hiking or biking the whole thing, if you're feeling ambitious. If you're short on time, drive the Meadows-in-the-Sky Parkway, a paved road open during the snow-free months, that starts in the park's rare inland temperate rainforest and winds up the mountain, before ending in a rolling sub-alpine wildflower meadow. There's also a .3-mile trail called the Giant Cedars Boardwalk that takes hikers deep into a stand of old-growth western red cedar and hemlock trees, some more than 800 years old. Interpretive signs and exhibits scattered along the trail add to the intrigue.
There's also a unique tribute to Revelstoke's ski jump history at the Big Hill Nels Nelsen Ski Jump. It hasn't been used in decades, but there's a sculpted pair of ski pants (modeled after the pair worn by the legendary Nels Nelsen himself) that you can lean into and get a sense of how scary it was to look almost straight down.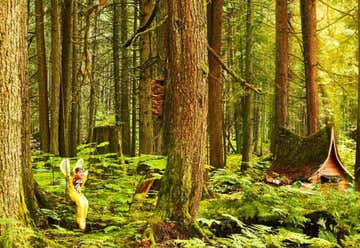 7060 Trans-Canada Highway, BC, CA
The story behind B.C.'s Enchanted Forest is utterly charming. It was built in the 1950s and 1960s by a Revelstoke artist named Doris Needham, whose passion was to craft fairytale figurines and sculptures. Searching for the perfect place to display her favorite pieces, Doris finally felt the magic in a piece of forest between Revelstoke and Sicamous. Throughout their retirement, she and her husband Ernest installed more than 350 figurines and buildings along a woodland trail. As visitors stroll along, they pass the candy cane house, stump homes, and the province's tallest treehouse, which stands 50 feet above the forest floor. Explore castles, spot critters from favorite fairy tales, take a spin in a rowboat, and let yourself feel like a kid again.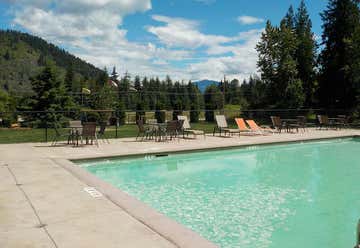 3250 Oxbow Road, Trans Canada Hwy 1 - PO Box 310, BC, CA
Tucked away in the woods is the Sicamous KOA. Like most KOAs, it's got tent sites, everything RVers need to pull in or thru and set up, and Camping Cabins for those who want to enjoy the fun of camping with some added comforts. It also has plenty of unique amenities that set it apart from other campgrounds, like a u-pick herb garden, hummingbird garden, KOA express train ride, mini golf, a pool, and events like all-you-can-eat pancake breakfasts, movie nights, and family dances. You'll feel right at home in Sicamous in no time.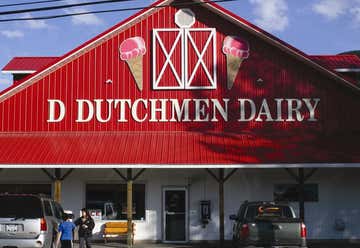 The D Dutchman Dairy is located just off the Trans-Canada Highway, making it a perfect pit stop for everyone to refuel... on ice cream. At this working dairy farm, the ice cream is a must-try, and it comes in flavors from classics like strawberry shortcake and butterscotch swirl, to one-of-a-kind offerings like chocolate chili pepper and lemon pie. After ice cream, tour the calf barn, milking parlor and cheese-making plant, and say hello to the llamas, donkeys, goats and exotic birds. Pro tip: the chocolate milk is outstanding.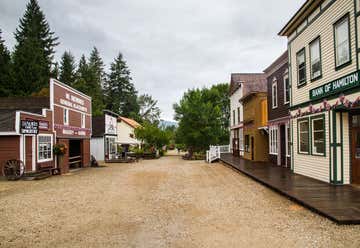 751 Highway 97B NE, BC, CA
British Columbia owes a lot to the enterprising pioneers who settled the mountains and forests centuries ago. The R.J. Haney Heritage Village & Museum preserves a lot of historic buildings or re-creations from the 1900-1930s era. They've all been arranged into a sort of town, complete with museum exhibits and (the occasional) costumed interpreter. The village has basically everything, from a general mercantile and a blacksmith shop to a dressmaker and filling station. There's also a school and a variety of homestead cabins to explore. Check the event calendar to see if there's anything going on during your visit; you might be lucky enough to catch a dinner theater show, a pancake breakfast, or a pioneer school program. And make sure to stop by Marjorie's Tea Room for some coffee and a bit of their famous rhubarb crisp.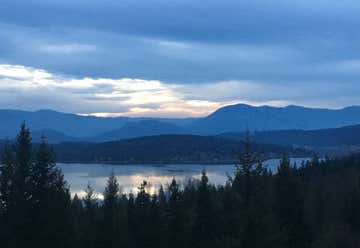 If you're looking for a spot where you can soak up mountain views in peace, there are plenty of provincial parks along this route, like White Lake Provincial Park. Best known for rainbow trout fly-fishing, ice fishing and trolling, the lake is the highlight of the park. Its facilities are rustic, but you can camp out if you like. During your visit, keep your eyes peeled for painted turtles; White Lake is a special habitat for them. If you have a canoe or boat, there's a dock you can launch from as well.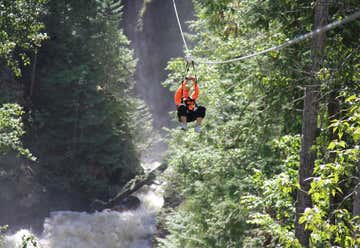 221 Shepherd Road, BC, CA
There's nothing quite like experiencing the forests of B.C. from above. Treetop Flyers Zipline at Chase Canyon offers a unique perspective on the natural beauty. Three ziplines cross Chase Canyon over Chase Creek for the daring, and there are two activities you can add to the end of your zipline tour to take it to the next level. There's "The Fall," which is a 50-foot jump while hooked up to a mechanism that safely simulates free fall for the extra daring, and the solar-powered Screaming Eagle Swing, a 100-foot-high drop swing that sends three daredevils soaring through the air. The fun-loving guides do a great job of making everyone feel totally safe on each adventure.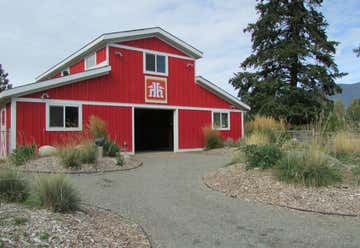 The British Columbia Wildlife Park puts visitors up close with some of B.C.'s most one-of-a-kind creatures, while educating the public and engaging in research, captive breeding and rehabilitation. From Arctic wolves, grizzly bears, and bobcats, to hoofed animals such as bison, elk, and moose, you'll encounter some pretty amazing wildlife. There is also an awesome exhibit on birds of prey, and one highlighting the waterfowl and insects that call this province home. Make sure to stop into the Discovery Centre, which boasts an eco gallery, a wildlife education centre with interactive exhibits, a gift shop, a cafe, and more.
Just a few short miles outside the famed Wells Gray Provincial Park, the Clearwater / Wells Gray KOA Journey is the perfect home base for exploring the many waterfalls in the park-- which is ideal, because you'll want to spend at least a full day there. This campground can accommodate RVers, tent campers, and those unprepared to "sleep under the stars" with Camping Cabins and an onsite motel. The heated pool, mini golf course, and sand volleyball court are bonuses that make a stay here extra special.
Covering 1.3 million acres of wilderness high in the Cariboo Mountains, Wells Gray Provincial Park is a place of great (and widely varied) beauty. Rocky canyons, alpine meadows, clear mountain lakes, dramatic peaks, and, of course, 39 named waterfalls can be found within the park's boundaries. Helmcken Falls is probably the most famous; it's the fourth largest waterfall in Canada, with a vertical drop of 463 feet. Helmcken is easy to access and surrounded by several viewpoints and trails. Other popular attractions in the park include Table Mountain Meadow, Trophy Mountain for hiking, the abandoned Ray Farm homestead, and Clearwater Lake for boating. Additionally, tour operators around the park offer guided adventures for those interested in rafting, kayaking, fishing, hiking, wildlife viewing, and in the winter, dogsledding and snowmobiling, among other options.
As you explore British Columbia's stunning canyons from atop a zipline, meet its native wildlife, boat through the province's crystal clear mountain lakes, camp within its lush pine forests, and meet its resident fairytale creatures, you'll find there's much, much more to this province than might originally meet the eye.
Banner Photo Credit: Shutterstock