When you think of a scenic drive, you're probably thinking of rolling hills, cliff-hugging switchbacks, or maybe lush forests or a winding river. You know, something nature-y. And while Phoenix has scenic drives that tick those boxes (hello, Apache Trail!), that's not the only way to get your fix of beautiful views. For a totally unexpected but surprisingly stunning drive, wind through the city and surrounding suburbs on an urban scenic drive. Admire sweeping city vistas, dramatic mountain views, desert enchantment, charming historic towns, and lush greenery along this picturesque route through the metro area.
The Wrigley Mansion is a well-known Arizonian landmark built in 1932 by the gentleman who brought you Wrigley gum, William Wrigley Jr. He had the mansion built as a 50th-anniversary gift to his beloved wife, and the architecture of the home and property are breathtaking. Guided tours are offered Tuesday through Saturday, and are the perfect way to learn about the history of the mansion. There's a lot to take in here, including some sweeping scenic views. Despite it allegedly being Wrigley's "smallest mansion," it remains a popular tourist attraction. Plan to grab a bite to eat or a drink at Geordie's Steak or Jamie's Wine Bar, both onsite; lunch tour packages are a great option, too.
5550 E Lincoln Dr, Paradise Valley, AZ, US
Don't miss out on enjoying some of the best fine dining Arizona has to offer at El Chorro, not far from the base of Camelback Mountain. The 15-minute drive from Wrigley Mansion to El Chorro is especially scenic around sunset; the north side of the mountain seems to glow red and orange as the setting sun hits the rocks at the perfect angle.
In addition to the awesome scenery and the gorgeous patio, the restaurant boasts a rich history and a stellar menu. Built in 1934 as a school, it was converted into a restaurant three years later. Since then, it's been visited by famous figures like Clark Gable, John Wayne, and Barry Goldwater. While the aesthetic is rustic and historic, the menu is inspired by modern tastes and local ingredients, fused with Southwestern flair. Especially noteworthy are the incredible cocktails, opulent brunch menu, and, of course, the legendary sticky buns.
6245 E Cave Creek Rd, Cave Creek, AZ, US
From El Chorro, head north on Tatum Boulevard to Cave Creek Road, where you'll see hundreds of towering saguaros on Black Mountain and the nearby hills as you enter the town of Cave Creek. Make your next stop at Cave Creek's Frontier Town, an Old West replica town that serves as an attraction and shopping destination (with a hearty dose of kitsch thrown in.) Take a stroll through Frontier Town and enjoy a wide mix of stores and restaurants, all with a classic Wild West theme. Stop by Glory Bees Boutiques, Cave Creek Mercantile, and the popular Cave Creek Candles and Gifts to shop for Native American jewelry and other unique odds and ends. Make a point to stop by the town's boothill cemetery as well. "Boothill cemeteries" were a common feature in lawless Western boomtowns; they got their name from the men buried there who "died with their boots on," which is another way of saying "died of not-natural causes," or "died in a gunfight." As they say, "Welcome to Frontier Town -- where the pavement ends, and the West begins!"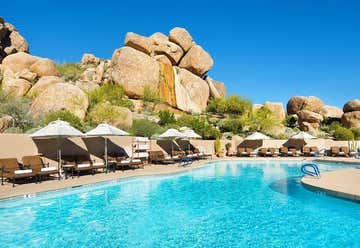 34631 N. Tom Darlington Drive, Carefree, AZ, US
Book a stay at the incredible Boulders Resort and Spa located in beautiful Scottsdale, Arizona, and you'll quickly be doing everything you can to extend your stay. Whether you're looking to relax while surrounded by breathtaking mountains, or want easy access to some outdoor fun, the Boulders Resort and Spa has you covered. Go rock climbing, horseback riding, play a round of golf on an award-winning course, and even take a hot air balloon tour. Or... just relax. With an incredibly friendly staff, the choice of a virtually endless number of spa services, and a pool with unique views of the massive boulders that tower over the grounds, you're certain to find paradise.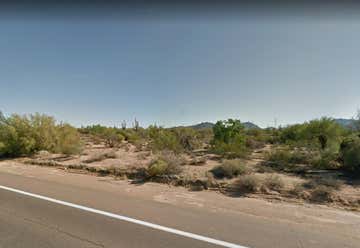 N Scottsdale Rd & E Happy Valley Rd, Scottsdale, AZ, US
The Desert Foothills Scenic Drive is the perfect addition to an urban scenic drive. The 6-mile stretch of North Scottsdale Road features awesome views of the special desert landscape around Phoenix. This portion of the road has clearly marked signs noting the diverse flora and fauna, and you'll be mesmerized by all the land has to offer. Since there are several places to pull over and stop, we suggest taking the time to snag a few photos.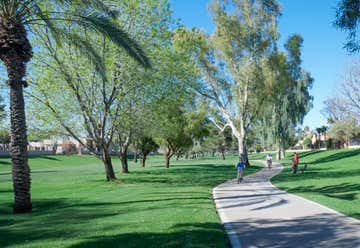 E Indian Bend Rd, Scottsdale, AZ, US
The Indian Bend Wash Greenbelt boasts 18 miles of well-kept trails and lush parks running through Scottsdale and Tempe on the east side of Phoenix. Whether you spend an hour or a day exploring the beautiful Indian Bend Wash by bike, foot, or even rollerblades, it's worth a stop. The impressive public art sprinkled throughout is a pleasant surprise as well. Stop by Scottsdale's Eldorado Park about halfway through your journey --perfect for your four-legged friends. It's got a pond for fishing and two playgrounds for you to enjoy. Bring along a picnic and make an afternoon of it!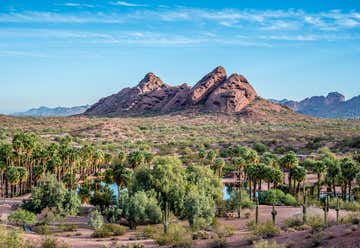 625 N. Galvin Bikeway, Phoenix, AZ, US
The famous Papago Park --home to the Phoenix Zoo, a golf course, the Hall of Flame Fire Museum, and the Desert Botanical Garden (among other things) --is one of Arizona's most popular attractions. The 1,500-acre park is also known for its diversity of geological formations (like the famed Hole in the Rock), plants and wildlife, including the Saguaro cactus. Stop by the zoo to visit Stingray Bay and the Monkey Village, check out Arizona's first governor's tomb, see vintage firefighting equipment from the 1700s, or simply take advantage of the trails and bike paths that wind through this beloved park.
Nope, this is not a figment of your imagination or a mirage in the scorching Arizona sun... Tempe Town Lake is very real, and it's a can't miss during your time experiencing the urban beauty of Phoenix. Whether you're looking to rent a boat and spend the day fishing, or you want to jump on a Segway tour and learn more about the settlement, Tempe Town Lake has dozens of activities to keep the entire family happy and entertained. Explore the well-maintained walking trails and biking paths, which offer over 5 miles of beauty, or people-watch during the dozens of events and concerts that happen year-round. Tempe Town Lake is the perfect place to kick back and relax and take in the best of what Tempe has to offer.
Incredible views? Top-of-the-line entertainment? Luxurious resorts? Rich history? Phoenix has it all. An urban scenic drive through the metro area lets you experience every facet of what makes the city so unique, from its desert landscapes and mountains to its Wild West history and lush green parks.