Coastal Michigan may be one of the most beautiful areas of the country, especially in the fall and spring, and that means this part of the country is loaded with scenic drives. While the state's M-22 gets a lot of the attention, the M-119, aka the Tunnel of Trees, might be the best drive in all of Michigan, with its route that takes you along the coast, past quaint towns, and through verdant forests.
Starting just north of Petoskey, Michigan, the M-119 passes through the charming town of Harbor Springs before becoming what we refer to as the "Tunnel of Trees" as it winds toward Cross Village. It's not a long stretch of road, just 20 miles or so, but you'll never forget your first drive or ride down the Tunnel of Trees…
If you need a home base, just off Route 31 is the Bay Inn of Petoskey. This is a very comfortable and affordable inn with beautiful views of Little Traverse Bay. There's wifi, and some rooms even have lake views.
Harbor Springs, Michigan, United States
The biggest town you'll pass through is Harbor Springs. It's full of quaint little shops and eateries and it's home to a bustling marina. It's a good place to spend a few hours exploring, eating and shopping.
The Colonial Inn in Harbor Springs is also a great little historic boutique hotel that's right across the street from Lake Michigan Beach. Just 11 minutes from Highway 31, this is a good alternative if you're looking for something slightly more upscale. There's free wifi, a complimentary continental breakfast, and some rooms have balconies. Plan to spend some time relaxing by the indoor pool.
102 E Bay St, Harbor Springs, MI, US
For a sit-down style meal with a great view, try Stafford's Pier Restaurant, a waterfront gem overlooking the yacht basin. Add in an old-school atmosphere and delicious local seafood (and vegan menu options) and you've got a recipe for a great meal.
215 E Main St, Harbor Springs, MI, US
If you're more in the mood for a sandwich, Gurney's Harbor Bottle Shop has generated a cult following for their sandwiches. Keep in mind, they're cash only, but these sandwiches are out of this world, thanks to house-baked bread and fresh ingredients. Pro tip: order the deli sauce.
267 S Spring St, Harbor Springs, MI, US
Whether you eat at the Pier or at Gurney's, you'll want to finish off your meal with a stop at Tom's Mom's Cookies. Starting with chocolate chunks hand-cut from 10 pound bars of chocolate, their cookies are the real deal. Each soft and chewy cookie weighs just shy of 1/4 a pound.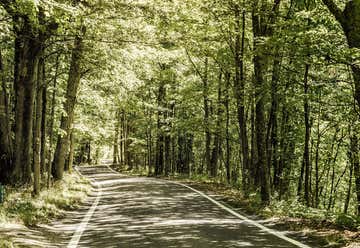 M119, Harbor Springs, MI, US
It's called a "tunnel," but unlike a mountain tunnel, the Tunnel of Trees gives the road tripper a different view and experience at each twist and turn as it hugs Lake Michigan, with rich hardwoods on each side creating a tree canopy over much of the narrow road.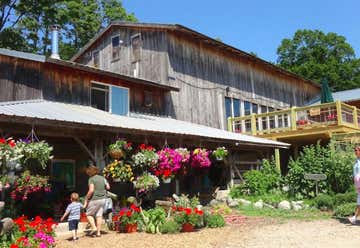 5581 S Lake Shore Dr, Harbor Springs, MI, US
Pond Hill Farm & Garden Cafe is kind of your one-stop-shop for great local crafts and nibbles. Oh, and there's a petting zoo-type barn onsite, where you can feed all sorts of animals in the year-round livestock barn. Then you can feed yourself in the farm market or cafe! During the summer months, you can also satisfy your sweet tooth with some Velvet Ice Cream at their ice cream parlor.
1129 N Lake Shore Dr, Harbor Springs, MI, US
After enjoying Pond Hill Farm, hop over to Primitive Images & Good Hart & Soul, a funky antique store with rustic furniture and a tea room for you to relax and unwind. If you still haven't had enough to eat, they also serve up some mean crepes.
1075 N Lake Shore Dr, MI, US
Tucked away in the heart of the Tunnel of Trees, the Good Hart General Store is exactly the kind of down-home, local flavor place you want to find on a good road trip. The exterior of the store, with its classic red and white paint scheme, is the perfect place for a photo, and if you're hungry, you're in luck. The Good Hart General Store is pretty famous for their pot pies, so you won't leave hungry.
As the Tunnel of Trees comes to an end in Cross Village, you still have one more stop to make. The Legs Inn is one part architectural gem, one part great restaurant, and one part stunning place to catch the sunset.
Best time to travel the Tunnel of Trees: Though any time of year is great for this byway, the best time to travel is autumn, especially when the fall foliage colors are at their peak. Be prepared that you might catch an Indian Summer, when the weather will stay warm through October... otherwise, the fall can get chilly in Northwest Michigan.