In the very northwest corner of the United States lies a natural paradise so alluring, even the most inexperienced of outsdoorsmen will be inspired to lace up their hiking boots and hit the road. The Olympic Peninsula, right outside of Seattle, is home to Olympic National Park, endless beaches, mossy woodlands, lush waterfalls, and sweeping cliff views. From the tip of Cape Flattery, to deep within the Hoh rainforest, to the small towns along the way, you'll feel like you're in an exotic land as you loop around the peninsula.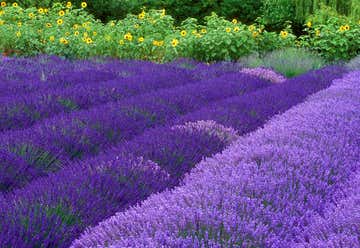 180 Bell Bottom, Sequim, WA, US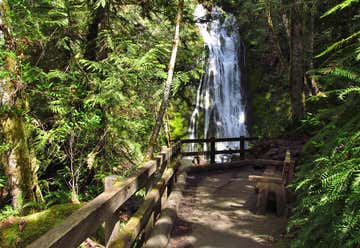 Olympic Hot Springs Road, Port Angeles, WA, US
Madison Creek Falls is one of the more popular falls in Olympic National Park, due to its accessibility and short and easy walking trail, which is perfect for all ages. The 50-foot horsetail waterfall is typical of the beauty found in Olympic National Park. Take a load off on one of the benches overlooking the waterfall, and watch water tumble down the rocky cliff as you soak in the gorgeous scenery and peaceful atmosphere.
50883 Highway 112, Port Angeles, WA, US
Located in the heart of the tiny town of Joyce, the Joyce General Store is a combination store/museum/cafe/post office/vintage gas station. A perfect place to stop to stretch your legs, it's nestled on the Strait of Juan De Fuca Highway 112, a gorgeous scenic byway. You can find a little bit of everything here, from Asian ingredients and fresh produce to camping supplies and wine. Whether you're stocking up on road snacks, filling up the gas tank, or just want to explore this special little town, a stop at Joyce is perfect for anyone road tripping the peninsula.
12076 Sol Duc Hot Springs Rd, Prt Angeles, Washington, United States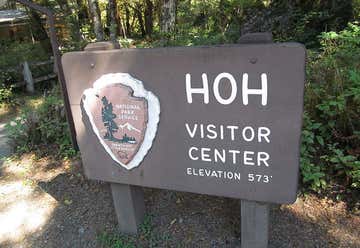 18113 Upper Hoh Rd., Forks, WA, US
If you want to see the beauty nature can create with a little (by "a little" we mean "a lot") of rain, you can't miss the Hoh Rain Forest. During winter, The Hoh Rain Forest sees more than 10 feet of precipitation, which leaves the forest in prime shape to grow and bloom. The Hoh Rain Forest, located in Olympic National Park, is one Northen America's few temperate rainforests, making it a unique and fascinating stop for all ages.
One of the unique features of a temperate rainforest such as the Hoh Rain Forest is that it has four very distinct seasons, meaning no matter when you visit, you'll be in for a unique experience with your family and friends. Best yet, if camping is your thing, there are multiple places to stay and enjoy the rich forest feel.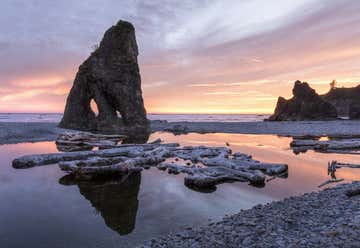 Olympic National Park, Forks, WA, US
After heading southwest from Hoh Rain Forest, make your way to the stunning Ruby Beach, which is considered one of the "crown jewels" of Olympic National Park. Within moments of stepping foot on Ruby Beach (be sure to wear flip flops), you'll notice its legendary sea stacks and tide pools scattered along the gorgeous sandy shore. Ruby Beach is one of the most popular Olympic National Park destinations due to its accessibility, wonderful views, and loads of activities to do with your entire crew. Be sure to wear some shoes you don't mind getting a little wet, so you can explore the many easy trails and shallow waters of Ruby Beach.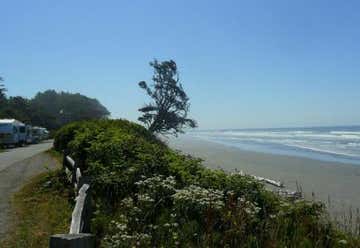 Olympic National Park, Forks, WA, US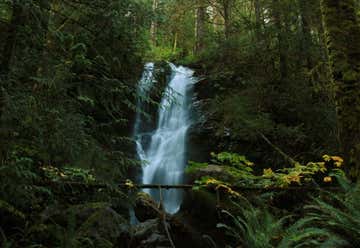 South Shore Drive 6.4 miles from its junction with Hwy 101, Quinault, WA, US
Continuing on your Olympic Peninsula Loop journey, you'll be heading back east to check out the majestic Merriman Falls, which is home to misty falls that cascade more than 40 feet. Merriman Falls has a "little-known secret" feel, despite also being one of the more accessible waterfalls in the state. But if you're looking for a more intense hike, fear not; there are plenty of trail options in the area. At Merriman Falls, you'll be able to take in the sounds of water tumbling down without having to compete with hundreds of other tourists crowding your every step.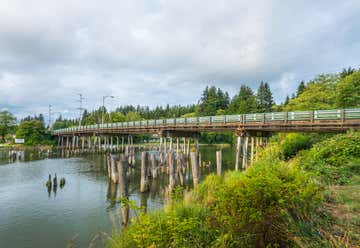 Young Street, Aberdeen, WA, US
In the area, you'll have the unique opportunity to visit Kurt Cobain Memorial Park, located Kurt's hometown of Aberdeen. It was built in honor of the late singer of the popular rock band Nirvana. If you grew up with Nirvana, or consider yourself a music geek, Kurt Cobain Memorial Park is a must stop. The park consists of several memorial statues as well as a handful of quotes from Kurt Cobain's lyrics, which can send any music fan down a wild road of emotions. It's a great place to stop and reflect... and maybe rock out to some Nirvana.
24180 Hwy 101, Hoodsport, WA, US
Take a break from all of that exploring and relax with some locally-crafted wine. There are plenty of wineries to visit in the area, such as the Stottle Winery Tasting Room. Here, $9 will get you a taste of five different wines, from cabs to syrahs, and even some fruit wines, which are perfect for those who aren't vino fanatics. The little gift shop has local ciders and fun souvenirs available as well. It's great to take a break and enjoy a taste of the local fare!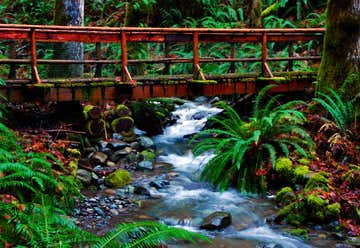 The eastern gateway to the Olympic Peninsula is marked by Dosewallips State Park. The Hood Canal and Dosewallips River wind their way through the old-growth forests and moss-carpeted landscape, sparkling with crystal clear glacial melt water. Dig for clams or oysters; fish and crab; spot elk, herons, and bald eagles; or hike along the sandy shores of the streams. The 3.5-mile Steam Donkey Loop trail is the perfect way to explore the silent forests and breezy waterways of the park.
All good things must come to an end, and that brings us to the conclusion of this incredible Olympic Penisula Loop. You'll be fully immersed in over 300 miles of some of the country's most incredible landscapes. Spend some quality time in the rich diversity of nature and history in Washington state's crown jewel. If only the trip were a couple hundred miles longer...