It doesn't make much sense to take a road trip to Hawaii, but exploring the islands by car is one of the best ways to fully experience all the beauty the Aloha State has to offer, especially if you want to take on Maui's spectacular, coastal Hana Highway. The 60-mile stretch of road features a reported 620 curves and 59 bridges, which are sure to get your adrenaline pumping. Once you reach Maui, rent a car and hit the road on one of the most spectacular drives in America as you circle around the whole island!
First stop is Lahaina's Honolua Bay, which has some of the state's best surf. It's also a fantastic place to spend several hours just relaxing and listening to the waves while eating some poke (raw fish, a favorite Hawaiian snack), or some pulled kahlua pork. Don't forget your sunscreen! The winds provide a nice breeze, but you're getting concentrated sun exposure at the same time.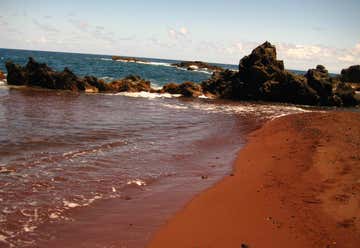 4155 Hana Highway, Hana, HI, US
If you want a truly unique beach, visit Kaihalulu Beach. The shores here are comprised of a rusty red sand.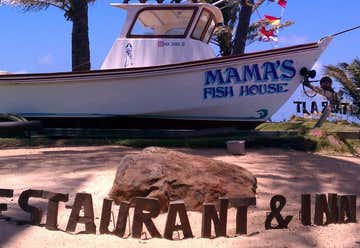 799 Poho Pl, Paia, HI, US
When you're ready for a bite to eat, visit Mama's Fish House in Paia, it's a local favorite.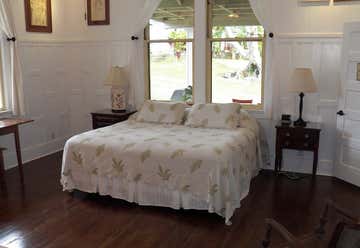 1061 Kokomo Road, Haiku, HI, US
If you've come to relax, then a peaceful little inn or bed and breakfast like the Haiku Cannery Inn is the perfect place to "lei" your head.
7600 Hana Hwy, Haiku, HI, US
And while you're exploring the island, make sure to take advantage of the very fresh local cuisine, and grab a snack at the Huelo Lookout Fruit Stand.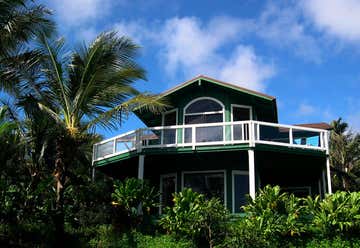 222 Door Of Faith Rd, Haiku, HI, US
While in Haiku there's also another great option for lodging at the Huelo Pt Lookout Bed and Breakfast.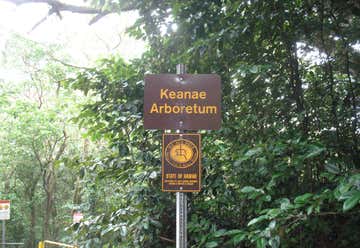 Mile Marker 16.7, Hwy 360, HI, US
A few choice attractions along your route include a arboretum and an aviation museum (sort of). The Keanae Arboretum is home to the psychedelic rainbow eucalyptus trees, definitely worth a photo op. Or take flight with a visit to Maui's awesome paper airplane museum, they've got over 2,000 models, some with wingspans up to 6 feet!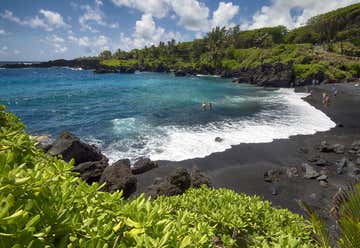 Mile Marker 32 Near, Hana, HI, US
There are dozens and dozens of beaches along the Maui coast, but there are a few that stand out among the rest: Waianapanapa State Park features dramatic black sand, and Little Beach is one of the world's top nude beaches for those who want to let it all hang out.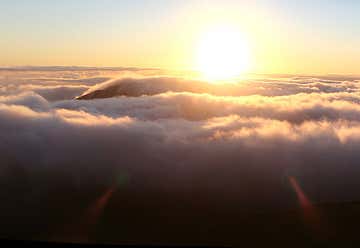 Haleakala Hwy, Kula, HI, US
Other can't-miss attractions include Haleakala National Park and its Ohe'o Gulch Falls (aka the Seven Sacred Pools), a series of waterfalls and pools along the stream. At the park, you can also climb the Maui volcano (be warned, it's still active!).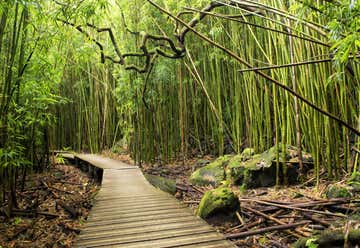 42222 Hana Hwy, Hana, HI, US
When you're ready for a lush hike past waterfalls and through dense bamboo forests, then head the Pipiwai Trail.
Just 15 minutes south of Hana, off Highway 31 are the beautiful and famous pools of Oheo and Oheo Gulch, on the lower slopes of Haleakala.
TIPS: The Road to Hana is great to drive any time of year. However, it's important to note a few tips for your drive. The Kipahulu area just past Hana, though a part of Haleakala National Park, is actually miles away from the summit, and a few thousand feet of elevation, as well. So, plan to do the Haleakala sunrise one day, and the Road to Hana another, if you can manage. In fact, most car rental agencies don't allow renters to drive past the Kipahulu area, because of the unpaved roads. Also, allow yourself a whole day for the drive, as there's really so much to do and see along the route.