In a city where every attraction is trying to top the others, you can expect to find plenty of kitsch and quirk. But, even in Branson, you'll find some totally offbeat and incredibly interesting gems. Drink beers in a cave, explore a tropical rainforest, stay in a (kind of) castle, and see one of the country's greatest folk fiddle players... who actually comes from Japan! As you explore Branson, you'll find that it manages to defy every expectation, and provides a little something for every taste.
Top of the Rock is a popular attraction in Branson, and with golf courses, hikes, restaurants, and a natural history museum, it's not hard to see why. But, it's got one super unusual thing to see... The Sinkhole! In 2015, heavy rainfall caused a sinkhole to form on one of Top of the Rock's golf courses... and rather than fill it in, the owner Johnny Morris (who also owns Bass Pro Shops and is a massive outdoor enthusiast) decided to excavate the sinkhole further, in the hopes of finding a new system of caves below the grounds. Clues and signs point to that being a very real possibility, but digging is still ongoing. You can check out the sinkhole, and if you can't wait for the chance to get underground, Top of the Rock is also home to the Lost Canyon Cave and Nature Trail.
Lost Canyon Nature Trail and Cave at Top of the Rock is a quirky gem worth exploring after you examine the attraction's sinkhole. Waterfalls, cavern tunnels, and towering rock formations make this an exciting experience... but the really fun part is the Bat Bar at the entrance to the cave. They serve up some tasty signature drinks that make the adventure even more fun.
Lake Taneycomo has some excellent trout fishing, and that's all thanks to the Shepherd of the Hills Fish Hatchery. Whether you're a pro at casting a line or you're looking to try your hand at fishing for the first time, this is a great (and free!) attraction that provides a lot of info on the trout here. The hatchery produces hundreds of thousands of 10- to 12-inch rainbow and brown trout that stock the lake. It was built to take advantage of the Table Rock Dam, the power turbines of which transformed the former warm water lake into a cold-water lake. The Fish Hatchery even has a visitor center with informational exhibits and an aquarium, along with some nice trails outside for hiking along the lake.
For some food made with love, head to the Keeter Center at the College of the Ozarks. The students at the school grow and cook the food here, and even provide the entertainment on Thursday-Saturday nights and during their killer Sunday brunch. Even the ice cream is made from milk that the students gather daily from the campus's dairy cows. Other students pasteurize and bottle the milk, then it's hand-churned into ice cream by more students. Reserve a seat in the dining room, or just pop in for a baked good or some ice cream, and enjoy a taste of Branson.
Branson might be one of the last places on Earth you'd expect to find a slice of France, but coffee shop Vintage Paris is just that. The beans here are carefully selected and hand-roasted in small batches on a custom-built, hand-turned roaster. They use the coffee to make simple Italian-inspired espressos and specialty lattes with a Parisian flair, and also serve desserts, beer, and wine for those looking to spend an evening chatting and enjoying some delicious treats.
Dick's 5 & 10 is as kitschy a souvenir store as they come, but you might not expect to find historic collections worthy of a museum next to bacon-flavored toothpaste and gag gifts. Arrowheads, signed WWII aviation prints, autographs and artifacts from baseball greats (the second-largest collection of baseball memorabilia outside Cooperstown!), old-school cap guns, vintage washing machines, and more can be seen as you poke around the shop. They also sell housewares, books, groceries, and other useful goods, alongside t-shirts, candy, and other novelties.
If live music shows aren't your cup of tea, that's okay, because Branson has other entertaining acts to amuse and delight as well. Grand Country Waterpark and Resort has an Amazing Pets show that features trained dogs, house cats, birds, and more, and is bound to be a hit with pretty much everyone. Many of the animals were rescued from across the country, and do some pretty incredible tricks. The show happens daily at 10 AM. Grand Country also has tons of other fun to keep everyone amused once the show has ended: Several mini golf courses, an arcade, a water park, and more can be found here as well.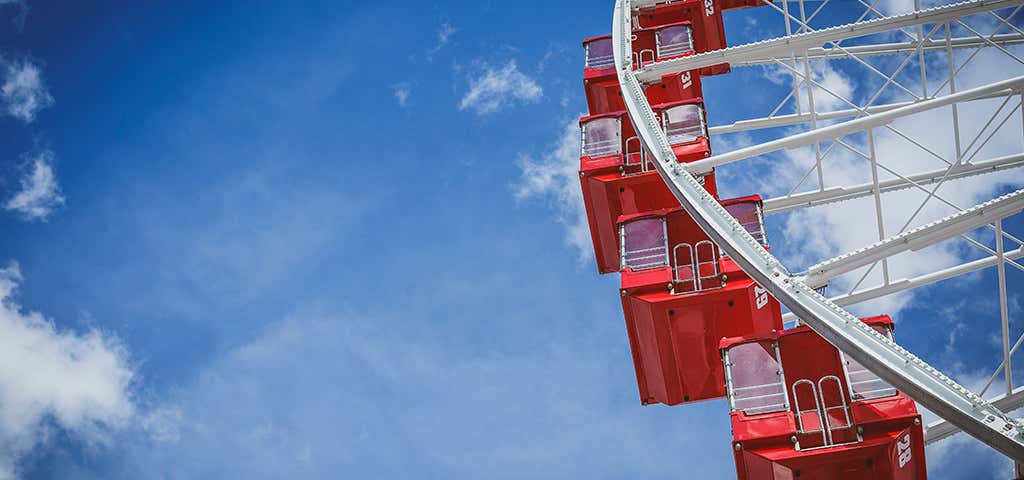 Chicago's Navy Pier has, for years, had an enormous Ferris wheel on the shores of Lake Michigan as a tribute to the 1893 Chicago World's Fair, which exhibited the world's first Ferris wheel. When they installed a newer, taller wheel in 2016, the former wheel was sent to the Track Family Fun Park in Branson, where it now stands. The park is also home to a four-story go-kart track, so you can take a spin on that before checking out the Ferris wheel's "Electrify: A Music and Lights Spectacular," which features 16,000 LED lights in a trippy display of color and sound.
If you're looking to live like royalty on your Branson trip, book a stay at The Stone Castle Hotel. With a breakfast buffet, a spa, two indoor pools and hot tubs, gorgeously landscaped grounds to explore, childcare, and, of course, the medieval-looking stone details on the building, you can feel like a king or queen!
The World's Largest Toy Museum might not seem out of place in Branson, but it's surprisingly informative. From toy trains to Roy Rogers and retro lunchboxes, to Barbies, action figures, and Disney characters, a lot of pop culture history is covered here. It's also home to a Harold Bell Wright Museum; he's the preacher who penned "The Shepherd of the Hills," the novel that popularized the quaint, rolling Ozark region.
Branson's lakes and hills are absolutely stunning, but you can also visit a tropical rainforest inside The Butterfly Palace. The Exotic Butterfly Aviary houses rare, colorful insects that you won't find anywhere else. You can watch them flit around, and even have one land on you! There's also a Living Rainforest Science Center where you can meet poison dart frogs, salamanders, geckos, and more. If you're feeling extra adventurous, take on the Emerald Forest Mirror Maze or Banyan Tree Adventure maze. The Palace is dedicated to local and global conservation and ecology, so it's also a great place to learn a lot about nature.
Tucked away inside the Branson IMAX Complex is a hidden surprise: the Little Opry Theater. Alongside state-of-the-art movie theaters with high-tech reclining seats and enormous screens is a small little live music theater that puts on a solid lineup of shows. Tributes to country greats, bluegrass-playing families, musical comedy, and more can be found on their schedule's rotation!
The most unexpectedly awesome show in Branson has to be the Shoji Tabuchi Show. Shoji was born in Japan and started playing violin when he was seven. But he always had an affinity for American country music, and while in college, he met Grand Ole Opry legend Roy Acuff, when Acuff was in Osaka. This further inspired Shoji to pursue his passion for bluegrass and country. He formed a successful bluegrass band while in Japan, and finally made the decision to move to America. Acuff arranged for Shoji to appear on the Grand Ole Opry stage numerous times, and in the 1980s, Shoji moved to Branson. He took over a theater and it now shows his glitzy and colorful performances during the season nightly. You won't find a more unique show with a more interesting backstory in all of Branson!
Whether you just want to add a touch of offbeat to your Branson adventure, or you're looking to discover its lesser-known, unexpected gems and see a new side of the destination city, there are tons of ways to find unusual fun in Branson. Besides, where else can you see trained housecats or check out the world's second-largest display of baseball memorabilia?