The historic M-119 scenic route skirts Lake Michigan, between Harbor Springs and Cross Village. During this 20-mile drive, you'll experience tree canopies, ridiculously charming small towns, and delicious local cuisine.
The first town worth exploring along the Tunnel of Trees is Cross Village. It has a Heritage Museum in its old town hall, and features a giant white cross on a bluff overlooking the lake. The story of the cross has its roots back in the seventeenth century, when Jesuit missionary Jacques Marquette supposedly planted a white cross on the bluff before he died.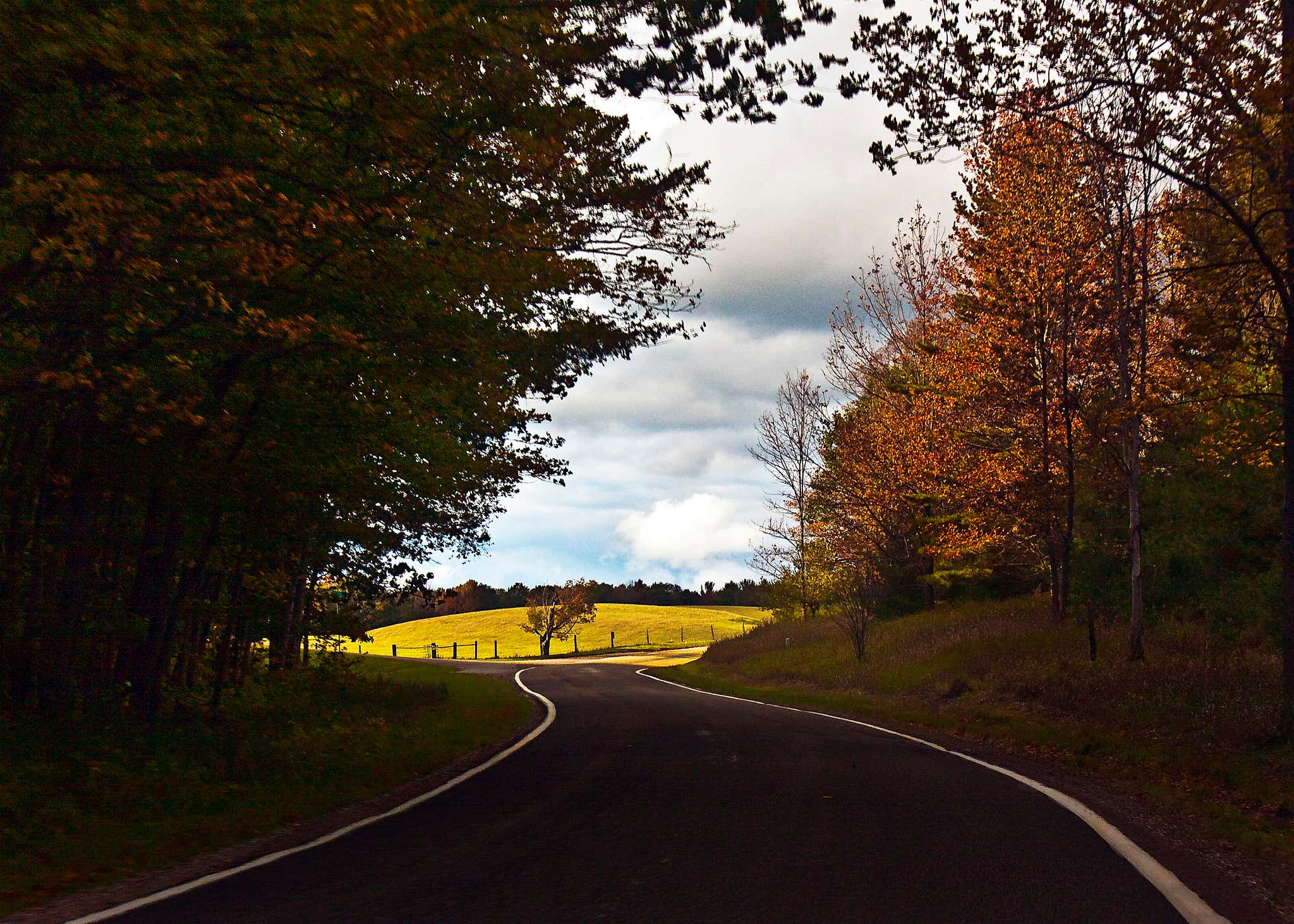 6425 N Lake Shore Dr, Cross Village, MI, US
The first thing you'll notice when you arrive at the Legs Inn is the incredible, rustic stone architecture... and things only get cooler from there. The inside is just as kitschy and lodge-like, and they serve up a wild menu of very authentic Polish cuisine (think pierogis, smoked whitefish, and stuffed cabbage.) Enjoy it all with a Polish beer or some Polish vodka, and, if you're there on the right evening, some live music. They also have cottages for rent if you want to make a whole night of it.
5959 Levering Rd, Cross Village, MI, US
Another spot to pull off and stretch your legs is Three Pines Studio and Gallery. Hosting a huge variety of local crafts and art, you can admire the wares and purchase anything that strikes your fancy. You'll find anything from fiber arts pieces and jewelry to woodworked art, blown glass, and paintings here.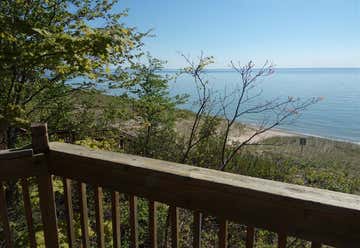 2-650 Tunnel of Trees Scenic Heritage Route, MI, US
Also along the route, you might want to take a quick dip in the lake at Middle Village Park's beach. The trail behind the Middle Village church features an observation deck and easy access to the quiet little public swim spot.
1075 N Lake Shore Dr, MI, US
Stop off in the tiny hamlet of Good Hart. Seriously, it's tiny. The downtown only has three businesses. The Good Hart General Store is one of the most iconic stops along the Tunnel of Trees. It's totally authentic. The store has been a central gathering spot for the people of Good Hart since the 1930s. It's the town's grocery, bakery, deli, real estate office, and post office. Stop in for snacks, one of their famous pot pies, souvenirs, or just a photo op with the red building.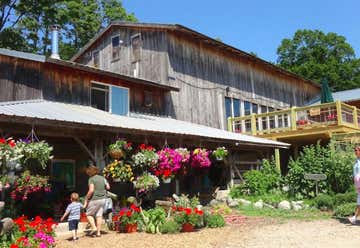 5581 S Lake Shore Dr, Harbor Springs, MI, US
Pond Hill Farm is one of the main attractions along the M-119, and it's not hard to see why: There's something for everyone here. Kids will love exploring the working farm, petting the animals, and enjoying a sundae from the ice cream parlor, and adults will want to unwind with a wine tasting or nice sit-down meal at the Garden Cafe before picking up some farm-fresh fruits and veggies, locally made goods, and more.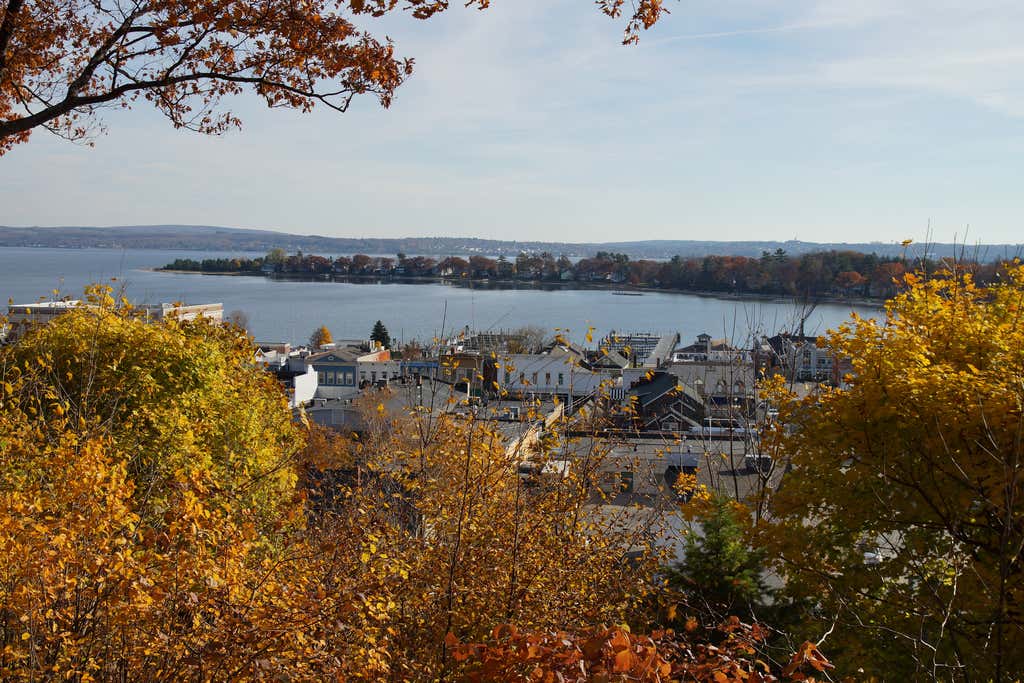 Harbor Springs has been a resort destination for decades, so it's a great place to visit on your journey. Located on Lake Michigan's Little Traverse Bay, Harbor Springs offers scenic beauty, stargazing, quaint historic sites, and, of course, one end of the Tunnel of Trees.
Petoskey is a rare gem. The town, famed for its Victorian architecture, has more than 500 historic places on the National Historic Register, as well as the Gaslight District and a postcard-worthy downtown. A visit here is almost like stepping back in time! Plus, Petoskey is the best place to find a Petoskey stone, which is the official state stone of Michigan. Petoskey stones are actually made of fossilized coral that was abundant in the area before the Ice Age. Glaciers rubbed these coral fossils into smooth stones, which are most easily recognized by the six-sided pattern that criss crosses the surface.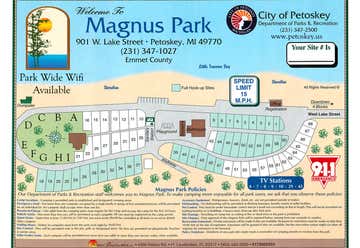 901 West Lake Street, Petoskey, MI, US
Petoskey's Magnus Park is one of the best places to go hunting for those Petoskey stones. It's right on the shore, and also has a nice campsite as well.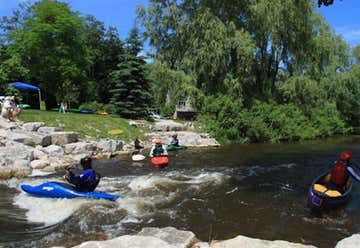 101 E. Lake St, Petoskey, MI, US
If all of the natural beauty along the M-119 has you eager to get exploring, then you'll definitely want to visit the Bear River Valley Recreation Area. It's home to one of the best whitewater courses in the Midwest, and is perfect for an epic excursion into the wilderness. The Northern Michigan Paddling Club frequently hosts classes and events, so if you don't have the gear or experience needed to hit the water, check out the club and see what they have going on.
For those who do have gear and want even more boating fun, the Lake Michigan Water Trail Northwest covers nearly 300 miles, and passes along the Tunnel of Trees region as it follows the entire Northwest Michigan coast.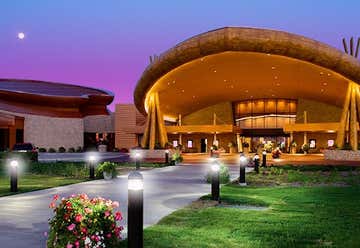 1760 Lears Rd., Petoskey, MI, US
On a hilltop above Petoskey, you'll find plenty of modern-day excitement at the Odawa Casino Resort. It's got games, luxurious accommodations, several different dining options, and a schedule full of performances and shows.
5115 Boyne City Rd, Boyne City, MI, US
Did you know Ernest Hemingway spent almost every summer of his childhood in northern Michigan?? His family vacationed near Petoskey every year, and many of the spots he frequented as a young man are still open. Horton Bay General Store is one such Hemingway Haunt; opened in the mid-nineteenth century, the general store has remained a community hub of Horton Bay for decades. Hemingway mentioned the store in his short story "Up in Michigan" and used it as inspiration for Mr. Packard's store in "The Last Good Country." Pop in for a malted at the soda fountain or grab a beer in the garden patio after you check out the Hemingway memorabilia!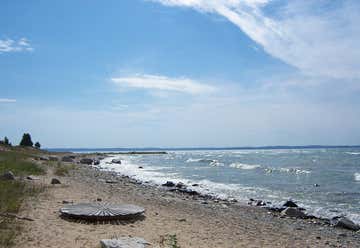 6696 Lower Shore Dr, Harbor Springs, MI, US
Thorne Swift Nature preserve is tiny, but that doesn't mean it isn't worth exploring. Take the short Balsam and Cedar Trails, and explore the dunes, swamplands, and ponds in addition to the stretch of beach and lake just off the Tunnel of Trees!
The Tunnel of Trees makes for a stunning scenic drive, but it's also worth cruising on a bike. The route is only about 30 or so miles, and experiencing the sounds of nature and the rush of the breeze as you peddle along really adds to the experience of the trip.
There are also some great hikes along the route as well: the North Western State Trail, which features seven miles of paved trail and another 20 or so of unpaved path, is worth checking out. Hike the developed part from Spring Lake Park, just off the M-119, to Alanson or keep going down the trail from Alanson until you reach Mackinaw.
A drive down the M-119 will take you to another time and place entirely... where dense forests and rushing rivers give way to familiar-feeling small towns, vintage charm, and expansive lakeshore views.